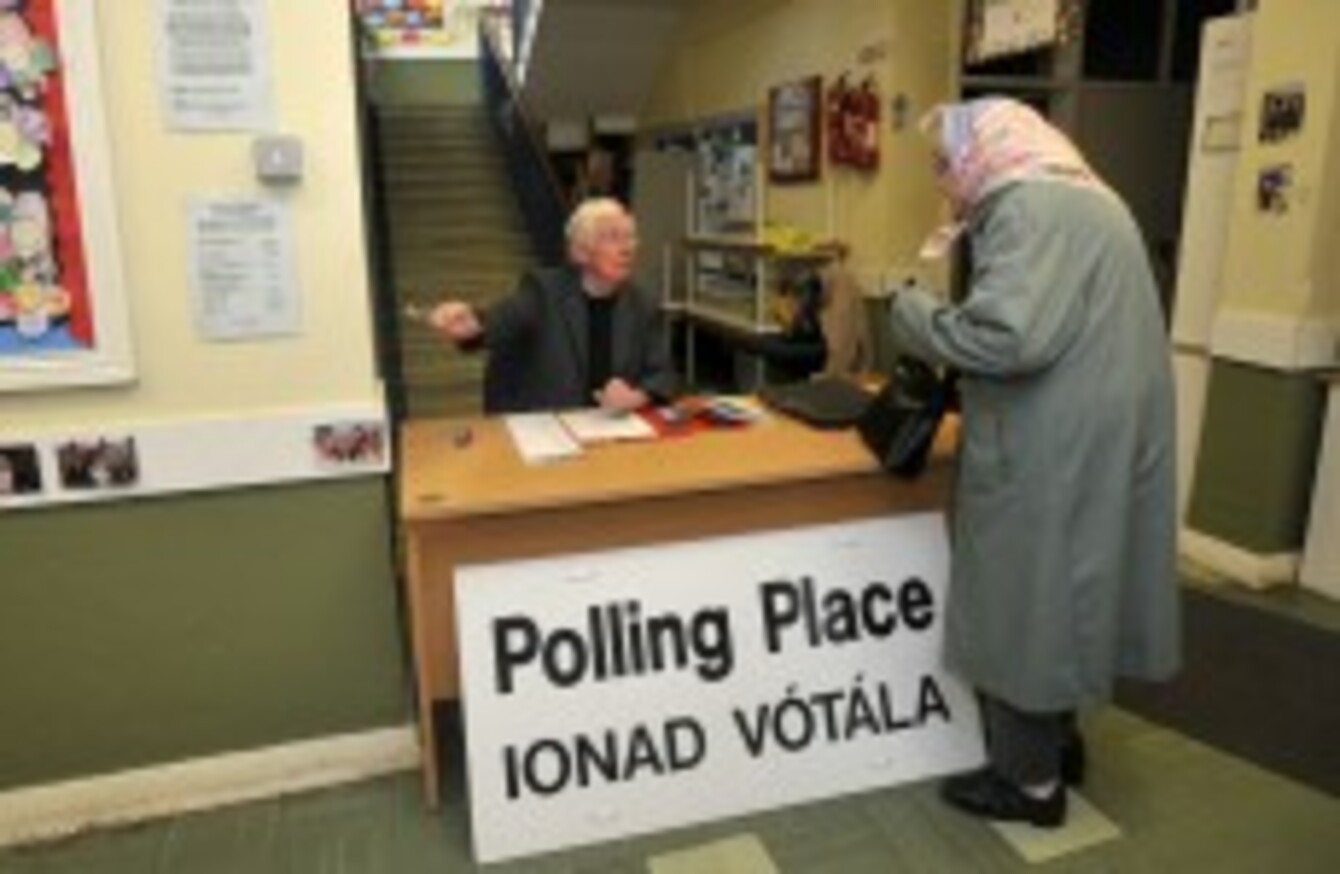 Image: Sasko Lazarov/Photocall Ireland
Image: Sasko Lazarov/Photocall Ireland
ONE YEAR AGO, voters went to the polls in a general election that was among the most dramatic in modern Irish history.
There was widespread hope that the national poll on February 25 2011 would herald a sea change in politics, and a new start for Ireland.
The results saw a new government installed – the first for 14 years – and a strong showing for independent TDs. Meanwhile, Fianna Fáil maintained significant support despite public anger at the economic crisis.
So 12 months after the historic election, TheJournal.ie returned to voters of all stripes to ask how they cast their ballots – and whether their highest hopes, or worst fears, were realised.
Sarah-Jane Burton, Fine Gael, Cork South Central
I voted number one Fine Gael, and I gave my number two to Sinn Féin. I was really strong Sinn Féin coming into it, but we have a local guy here, Simon Coveney. He does a lot of good work around here, and I bumped into him canvassing and he was really nice. But what really got me was "Not one more red cent", from Leo Varadkar at the time.
I'm very disappointed. I feel like I was sold a bit of a pup. They were making all the right sounds, but it's the same old same old with Fine Gael. I feel completely duped.
They haven't a clue what it's like to be living at the moment here. Since the turn of January, we've had to sell a car, we're living on two social cheques a month for a family of four. The waiting list for hospitals has increased, I've seen no improvement in the health system. Just a few weeks ago we paid back the bondholders. We were duped.
How would you vote if there was an election tomorrow? Sinn Féin, absolutely.
Eoin Ó Nialláin, Fianna Fáil, Clare
Before the election, I was looking at the likely combination of Fine Gael and Labour. And matching up their policies it seemed like they were going to end up with the Fianna Fáil policies. So rather than have two parties warring over the detail, I thought I'd rather have one – with the same policies.
If I was to grade the Government I'd give them a C, C minus. A lot of the measures they've had to introduce, there was no real choice about it.  But they've shown a complete reluctance to take on public service reform.
I'm working as a civil engineer and I've been forced to move across the water. Slashing all the capital expenditure [in November] definitely precipitated my leaving. Whatever economic stimuli were involved, such as Transport 21, the axe was taken to. So I was left with no other option.
How would you vote if there was an election tomorrow? I would probably vote Fianna Fáil again.
Jane Jermyn, Labour, Waterford
I'm a member of the Labour party. I joined maybe three years ago. I remember Eamon Gilmore gave quite an inspirational speech, and things were just so awful I thought i'd get off the fence. So I got involved in canvassing here in Waterford. I knew we needed a change.
It's a hard one, since. They just keep putting their foot in things. It's as if they're not thinking things through again, like the last bunch. They need to really lead by example. I am disillusioned. I'm quite pissed off.
It's been an eye opener since I got involved in the anti-fracking campaign. I've been writing to all sorts of TDs. And it's been an eye-opener who has replied.
How would you vote if there was an election tomorrow? I would look more into independents, I think.
#Open journalism No news is bad news Support The Journal

Your contributions will help us continue to deliver the stories that are important to you

Support us now
Stephen Bourke, Green Party (first time voter), Dublin West
I get a lot of flak for voting Green, people just can't believe it. But I stand by it. I looked at the Government and what I saw was a party that had tried to do its best, and which had an ideology I agreed with. But it made a deal with the devil and lost out badly.
My second and third preferences were Labour. In terms of them getting into Government, I'm happy enough with how they're getting on. Fine Gael I'm ideologically opposed to, but I'd rather have Labour's voice in Government than on the opposition benches. There's nothing that's stood out as being 'Oh my God, I can't believe they're doing this.'
In terms of social policies, I'm happy the children's referendum is coming up. And the household tax is quite reasonable, I think local government needs more funding.
How would you vote if there was an election tomorrow? I'd vote Green again.
Michael Cuthbert – Independent - Wexford
I voted one, two, three independent. I've had a long time scepticism about party politics, So I was looking for an alternative. And it was time I think for people to say 'Enough'. None of the major parties were offering any alternative.
I think it was hilarious that talk of it being an electoral revolution. That's a nonsense, clearly. The Government's performance is predictable but at the same time disappointing. I don't know if I'd give them one out of 10. They've backtracked so much.
The group of Independents, I think the'y're doing a fair job. I'm not instinctively a socialist voter, though I'm somewhere leftfield. But the likes of Joe Higgins and Clare Daly. They're kicking at an open goal, but they've got a good profile.
How would you vote if there was an election tomorrow? I think I'd go and pitch a tent outside the Central Bank.