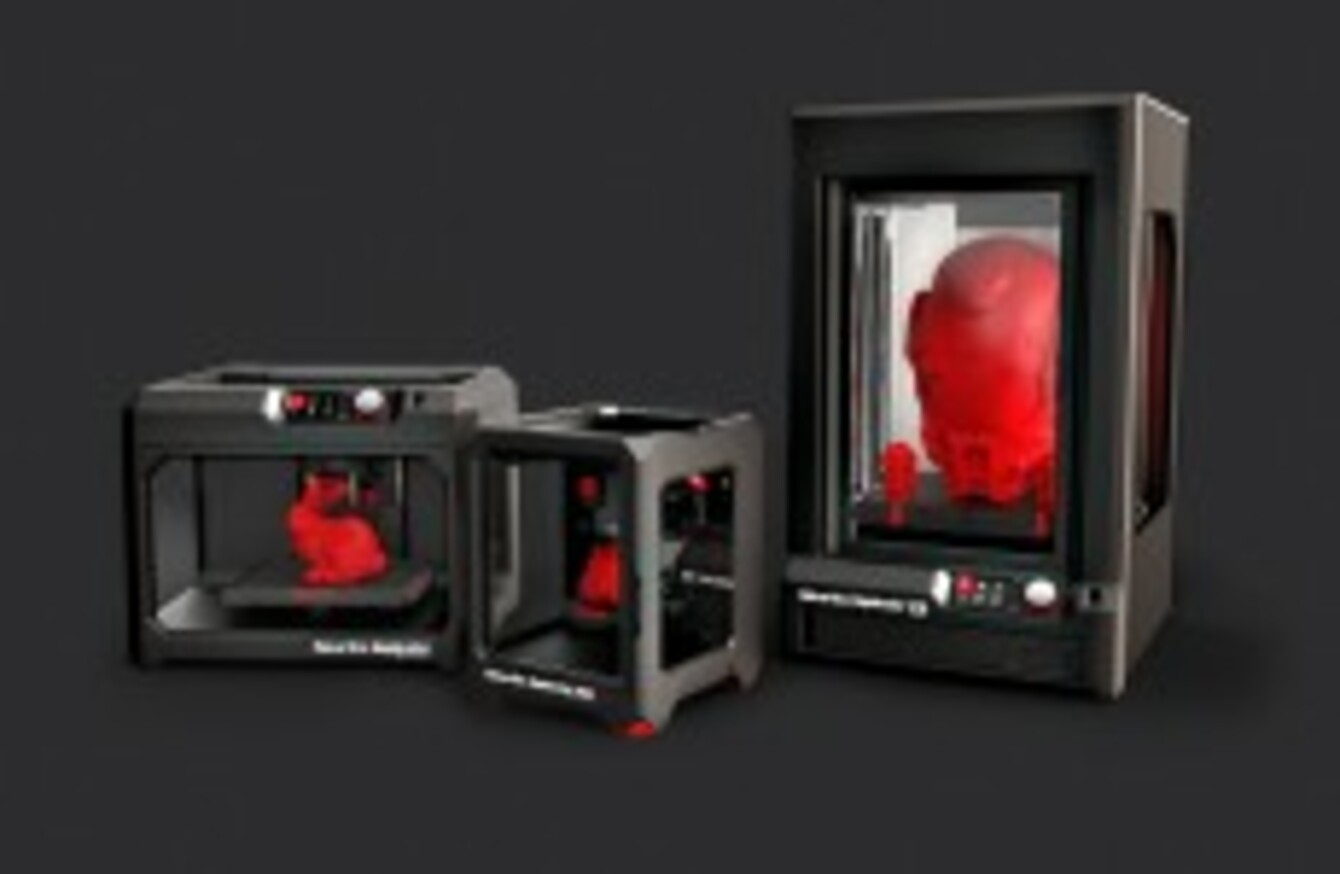 Image: MakerBot
Image: MakerBot
WITH THE MAJORITY of CES announcements out of the way, one of the main themes of the event was 3D printing.
With an entire section dedicated to it at CES, it's an area that is getting more attention as more companies offer their own versions of the technology and give them different uses.
With a number of 3D printing products announced this week, here's a roundup featuring some of the more noticeable examples out there.
da Vinci 2.0
The da Vinci 2.0 separates itself from the other 3D printers out there by being one of the more affordable products.
Created by XYZPrinting, a company based in Taiwan, the printer connects to your PC or Mac via a USB cable and is designed for both households and small businesses.
Engadget report the company will be priced at $499 and will be released in Europe, Japan and the US in March.
(Image: XYZPrinting)
MakerBot
One company that has grown in popularity was MakerBot, which revealed its fifth generation of printers this week. The first of three printers announced was the Replicator Mini, which is designed with beginners in mind and will cost $1,379 when it's released in spring.
The Replicator Mini is a plug in and play printer and is both app and cloud enabled. It also features a built-in camera so you can monitor the progress of whatever object you're printing.
Its other printers, the Desktop 3D printer and the Replicator Z18, will sell for $2,889 and $6,449 respectively and are intended for commercial purposes. The Desktop 3D printer is available for purchase now while the Replicator z18 will be released in spring.
MakerBot also launched its own digital store dedicated to purchasing and printing 3D models. Ranging between $0.99 for individual figures to $9.99 for a complete collection, the store advertises six different collections of toys aimed towards children.
Those with a compatible 3D printer can print as many models as they wish once they purchase the print file.
(Image: MakerBot)
ChefJet
While the other printers here focus on printing objects, 3D Systems wants to print sweets. The ChefJet and ChefJet Pro are both designed for kitchens and will print out sweets using a combination of sugar and water.
The sweets printed out on the regular ChefJet are monochrome, but the pro version includes food colouring to brighten up your treats. Both can produce a number of different flavours.
Both are expected to go on sale in the second half of 2014, with the ChefJet costing under $5,000, and the Pro costing just under $10,000.
(Image: Cubify.com)
PreForm 1.0
Those looking for something more simplistic and fun will be interested in Formlabs' PreForm 1.0. According to The Verge, the company aims to create "1-click 3D printing" which will make 3D printing just as easy as 2D printing.
The PreForm 1.0 will cost $3,299, but the company will accept Bitcoins as payment should you happen to have any.
(Image: Formlabs)
Pirate 3D Buccaneer
Starting off life as a Kickstarter project – and raising less than $1.5 million within 30 days – the Pirate 3D Buccanner is similar to the da Vinci 2.0 in that it wants to bring affordable 3D printing to homes.
It aims to be easy to set up and allows people to print out objects without requiring any knowledge in 3D design software.
It will cost under $500 and will be released in May.

(Video: Pirate3DPrinters/YouTube)