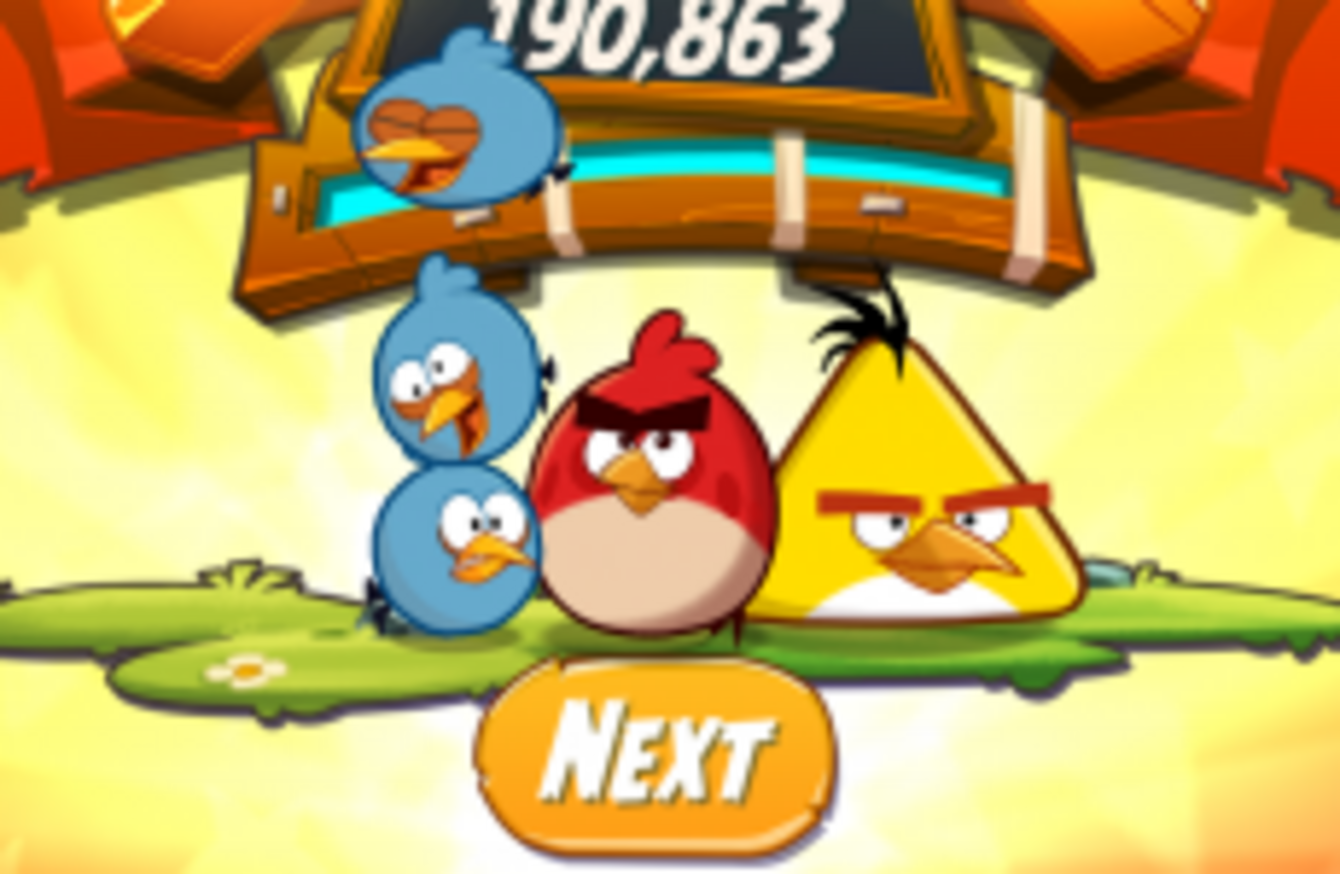 Image: Angry Birds 2/Google Play
Image: Angry Birds 2/Google Play
EACH WEEK, WE highlight five apps that are worth downloading for your smartphone and tablet. There are a lot of apps released on a daily basis, but not all of them are worth paying attention to.
This week features an accessible way to start learning to code, a messaging app with silent video and some new life in old birds.
Pixcall
For: iOS
Cost: Free
- Chances are some of your close friends are abroad or working far from home so trying to organise a call with them can take a lot of effort.
- If you want something a bit easier, Pixcall is designed around getting all your friends to take photos of themselves simultaneously.
- You can invite people via iMessage to take part and select a time. Once it arrives, the group's cameras will take a photo (it will give you 30mins, 1min or 10 seconds of notice).
- Once that's done, you can view them individually or or as a collage that you can comment, share or download. They're then deleted after 24 hours.
- If you're finding it tough to organise a Google Hangout session among friends, try this out instead.
LiveText
For: iOS, Android
Cost: Free
- Remember Yahoo!? You know, Yahoo! It has a search engine and other stuff. Well it released a new messaging app.
- It's called LiveText and the draw is you get to see a audio-less livestream of the person you're chatting to while you text.
- There's no audio, so you only concentrate on the text in front of you while the video part, while strange initially, is strangely fun without sound.
- As you might have guessed, it's designed around one-to-one conversations, but the initial release is a tad buggy, and really designed for short sentences than long messages.
- Still, it's something different to the numerous other messaging apps out there and is worth experimenting with.
Perfect Tube
For: Windows Phone
Cost: Free
- If you think of a YouTube app for Windows Phone, you will likely think TubeCast and that's about it.
- Perfect Tube is another app worth considering, packed with a number of features to help it out.
- It's pretty similar to the YouTube app on iOS and Android (before its latest update), but with a few features unique to it like gestures and uploading video.
- Apart from that, it's a quick and easy to navigate app that won't leave you feeling confused.
- For those looking for a good alternative to TubeCast.
Lrn
For: iOS (Android version coming soon)
Cost: Free
#Open journalism No news is bad news Support The Journal

Your contributions will help us continue to deliver the stories that are important to you

Support us now
- Coding is one of those skills we're told will benefit us yet it's tough to take the first step. There are online resources though like CodeAcademy and Code Institute which are very useful.
- Lrn is another one to add to the list. An iPhone app that wants to teach those with no experience of coding the basics.
- It teaches you Javascript by offering short courses and lessons that you can dip in and out of at any time. Best part is you don't need an internet connection to complete lessons.
- Once you get past the tutorials (and you will very quickly), you will have to pay €2.99 if you want to continue. It's worth it though as the lessons are easy to understand, accessible and fun to complete (even if you're putting answers in boxes).
- If you're curious about code, it's a great intro.
Angry Birds 2
For: iOS, Android
Cost: Free (includes in-app purchases)
- To pre-empt your questions (a) no, it's not 200, (b) it arrives after 13 spinoffs in the series and (c) we're just as surprised as you are this exists.
- This one is a decent upgrade from the original, giving it a fresh lick of paint and some new twists on a somewhat tiring formula.
- There are a few new additions. Levels have multiple screens instead of being stuck to the one, you get to choose which birds to fling, you're rewarded with extra cards for high scores and spells are there for when you need them.
- It's free for a reason though. Microtransactions play a part in this and it's very similar to Candy Crush Saga in that regard. So far, we've hadn't had to rely on them, but the amount you have to pay for lives or gems (especially the latter) are pretty expensive, and may leave a sour taste in your mouth.
- If you can overlook the freemium elements of it, it's a surprisingly good addition to the Angry Birds series showing there's still life in the old bird yet.