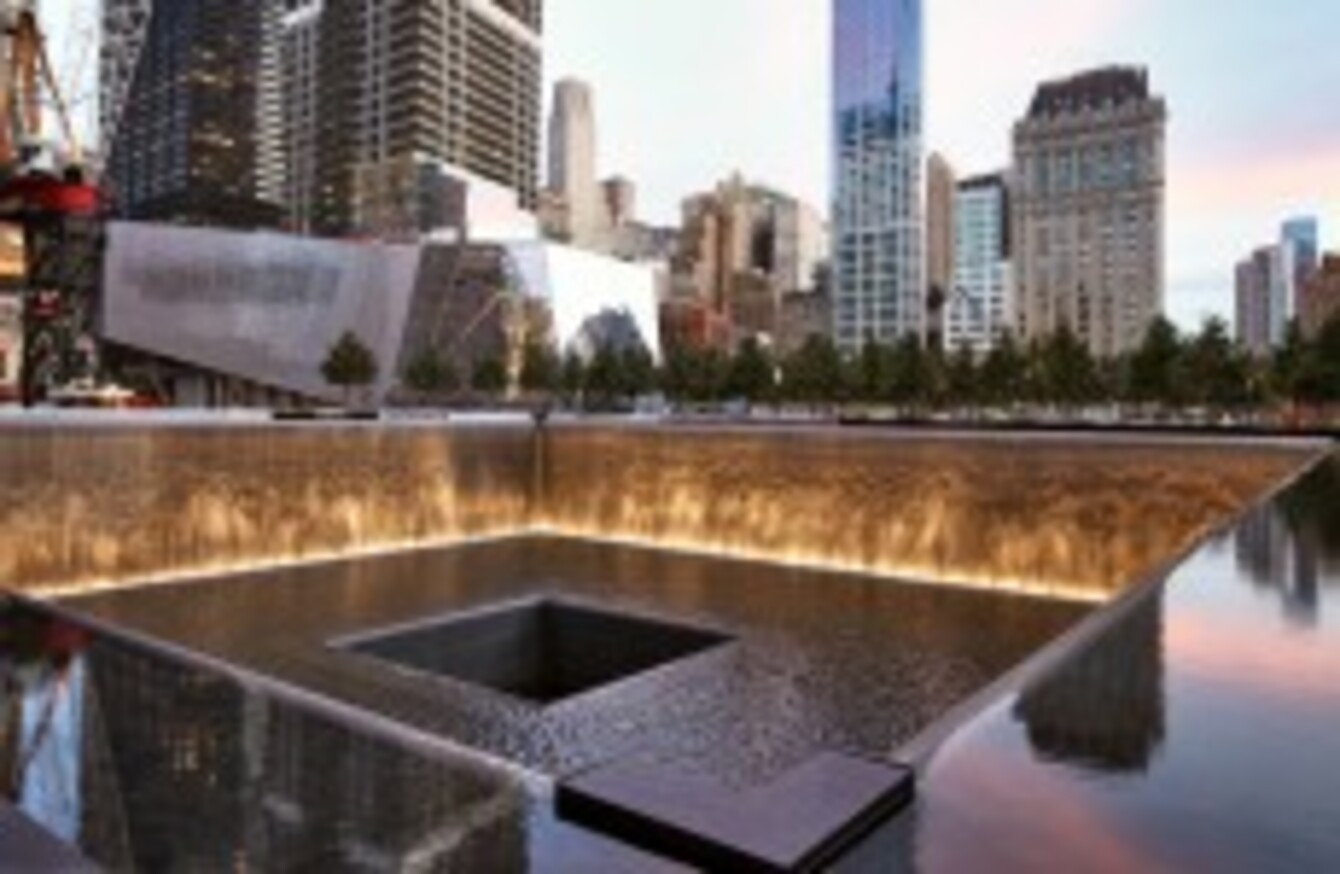 The 9/11 memorial - where the south tower once stood
Image: 9/11 Memorial
The 9/11 memorial - where the south tower once stood
Image: 9/11 Memorial
NEXT SUNDAY, AMERICA will pause to remember the 3,000 people killed in the 9/11 attacks ten years ago.
As part of the commemoration ceremonies, the remarkable 9/11 memorial at Ground Zero will be revealed, as will another memorial at the site of the flight 193 crash in Pennsylvania.
But there's a lengthening list of those who are not invited to attend the New York ceremony, including police officers, medics, and fire fighters who were among the first responders on 11 September 2001.
It comes as President Obama's administration quietly issues two seperate dictates to its officials, both at home and abroad.
The New York Times reports that officials have been asked to minimise the number of references to al-Qaeda they include in their speeches.
That's in spite of the fact that since last year's commemoration, America has found and killed al-Qaeda head Osama Bin Laden, according to Fox News.
Officials have instead been asked to emphasise the need for Americans to prepare themselves for another attack.
In response to any attack that does come, citizens have been told they must be resilient in recovering from the loss.
Analysts say the theme of resilience could be designed to  prepare Americans for the President's next run for election, at a time when he is seen as unpopular.
Meanwhile, back in New York, tempers are wearing thin amongst the bereaved, the religious and the emergency services – all of whom have been told that access to the Ground Zero event is restricted.
[caption id="attachment_216334" align="aligncenter" width="296" caption="A memorial in Jersey overlooks the skyline Image: Paul Stein via Flickr"]
[/caption]
First responders
Those who were first to respond to the disaster won't be able to attend the ten year anniversary commemoration, because there's no room for them.
Priority is being given to the families of victims, but also to those who will secure the site for the high level dignitaries planning to attend.
They include President Barack Obama and former president George W Bush, and former mayor Rudy Giuiliani.
Affected firefighters have been told that they will be invited to attend a second ceremony at a later date, reports New York's Daily News.
Elsewhere, News Channel 5 reports that the Mayor's office maintains members of the NYPD, FDNY and PAPD will be present and will play an important role in the ceremony, there just won't be as many of them as in previous years.
That's because of an expected jump in demand from relatives, and because the ceremony is moving to memorial plaza.

Religious
Fire fighters aren't the only ones excluded from the memorial, current Mayor Michael Bloomberg has decided to effectively ban all clergy.
According to ABC News, the Mayor has made the decision because he would prefer to avoid offending any one religious group, specifically Muslims, by not inviting them to take part.
Conversely, if he did invite an imam to speak, it would likely cause controversy.
Officially Mayor Bloomberg says he's trying to keep speeches to a minimum.