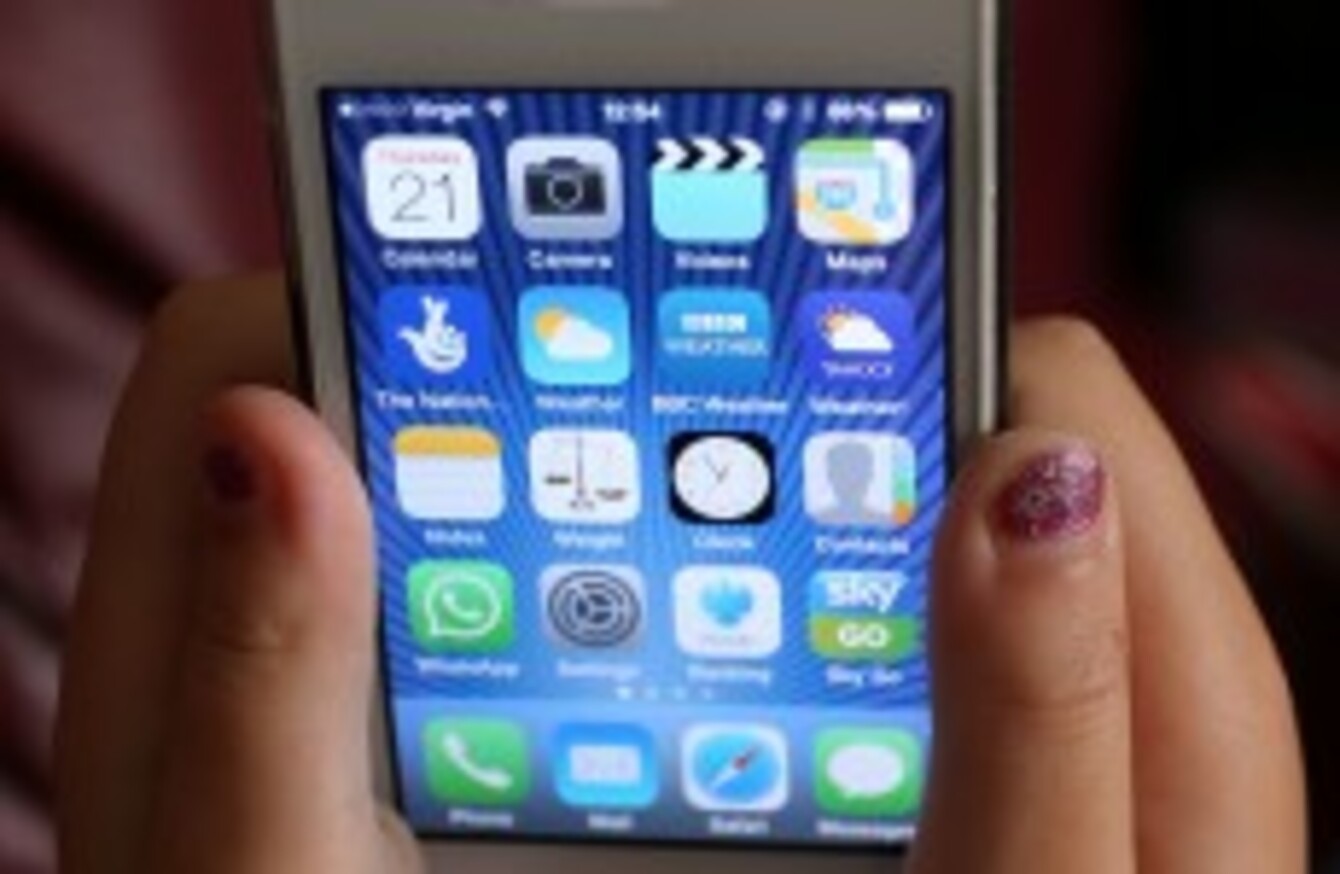 Image: Peter Byrne/PA Wire
Image: Peter Byrne/PA Wire
APP PERMISSIONS ARE much like reading the terms and conditions of a service. You might take a glance at them, but you won't pay much attention to them, unless someone highlights something specific about them.
Whether you aren't sure what exactly these apps are requesting, or just like to know more about them, here are the ground rules for navigating what can sometimes be an unclear process.
Why do apps need these permissions in the first place?
The short answer is for functionality. All apps need permission to use even the most basic smartphone functions before they can use them, and it's best to apply common sense to this.
If it's a messaging app, then it's likely it will need permission to access your contacts, WiFi/3G/4G, SMS (if it's trying to integrate with it) and if it makes calls, then your phone services.
All of these things on their own might seem intrusive, but the majority are asked purely to make app usage as smooth as possible, otherwise it would have to ask every single time if you want to allow an action, which isn't great for the user if they just want to complete a simple action.
Each mobile OS has its own way of handling these permissions, and it's worth learning the differences between them for when they come up.
iOS
When you download an app, you're not asked for permissions until a specific feature is needed.
For example, if you downloaded a camera app, it wouldn't ask for access to your photo roll (for editing) or your camera (for taking photos) until it's actually needed. In essence, it makes things more digestible for the user since they're dealing with each permission one by one.
Ultimately, it's a more practical way of introducing permissions to users without overwhelming them.
Windows Phone
Probably the least obvious example out there, when you're on the app screen itself, you will need to swipe right to 'details' to see what's required.
This also suffers the same problem as Android (which we'll get to) as it will include all permissions in bulk and assumes you've read and accepted them when you hit the download button. The full list of permissions for Windows Phone can be found here, but the main ones to keep in mind are.
Location services – Allows an app access to your approximate location.
Camera – Allows an app access to the phone's camera.
Data services – Allow an app access to your WiFi or data connection.
Microphone – Allows an app to record audio when prompted.
Owner identity – Allows an app to distinguish one phone from another, but provides no personal info.
SD card – Allows an app limited access to a person's SD card.
Proximity – Allows access to the phone's Bluetooth, WiFi, and NFC capabilities.
If you're downloading apps that aren't entirely familiar, it's worth checking it out first, especially since there are a number of third-party apps out there (same advice applies to iOS and Android too).
Android 
Probably the most overwhelming of the three, Google Play offers you the entire list of permissions from the word go before you hit download.
This can come across as overwhelming and isn't helped by how Google phrases them, but there is a logic behind each one. Here are the main ones you will encounter.
#Open journalism No news is bad news Support The Journal

Your contributions will help us continue to deliver the stories that are important to you

Support us now
Identity - So they know who's using the phone, in case you have more than one profile set up on your tablet (and maybe phone if user profiles are introduced in the next Android update).
Contacts/Calendar - Allows an app to access contacts and/or calendar. Both gives you access to contacts using the app and/or reminds you of events that are happening. Location - Allows an app to access your approximate location. This is to say where you're based if you want to use geolocation features.
SMS - Allows an app access to send and receive SMS. The charges may apply are basically what you pay whenever you send an SMS.
Photos/Media/Files - If you want to send photos or files through an app, or edit them, it will need access to them.
Camera/Microphone - If you can send photos or record voice messages, it will need access to these features.
WiFi connection – Most apps requires internet connectivity of some kind, this just allows it to avail of that.
Access to SD card - If you want to save files/articles/photos and you use an SD card, then it can use the free space here to store them.
As mentioned before, it's best to think of these app permission in the context of the app itself.
An app that focuses on photo editing shouldn't need access to your SMS or calendar and a game shouldn't need permission to access your contacts or calendar. Instead, look at what each app offers and compare the permissions to them.
The description they provide usually gives a clue as to what features they'll need access to so provided you take a moment or two to compare the permissions with everything else, it should be fine.
And if your gut feeling suggests that the app you want to download isn't being entirely honest, don't download it.