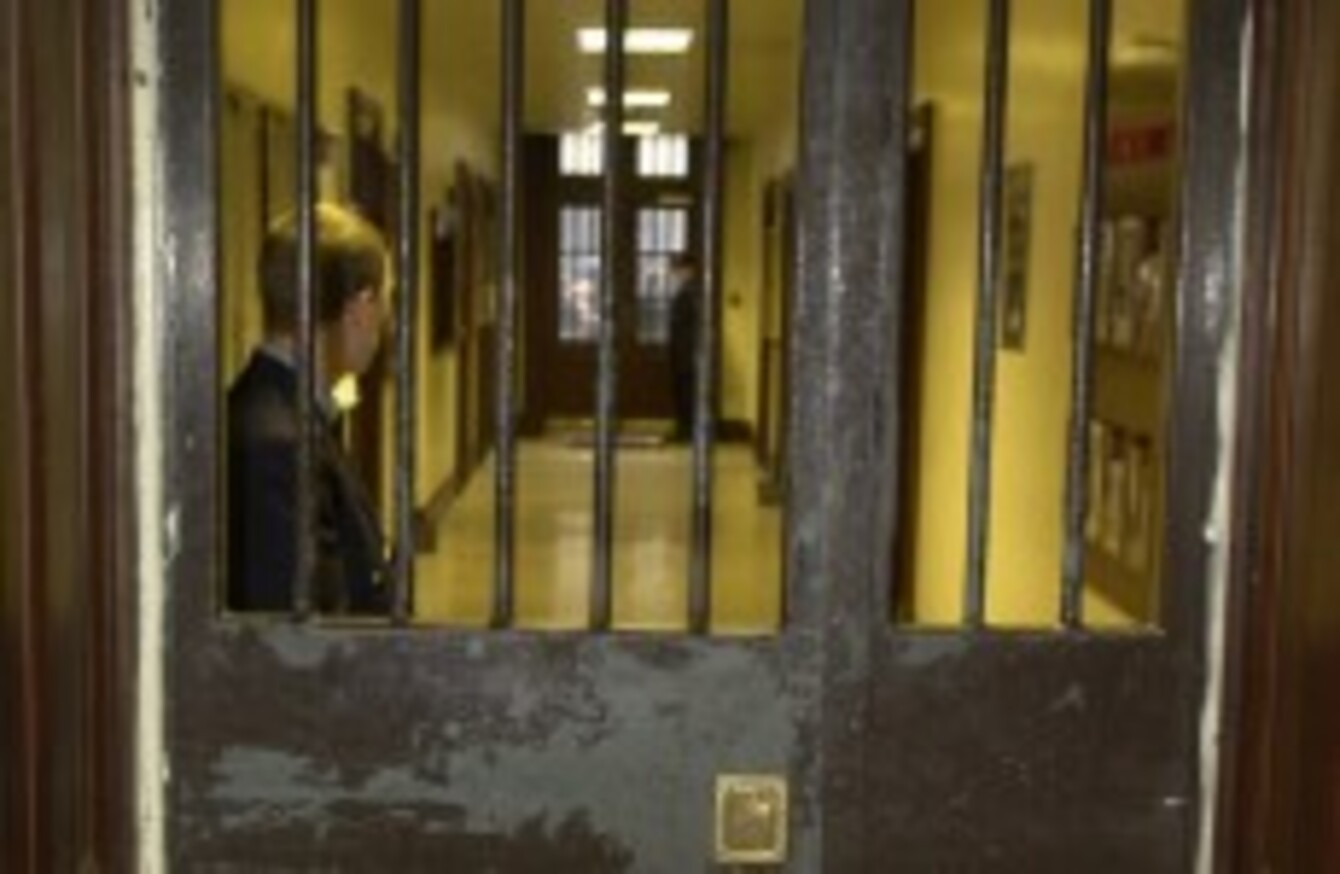 Inside Mountjoy prison
Image: Eamonn Farrell / Photocall Ireland
Inside Mountjoy prison
Image: Eamonn Farrell / Photocall Ireland
REPORTS PUBLISHED BY the Department of Justice give an insight into the issues facing both staff and offenders at Irish prisons.
The Irish Penal Reform Trust has already expressed its concern about the  Dóchas women's prison in Mountjoy, where it was alleged that female prisoners had to strip in front of male officers.
Following the publication of that report, Justice Minister Alan Shatter denied that men were present when the women had to remove their clothing for a search in front of male officers.
Responding to the 14 Visiting Committee reports, which were published on the Department of Justice website, Liam Herrick, Executive Director of the Irish Penal Reform Trust said that they underline yet again the urgent need for an independent and effective complaints mechanism in Irish prisons.
We have seen from the Garda Ombudsman here in Ireland and from the work of prison ombudsman bodies in Britain and in Northern Ireland that there is no substitute for independent investigation mechanisms – to protect against potential mistreatment and to ensure that prisoners are protected against any intimidation or reprisals as a consequence of the complaints.
He added that a clear commitment was made in the Programme for Government to reform of the Visiting Committees in order to enhance their independence.
While IPRT has previously welcomed the Minister for Justice's commitment to move ahead on the issue of both the Prison Visiting Committees and prisoner complaints, we have not yet seen any proposals from Government that would meet the standards of independence required by international law.
Herrick stated that IPRT also remains seriously concerned about the exclusion of children held in St Patrick's Institution from making individual complaints to the Ombudsman for Children.
#Open journalism No news is bad news Support The Journal

Your contributions will help us continue to deliver the stories that are important to you

Support us now
Some of the main issues outlined in the reports on the prisons include:
Arbour Hill
This is currently the centre of excellence for the treatment and rehabilitation of sex offenders
There were no suicide attempts this year
The fact total staff now down to 97 from 114 is a cause for concern; the population has increased from 139  to 155
The humane and productive manner of all the management and staff of Arbour Hill has been evident in all the monthly reports
Castlerea Prison
The committee is looking for an increase in staffing levels as workshops have closed down because of lack of staff
Cloverhill Prison
This prison mainly accommodates remand prisoners and overcrowding is an issue here
The highest number in custody was 505 prisoners in October 2010 – its capacity is 431
There were complaints from prisoners about being put in their cell during the night on a mattress, "in our opinion this causes tension and disruptions during the night to all prisoners in the cell"
Two prisoners went on hunger strike
The language barrier needs to be addressed as the daily average of foreign nationals is between 25- 30% of the prison population
The committee believes that prisoners committed by the Garda National Immigration Bureau should be going to a secure holding centre, not Cloverhill prison
More prisoners on protection is a reflection of the gang culture present in society
The smuggling in of mobile phones is a problem, as is lack of access to a prison psychologist
Cork Prison
Slopping out and lack of in-cell sanitation needs to be addressed – a new slopping out vessel is being introduced
A document was produced by women whose sons/partners were in prison, explaining the situation for others
Limerick Prison
In-cell sanitation on A and B wings of the prison is needed
The committee says "imprisonment should not be used for people who are suffering from mental illness and those who would be better treated in a community setting"
Due to scarcity of staff, all available workshops not being utilised
The committee believes the numbers of people committed to prison for non-payment of fines remains excessively high
Loughan House
This was described as a "good cost-effective service"
Midlands Prison
Some prisoners feel that the search dog is indicating [drugs] on visitors without foundation.
But the committee are satisfied that the introduction of the passive drug dog and the search unit has gone a long way towards helping keep drugs out of the prison
Due to the high numbers in prison population, prisoners are often transferred to other prisons for operational reasons without requesting such transfer. Some deem this to be unfair as it can prove a burden on families for visitation purposes
Due to the high numbers of non-nationals within the prison system the Committee had received some complaints from prisoners feeling they were discriminated against. The committee are satisfied that this is not the case in the Midlands Prison
The librarian is complimented on introducing a programme called "Story Book Dads" which allows prisoners to record stories onto a CD which can then be listened to by their young children
Mountjoy
From January 2010, cleanliness improved dramatically and continued throughout the year
The prison has been transformed from very dirty to very clean and new equipment was purchased
However there has been no improvement in overcrowding
In some cases, six people were put into cells for four and four into a cell for two. There have been instances of putting eight people into cells for four, simply by providing mattresses
New bunk beds were installed, but they are not deemed a success by the commitee
The fact that prisoners have to perform bodily functions in the crowded cells cannot be "labelled humane or just"
Issues with the Separation Unit – workmanship is deplorable, recreation rooms being used as night time housing
The need to have so many people on 23 hour lock up has been raised on many previous occasions
The committee is concerned at the lack of proper recreation time, lack of exercise and lack of daylight for such lengthy periods of time
Holding prisoners in the shower area in the base for hearings is degrading
The full medical needs of the prisoners are not being met
There is far too often a long delay in moving prisoners to mental health hospitals, due to a serious shortage of bed spaces
The committee recommends a drug free zone or wing as a further improvement in control.
Portlaoise Prison
Prisoners have access to a very good health care system
There are only two workshops in operation despite requests for more staff
Shelton Abbey Prison
Addiction counsellor proving highly effective
In total, 65 offenders absconded from Shelton Abby in 2010 as opposed to 77 in 2009.
There were 103 mobile phones confiscated in 2010
St Patrick's Institution
The logistics of managing accommodation in St Patrick's gets more complicated each year, because of increased numbers and the increased threats of violence from the different factions in the prison
The committee have a major concern about the level of staffing
Visitors and inmates can now have a conversation at a normal sound level since the sound system was fixed
Concerns about toilet facilities
Concerns about segregated areas for sex offenders
There were outbreaks of violence during the year in which prison officers were injured
On several occasions during the year the committee felt that the press coverage of conditions in the prison was unfair
Training Unit
In February, an unannounced search of cells found 28 mobiles, one Blackberry, seven shivs made in a workshop and a quantity of drugs
In August, out of 123 urine samples only two prisonsers positive. In December, 186 urine samples, 10 offenders transferred to Mountjoy and three to St Pats having tested positive for drugs
Wheatfield Prison
In total, 76 mobile phones were found in 2010
Prisoners there are concerned about transfers, problems relating to family visits and visiting conditions, medical treatment and temporary release applications