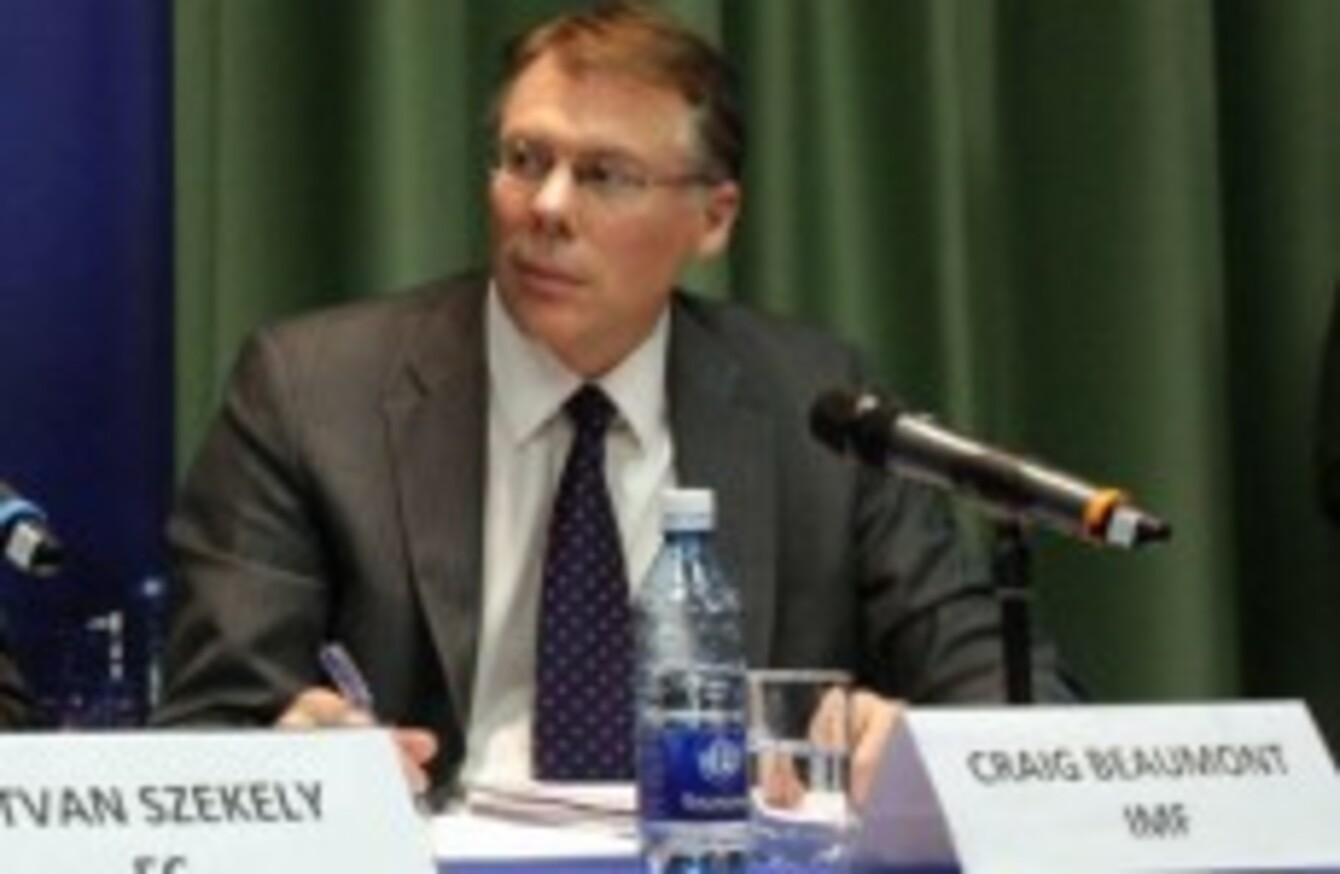 Craig Beaumont, IMF 'Ireland Mission Chief'
Image: File Photo - Niall Carson/PA Archive/Press Association Images
Craig Beaumont, IMF 'Ireland Mission Chief'
Image: File Photo - Niall Carson/PA Archive/Press Association Images
FINANCE MINISTER MICHAEL Noonan greeted today's conclusion of the final troika bailout review as a 'red letter day' for the country — but the message this afternoon from the IMF's Ireland Mission Chief was that they're not going anywhere right away.
Speaking to reporters on a conference call from Washington, Craig Beaumont said that under the terms of the programme, Ireland could be paying money back to the International Monetary Fund until "December 2023," although he noted that was the "outer limit" agreed.
And asked whether he had a "message for the country" as the 15 December date for Ireland's exit of the bailout approached, Beaumont took the opportunity to remind everyone that the Fund would still be conducting six monthly 'visits' with the Government to discuss policies.
"The only thing that will be different is that there not be an assessment," Beaumont said.
"We will be here every six months in a completely normal fashion".
Beaumont stressed that there were no immediate plans to pull officials out of the country after mid-December, saying that in many cases when a country exits a programme, a team remains "for a number of years".
Assessment
The overall feedback from the Washington-based organisation chimed with the language of the Government here: Ireland remains "on track" and "on profile".
Beaumont said the Irish programme was one that "will become an example that we learn from in the future" and that the country would be regaining access to the markets "on good terms".
In terms of the negatives, he said growth was "not what we could call an achievement of the programme," and that "it has, in fact disappointed original programme projections".
However he noted: "We have to take into account that the external environment was much worse than anticipated".
Arrears
Beaumont said more efforts needed to be made to address the mortgages arrears and unemployment crises.
"We flagged before the issue where we would identify that progress hasn't been quite as fast as we would like is the area of dealing with mortage arrears and dealing with non-performing loans more broadly.
"This is not owing to lack of effort. There was a large investment in time and effort in making the bankruptcy regime more workable, and that's now up and running.
"There was also effort to remove unintended barriers to repossession of housing — which is a last resort position, but it's important that households know that there is ultimately a consequence for running prolonged arrears.
#Open journalism No news is bad news Support The Journal

Your contributions will help us continue to deliver the stories that are important to you

Support us now
He pointed to a "wait and see" attitude from households and from banks and said that could be factor contributing to the problem.
Beaumont said that unemployment was the "main challenge" faced by the Government as the bailout programme came to an end, and said that existing schemes aimed at retraining those who were long-term unemployed should be "implemented vigorously".
Additional credit
On the subject of whether the country should make use of a precautionary line of credit, the Mission Chief wouldn't be drawn on a definitive view:
"We did discuss Ireland's exit strategy during the mission. We've expressed our view that it's not uncommon for a county to have a backstop in place."
However, he said the decision "remains in the hands of Irish authorities".