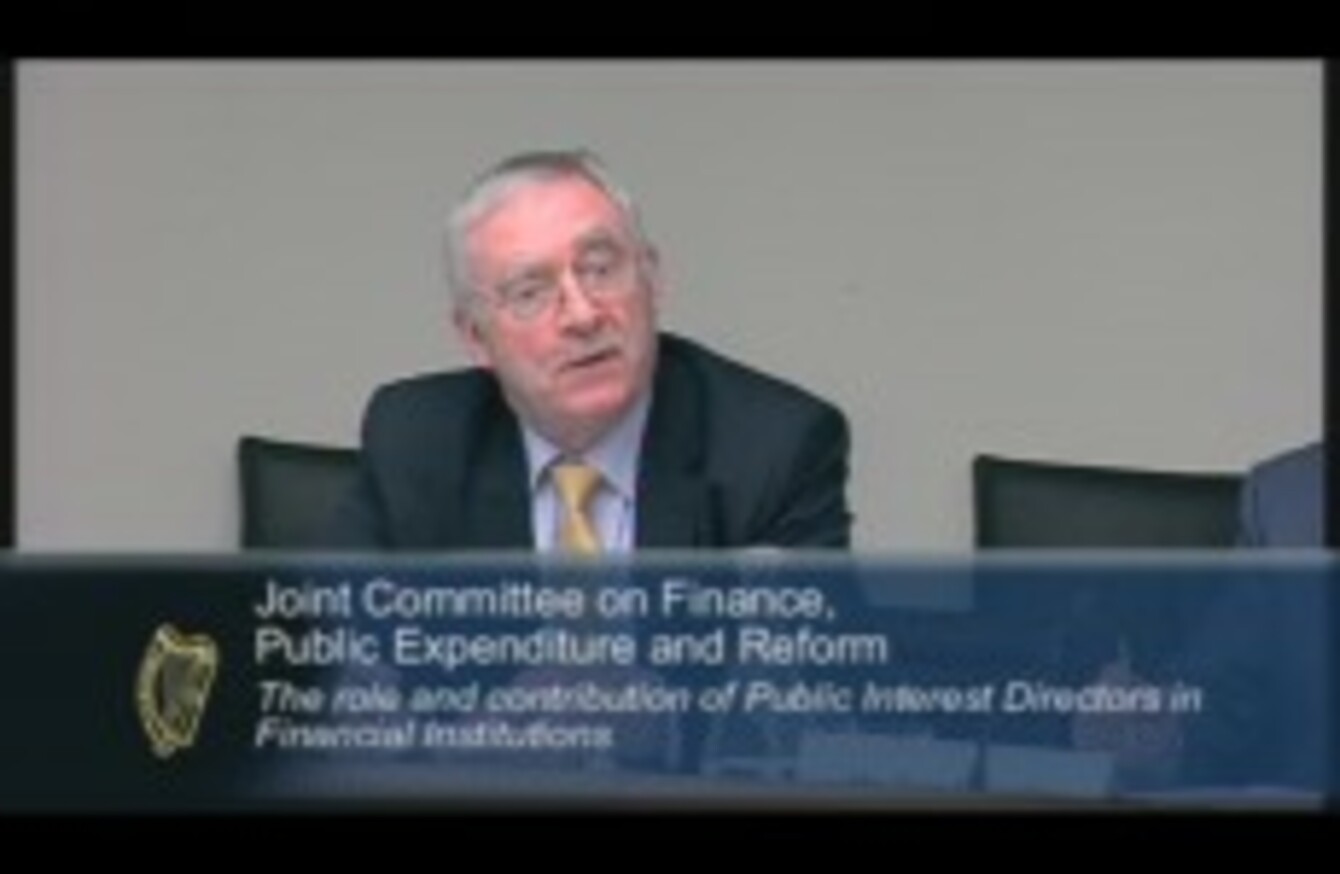 Joe Walsh, BOI Public Interest Director, answering questions
Joe Walsh, BOI Public Interest Director, answering questions
TWO PUBLIC INTEREST Directors at Bank of Ireland have been paid over half a million euro since their appointment by the former Minister for Finance Brian Lenihan in 2009.
Joe Walsh and Tom Considine, who were appointed to ensure the bailed-out banks act in the public interest, have appeared before the Oireachtas Committee on Finance, Public Expenditure and Reform to be questioned by TDs and Senators for the first time today.
In response a question by the chairman Ciaran Lynch, Walsh said that he had received a salary of €80,000 in 2009. In 2010 and 2011 he received €79,000, and in 2012 received €89,000.
Considine told the Committee that he received €79,000 in 2009, €90,000 in 2010 and 2011, and €97, 650 in 2012.
The two Public Interest Directors (PIDs) confirmed they received a combined total of almost €700,000 since their appointment, plus expenses.
When questioned about the amount claimed in expenses, both said they had claimed expenses in 2009 but had not done so in the past three years. They did not provide figures of the amounts claimed.
Role
Walsh and Considine were asked what differences existed between their roles as Public Interest Directors and regular directors at Bank of Ireland.
While recognising that PIDs do not formally report the Minister for Finance, Department of Finance or the Central Bank, Walsh said that he was nevertheless "cognisant and very aware" of the expectations of him in the role.
Considine said that while all directors – PIDs or otherwise – have the same legal underpinning and are charged with same job of running the bank, PIDs bring their particular "background" to their roles to ensure the bailed-out bank act in the public interest.
Peter Matthews TD suggested that Walsh and Considine "didn't really have" a job description.
Meanwhile, Shane Ross asked Walsh, when he would stand for election again – to which he replied: "That does not apply".
Mortgages
The two were also questioned about the culture of remuneration at the bank.
Richard Boyd Barret asked the PIDs if they believed it was "fair" that Bank of Ireland's Chief Executive Officer of the Bank of Ireland Richie Boucher, who receives a salary 20 times the average industrial wage, publicly ruled out debt forgiveness for distressed mortgage holders.
In response, Considine said that the bank needed to be in a "sustainable position" in order to support itself.
It was revealed this month that both AIB and Bank of Ireland are paying a large number of staff members more than €100,000 per year.
Credit card hike
The PIDs were also questioned about yesterday's announcement that Bank of Ireland will increase the variable interest rates applied on its credit cards.
The interest rates have been increased by between 0.7 per cent and 4 per cent, depending on the specific credit card held by customers.
Walsh told the Committee that it was "a pity" that the increase had to be applied – and just one week ahead of Christmas – but that the majority of customers settled their cards at the end of each month and so would not be charged.
He added that the bank needed to be in a "viable position" and that other charges had also been raised to ensure this.