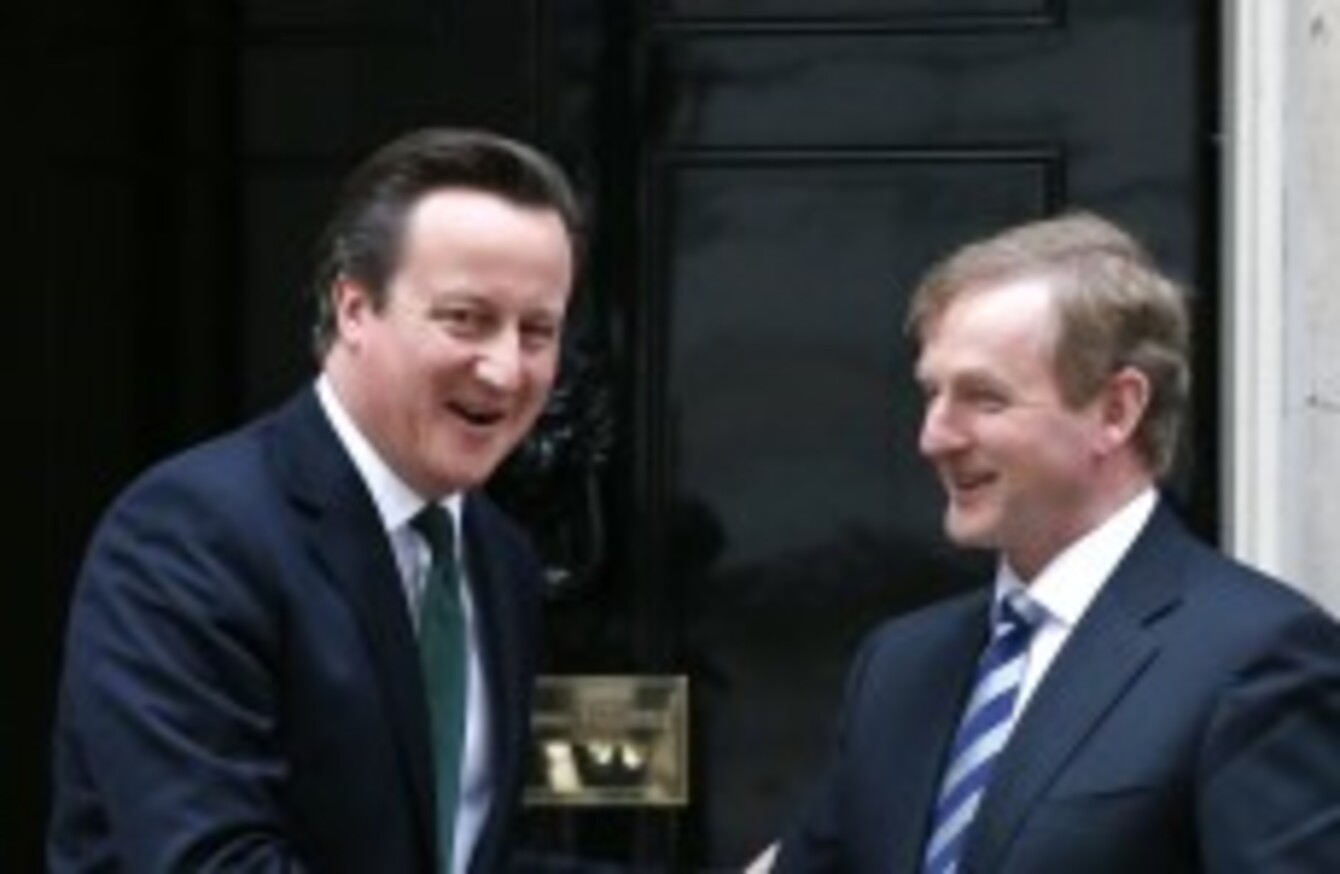 David Cameron and Enda Kenny
Image: Sang Tan/AP/Press Association Images
David Cameron and Enda Kenny
Image: Sang Tan/AP/Press Association Images
THE UK AND Ireland plan greater economic cooperation in the wake of a major report on the two countries' current economic relationship which has been published today.
The Joint British-Irish Economic Study report has been published by both governments and identifies a number of areas where they can collaborate more closely including a visa waiver programme, allowing visitors to travel more freely between the two islands.
Other areas identified for closer co-operation include the energy sector, with a recommendation that the two governments work on a programme for the trading of renewable energy.
Closer cooperation is also encouraged in the agri-food sector with greater emphasis on food chain security – to prevent a repeat of the horsemeat scandal – and to establish common standards around the main risk areas of biosecurity and food safety.
The two governments are also urged to share knowledge around the funding of infrastructure in the construction sector and undertake closer cooperation in the financial and professional services sector.
The report, carried out by PA Consulting Group, has taken over six months to complete and examines in detail the depth of the relationship between the two countries.
A number of key findings include:
The UK remains Ireland's largest export destination: 16 per cent of Ireland's total industrial exports went to the UK in 2011
Similarly the UK is the largest recipient of Irish service exports with an 18.5 per cent share
UK jobs resulting from exports to Ireland in 2009 are estimated at 208,000
Jobs in Ireland resulting from exports to UK are estimated at 198,000, representing around 10 per cent of total Irish employment.
UK nationals represented over 2.5 per cent of total sector employment in Ireland in 2011
Similarly Irish nationals represented over 0.75 per cent of total sector employment in the UK
The stock of UK's Foreign Direct Investment in Ireland in 2011 was €52.9 billion
Ireland's stock in the UK was €50 billion.
Taoiseach Enda Kenny said the report will help identify further areas for cooperation.
His British counterpart David Cameron said: "I'm delighted this report has identified such a wide range of sectors in which Britain and Ireland can further strengthen economic collaboration to boost growth and help our countries succeed in the global race. "
The British Irish Chamber of Commerce called for the recommendations in the report to be implemented and welcomed many of its recommendations include the proposed visa waiver programme.
"This will considerably increase the attractiveness of these Islands as both an investment destination and a tourist destination from important markets in Asia," Steve Aiken, the chief executive of the British Irish Chamber, said.