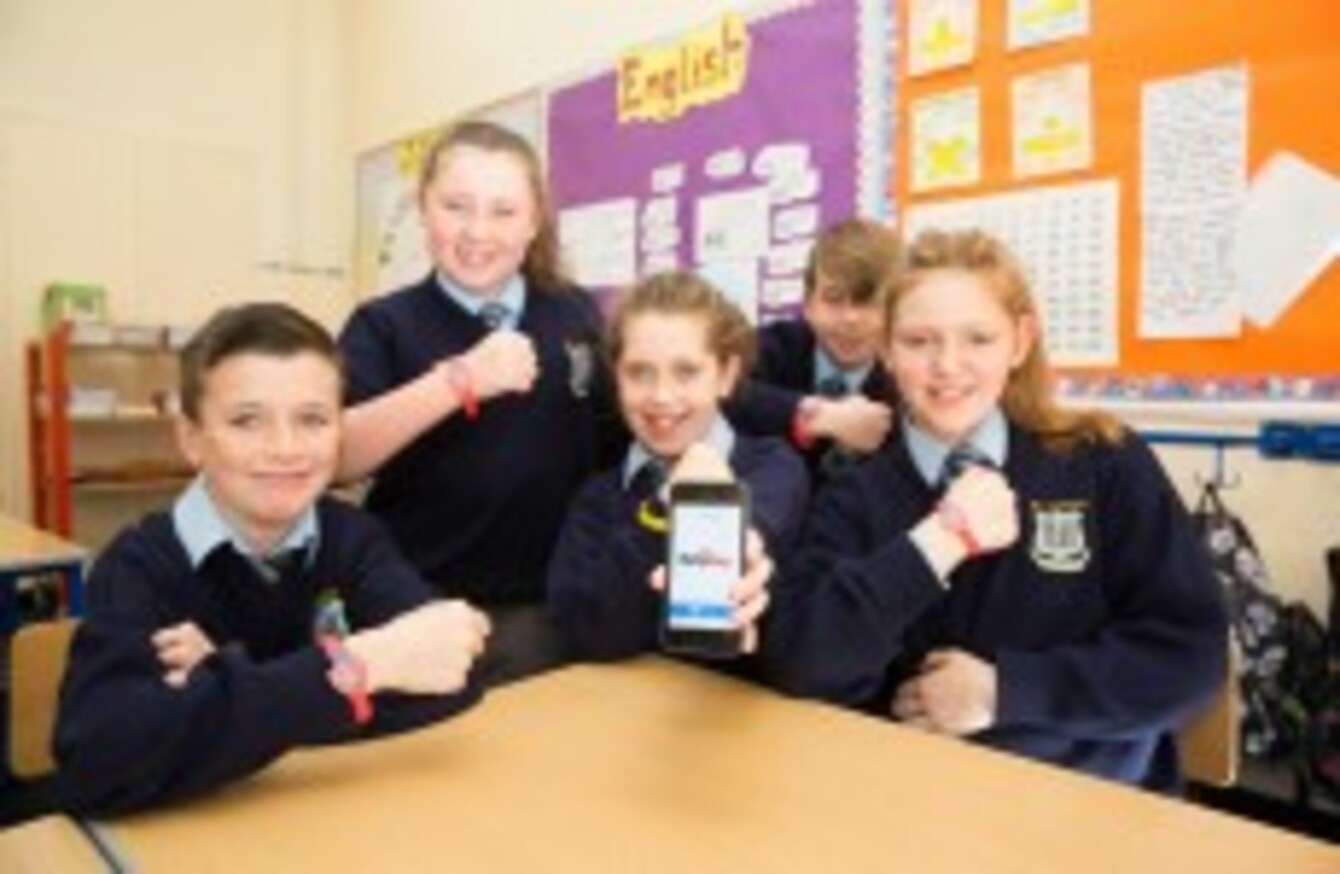 IF YOU CAN think back to what you were doing when you were eleven-years-old, the chances are that demoing your own tech product in front of thousands wasn't one of them, but that was the case for these five students.
The product in question was BullyBug, a wristband that aims to reduce bullying. When a child presses a button on the wristband, it sends an alert to the teacher's phone via its app. The teacher can later sit down with the child and help solve the problem.
The idea was conceived by five 5th class students from St. Audoen's National School in Dublin city centre: Katelyn, Chloe, Ben, Nadine and Daniel.
Earlier this week, the group had the opportunity to show off their idea on centre stage at the Web Summit, and demo a prototype of BullyBug in front of four thousand people.
It's said that 31% of primary and 16% of secondary students have been bullied at some time, and by giving an easier way to alert teachers to it, it could help reduce this figure.
Source: Boys & Girls/YouTube
BullyBug's creation was part of the Solas Project, a non-profit organisation that works with children and young adults in Dublin's inner city. Part of its work with schools involves a Dragons' Den-style programme where kids and volunteer business mentors work with students over five weeks to develop a business idea or product.
One of the business mentors for BullyBug Kris Clarkin of the advertising agency Boys and Girls said the students honed in on the issue of bullying and came up with the idea on the first day. It stemmed from how difficult it is for a child to tell a teacher they're being bullied in the first place.
"When we started talking about it, one of the main issues was being able to tell a teacher is a difficult thing for them to do," he said. "The thing for them was although some of them have phones, they weren't allowed to have them in the classroom.
What they knew was they wanted to be able to press a button that would be able to do something on your phone and they were pretty confident that it was something that could be done.
To get around this, the idea eventually turned into a wristband and while Girls and Boys put a prototype together, the app was designed by 8bytes, the students drove the product forward.
The appearance has put the project in the spotlight and has generated interest among teachers as well as the support of the Anti-Bullying Research and Resource Centre founder Prof Mona O'Moore.
Even two prominent, multinational tech companies have expressed interest in the idea and talk of piloting it in the classroom has begun. The dream is to make it a nationwide initiative, but for now, it's about managing expectations and making sure nobody gets ahead of themselves.
"The interest has been quite impressive," said Clarkin "When you have an expert in the field saying this could is viable, it's a great endorsement."
[The kids are] on cloud nine. For anybody to be able to speak in front of four thousand people is huge, and for an eleven-year-old to do that is incredible. They've been in demand as well and we're trying to manage that because [you forget] they're kids, and they're still in school.