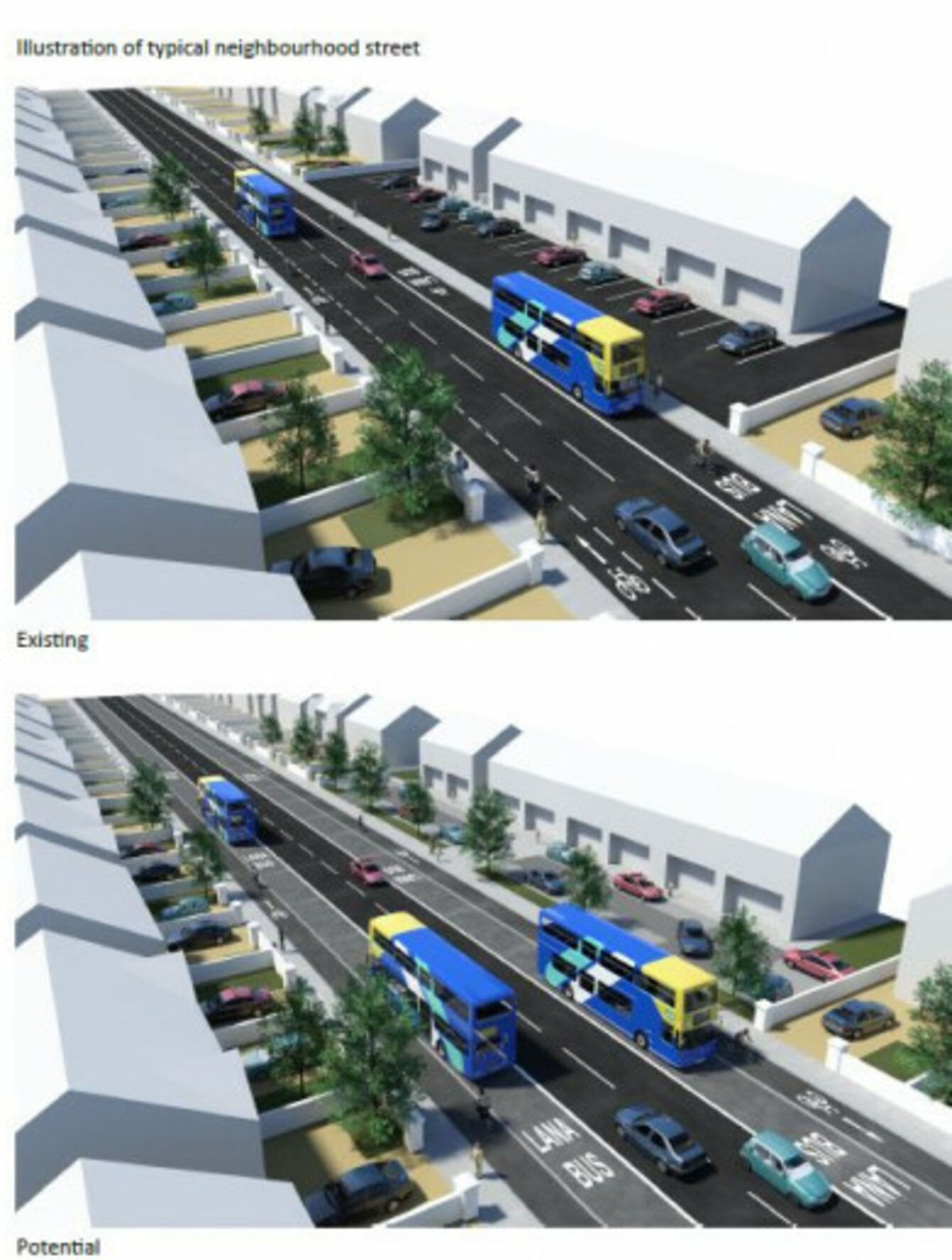 How a street could change under the new plan
Image: NTA
How a street could change under the new plan
Image: NTA
CONTINUOUS BUS LANES along the main routes in and around Dublin city centre are part of an ambitious plan to transform public transport in the capital – and property owners affected by the plan are set to be fully compensated to the tune of €25,000 each.
Yesterday, the National Transport Authority (NTA) launched a public consultation for the first four bus corridors in this plan – linking the city centre with Clongriffin, Swords, Lucan and Blanchardstown.
Alongside the continuous bus lanes will be dedicated cycle routes but – to make way for these – it will necessitate the cutting down of trees, a loss of parking spaces and some property owners will lose a bit of their front garden.
From Clongriffin to the city centre, the NTA said that 120 properties would be impacted. From Swords, there would be 110. From Blanchardstown, there would be 100 and from Lucan, there would be 15.
Across the 16 proposed corridors that would provide continuous bus lanes, the NTA said yesterday that around 1,300 properties would be affected.
In a lot of cases, most property owners will only lose around 1-2 metres of land. "But it's fair to say that others are affected slightly more," NTA deputy chief executive Hugh Creegan said yesterday. 
And, on average, property owners will receive €25,000 in compensation but they may be entitled to more.
The NTA has pledged that where lands are acquired, it will ensure new landscaping and replanting of gardens and reinstatement of driveways.
In cases where private and public walls or fencing is removed, this will be rebuilt and/or replaced.
The cost of providing all of this will be separate to the compensation provided. 
In terms of the trees that will be cut down, a "comprehensive replanting programme" will be initiated with the aim of planting more trees than were removed. 
Planning process
This will be a lengthy, costly process.
Details on the other 12 corridors will be announced next year, but the estimated cost of the first four was announced yesterday:
Clongriffin to city centre -  €100-150 million
Blanchardstown to city centre – €120-170 million
Swords to city centre – €100-150 million
Lucan to city centre – €80-120 million
The NTA has written to property owners in these areas to inform them that they may lose part of their front gardens to the plans. 
It said yesterday that it marked the beginning of a dialogue with those impacted that would carry on into and throughout 2019.
It won't be until 2020 that planning applications will be submitted to An Bord Pleanála for the project.
That process, pending approval, will be followed by the acquisition of the land needed from 2021 onwards via compulsory purchase orders and the construction of the new corridors by 2027. 
Creegan was asked yesterday if agreements need to be reached with the owners of all property along a corridor before construction can start. 
"No. It goes through a planning process," he said. 
Once completed, the NTA envisages that this will radically cut commuting times for many, as buses can use continuous, dedicated lanes all the way to the city. 
"With the city set to grow by 25% by 2040, the level of congestion will increase, and people's quality of life will be eroded unless we take the appropriate actions now," NTA CEO Anne Graham said.
The creation of the corridors – going by NTA current timelines – will conclude far later than the planned redesign of the bus route network which is currently scheduled to be implemented in 2020.
These plans would see the current route numbers scrapped in favour of new "spine routes" that go more frequently through the city centre as well as "orbital routes" that mean many don't have to go through the city centre to reach their destination if they don't need to. 
But, after a public consultation drew over 30,000 submissions, the revised plan will not be published until "sometime" in 2019. 
"It's going to take us many months to go through those submissions before we have a revised network," Graham said. 
With reporting from Cónal Thomas