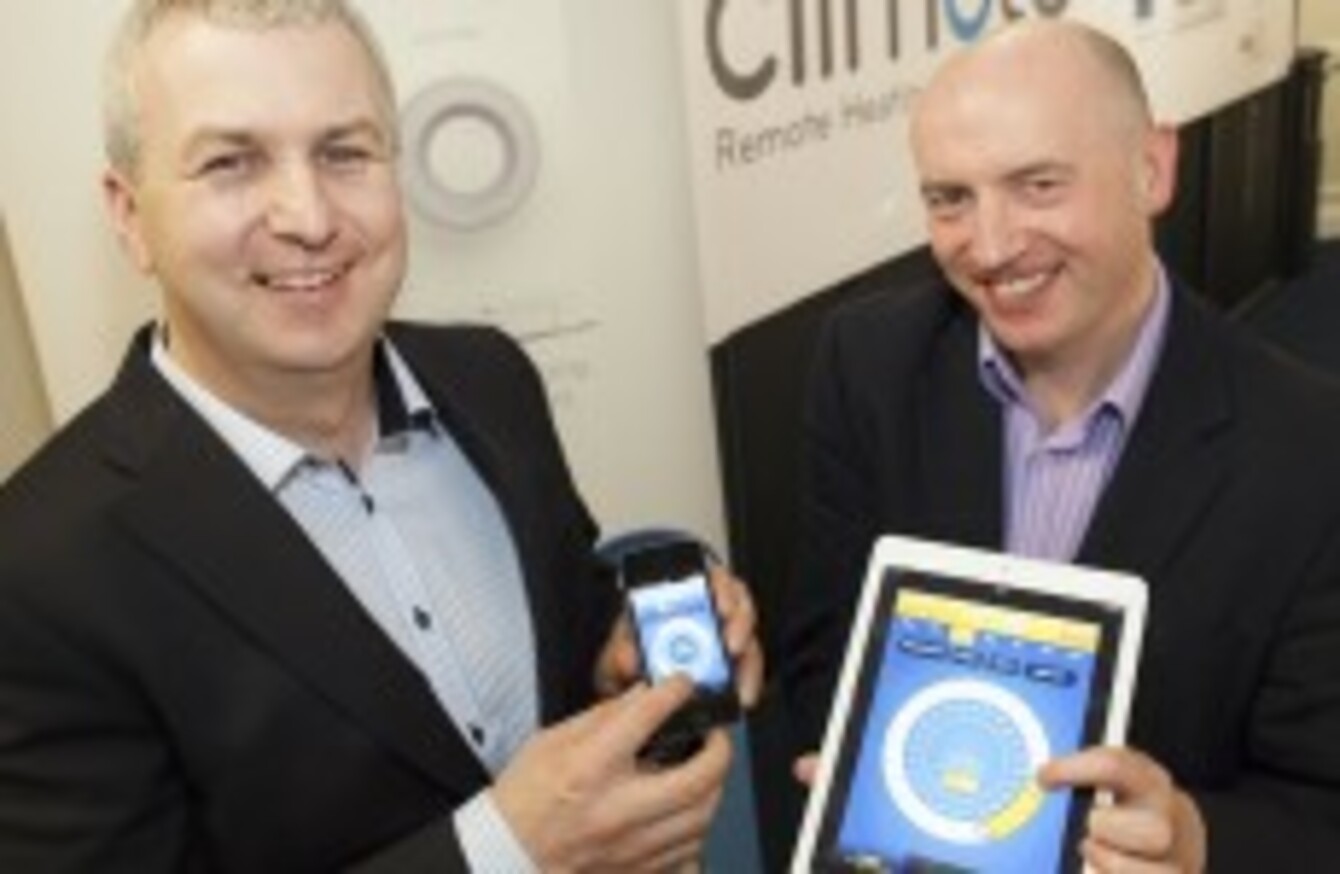 Climote's Derek Roddy, left, and Eamon Conway.
Image: Tony Kinlan
Climote's Derek Roddy, left, and Eamon Conway.
Image: Tony Kinlan
TWO ENERGY-INDUSTRY HEAVY hitters have reached into their own pockets to invest in giant-killing Irish startup Climote as part of a million-euro injection into the fledgling firm.
Former Bord Gáis chief executive John Mullins and Ian Marchant, the ex-boss of UK power giant SSE, have each bought a piece of the award-winning smart metering company.
The pair previously oversaw companies with a combined annual turnover of more than €30 billion and both will join Climote's advisory board as part of the deal.
The Dundalk-headquartered company recently signed a €10 million deal with ScottishPower – beating Google-backed competitor Nest to the contract.
Mullins said the ScottishPower deal proved to him that Climote could "take on the biggest players in the industry and win".
I have been using Climote's technology in my own home for many years now, so to be in a position where I will be part of the team driving Climote forward is very exciting," he said.
"Within the next few years, every home throughout Europe will be able to remotely manage their energy use and Climote is well positioned to play a leading role in this industry-wide change."
Mullins said he was looking forward to helping Climote enter new markets and create more products, and expand its market share.
A big cash boost
Climote was tight-lipped about the value of the pair's cash injection, but company records reveal Marchant recently bought €100,000 in shares.
Another €300,000 went to Dublin firm Willis Trustsure Ltd and €1.1 million in shares went in two tranches to Global Impact Business Inc, based in the British Virgin Islands.
Earlier this month Climote was named Ireland's national champion at the European Business awards for its digital meters, which provide remote control of home heating and hot water services – including via its smartphone app.
Since its official launch in 2012 it has signed partnerships with Electric Ireland and Power NI.
The company is the brainchild of ex-Honeywell executive Eamon Conway and smart-homes entrepreneur Derek Roddy.
Some local competition
Nest, which Google bought for about €2.5 billion earlier this year, announced it was launching in Ireland this month in direct competition with Climote.
It claims to be able to save households up to 20% on their heating bills by learning how people warm their homes and automatically adjusting temperatures.
READ: Anyone for a smart thermostat? Google's Nest to arrive in Ireland later this month
READ: Dundalk smarter homes start-up wins European business gong