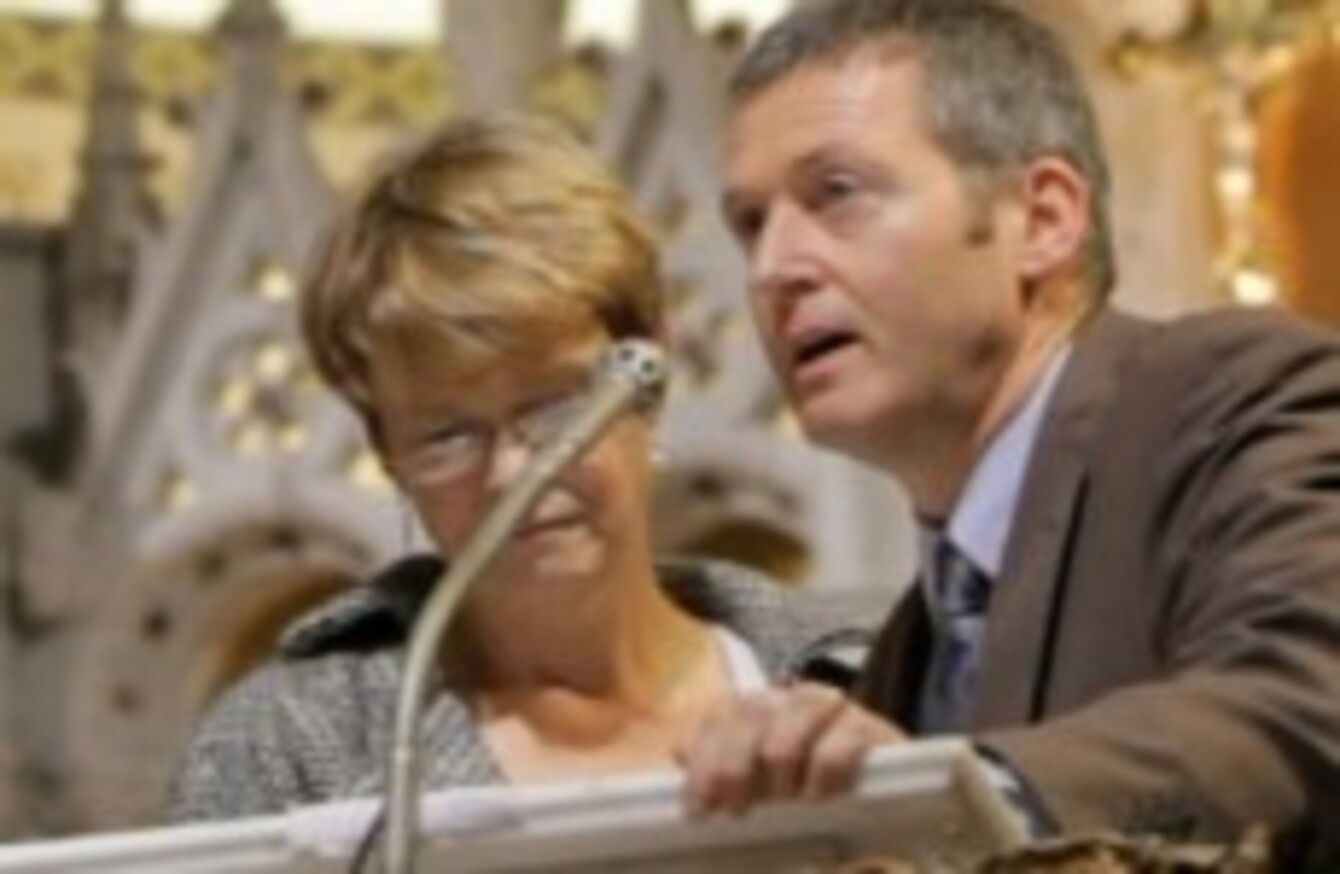 Novena, a documentary on LGBT members who are invited to speak at the altar of a Catholic church, was one project that was successfully funded.
Image: Novena/Fund It
Novena, a documentary on LGBT members who are invited to speak at the altar of a Catholic church, was one project that was successfully funded.
Image: Novena/Fund It
ON PAPER, CROWDFUNDING shouldn't work. Essentially, you ask friends and strangers to back a project that has no guarantees will succeed or not. A few years ago, you would have been laughed out of the room if you suggested this, but now it's big business.
With limited funds to go around and greater competition for grants, crowdfunding has provided a way for smaller projects and services to get the money they need.
One of the biggest crowdfunding platforms, KickStarter, has seen more than $962 million pledged to successful projects since it launched in 2009, and that figure continues to grow, while its closest competitor IndieGoGo raised $40 million in investment this month. Both are expanding and the influence of crowdfunding has seen similar initiatives pop up locally.
While there are a number of Irish-based projects on Kickstarter and IndieGoGo, they tend to get lost within the noise of major projects such as the Pebble Smartwatch or Double Fine Adventures – who very recently released the first part of Broken Age to much praise. Also, these sites require you to have bank accounts in the US, meaning that it's not as inclusive as one might think.
That's where the local crowdfunding sites come into play. The scene has been developing over the last few years and there are a number to choose from. Sites like LinkedFinance, Seedups and PledgeUp offer an avenue for commercial and community projects to raise funds through the public and are growing in popularity.
One of more popular examples here is Fund It, an initiative created by Business to Arts. The site provides a platform for non-commercial projects to fundraise and complete projects. Following an all or nothing model, if a project is successful, those who pledged funds donate and receive rewards depending on the amount committed. If not, those who pledged money aren't charged.
(Video: Fund It/Vimeo)
With its third birthday coming up in March, the service has paid out €2.1 million to successful projects and the average successful project can expect to get €4,000. With a success rate of 74 per cent, it's one of the more successful crowdfunding platforms in the country.
The founder and project director of Fund It, Andrew Hetherington, has seen the initiative grow from strength to strength since it was launched in 2011 and while it's usually seen as an avenue for the creative arts, by association, the service is available to all projects.
We get pulled in lots of different directions. The creative industry is something we have always been involved with… but it's always our ambition to always try and bring commerce and culture together as best we can.
A major factor that separates Fund It from other similar ventures, and one of the main reasons for its high success rate, is its focus on education. While it's easy to assume that most of the work involves simply maintaining the site and managing pledges, the Fund It team put a lot of work into getting people up to speed with the process so that their projects hit the ground running.
Aspects like workshops, blog posts on the many different aspects of fundraising and even going through the process with anyone starting off is important. Naturally, it benefits the organisation as well – it gets a five per cent commission from any successful project – but that's to be expected considering the work that's put in.
We spend a lot of time with people before their project goes up on a site… what their content should be or what their plan of action is and telling them a little bit more about crowdfunding. By doing that process, people can step back and go "I'm not sure this is the right thing for me" [if it's not the right fit].
There have been a lot of projects that have been successfully funded in recent times. Some are community projects such as Granby Park, which saw voluntary arts group Upstart convert an inner-city site into a pop-up park, while others address issues like Novena, a documentary focusing on members of the LGBT community being invited to speak at a Novena mass in Dundalk.
€21,926 was pledged to the Granby Park project, which turned an inner-city site into a pop-up park (Image: Fund It).
One of the added benefits of crowdfunding in a country like Ireland is how connected we are. The likelihood of you knowing someone currently raising funds for a project or have a friend of a friend doing the same is higher than you would expect. Having that kind of connection helps when you're promoting a project.
One group that has successfully funded a project is the Cork band The Calvinists, which reached its target of €10,000 to help it edit and release its debut album King of Lies.
Having already recorded the album in the summer, tragedy struck the group in October when its bassist, Taidhg Burke, passed away after sustaining injuries from a car crash.
Determined to release the album in April, the band started raising funds to help remix, remaster and duplicate the album on St Stephen's Day, but it was when it started its Fund It campaign at the start of the month that it really gathered momentum.
The band's guitarist Marc de Zoeten said that the campaign "took a life of its own" when they started the campaign. Once the band put up the campaign link on their Facebook and Twitter pages, their followers spread the word and the €10,000 target was reached in the space of a week.
When asked what advice he would give those thinking about running a crowdfunding campaign, de Zoeten mentioned the importance of a good video to help get the message across. Equally important was the type of rewards you offer, saying to "make something different and personal."
"When you're putting together an album, you want to connect with your audience," said de Zoeten. "You want to make it personal so that they (those backing the project) feel like they're being appreciated for having an interest in it."
#Open journalism No news is bad news Support The Journal

Your contributions will help us continue to deliver the stories that are important to you

Support us now
(Video: The Calvinists/YouTube)
Before anyone begins to think crowdfunding is an easy way to raise money, it's anything but. For the many projects you hear succeed, there's an even greater number which fail to reach their targets or miss the mark entirely. Sometimes this is down to a lack of preparation and work, sometimes it's a project that doesn't appeal to the intended audience, and sometimes it's bad luck.
One such project was the online magazine Guth, which had an unsuccessful funding campaign during August 2013. Running the campaign on IndieGoGo, Guth required €13,500 to help fund the first three issues and bootstrap it, but in the end, it raised €3,871.
Gerard Cunningham, who headed the fundraising campaign and is a freelance journalist by trade, said that the nature of the project – a subscription-based magazine dedicated to investigative journalism – meant it didn't appeal to the traditional crowdfunding demographic.
"I was looking to fund a media project and since most (crowdfunding projects) tend to be in the arts, I wasn't appealing to the usual funders," explained Cunningham.
The fact that the majority of promotion fell on Cunningham didn't help matters either. For a project to succeed, the more people helping out – and more importantly, the more influential they are – the better the chances your project has of being successfully funded.
With that in mind, the more people learn and use crowdfunding, the savvier they become. Hetherington says he has noticed how people and groups treat the service as part of a much bigger plan.
People are becoming smarter about crowdfunding as it may only be a certain proportion of the investment needed. They bring their own capital, they bring their own savings to a project, have a crowdfunding element, and then maybe even a more commercial side to it.

They build in this whole budget of which crowdfunding is a part of… that's the more sophisticated crowdfunder at the moment.
And that's the way crowdfunding is evolving right now. It's not going to replace traditional funding models anytime soon, but the momentum it can give a project if successful cannot be underestimated.
We're a long way from it becoming the main or sole means of fundraising, but one thing is for certain, it's here to stay.