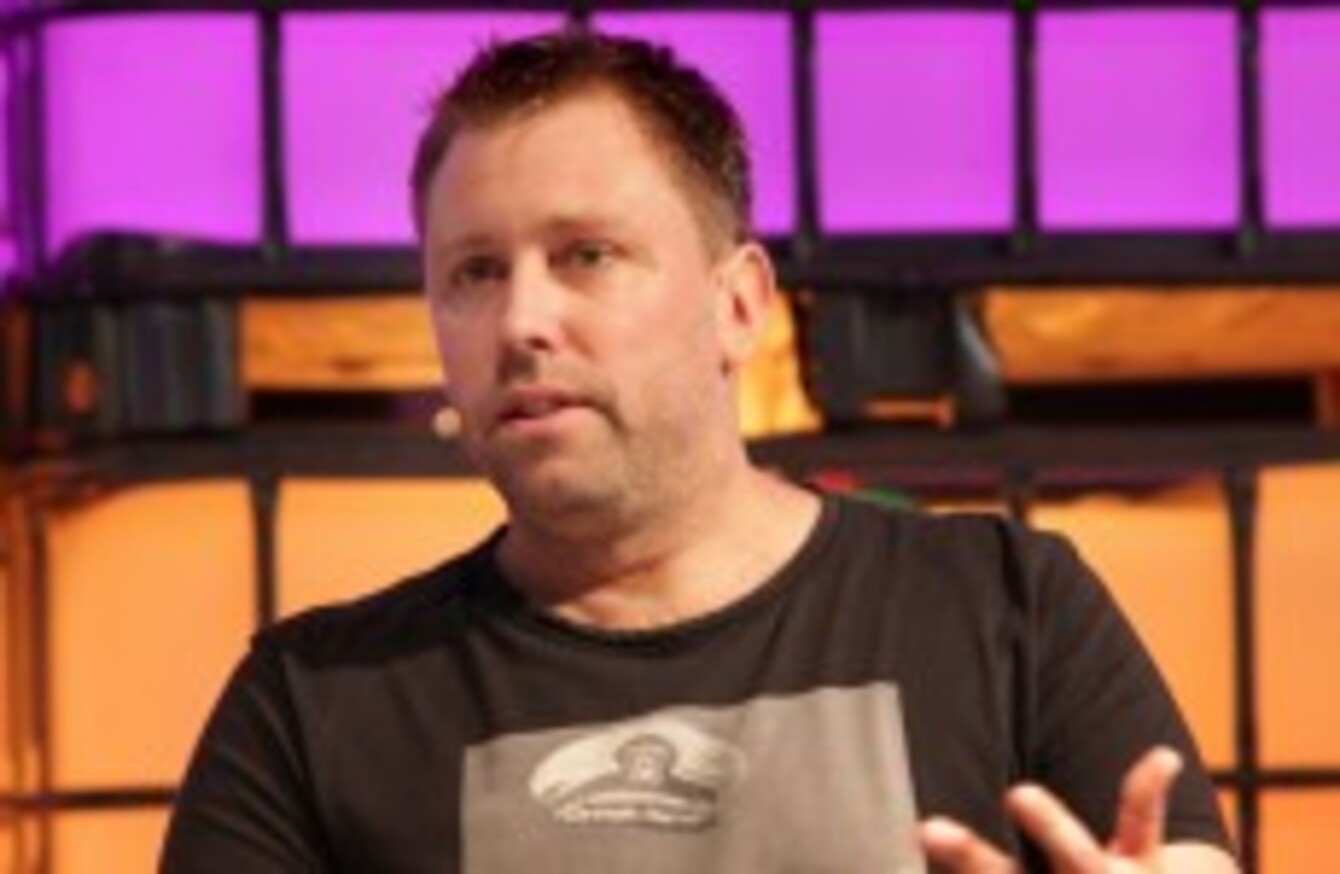 CurrencyFair CEO and co-founder Brett Meyers at the 2013 Dublin Web Summit
Image: Mark Stedman/Photocall Ireland
CurrencyFair CEO and co-founder Brett Meyers at the 2013 Dublin Web Summit
Image: Mark Stedman/Photocall Ireland
PEOPLE FINALLY LOST trust in their banks after the financial crisis, opening the door for nimble startups to start taking away all those "pissed off" customers.
And it was only now that big firms were starting to wake up to the threat new entrepreneurs posed to some of their biggest cash cows, according to the co-founder of Dublin-based CurrencyFair.
But the idea for the foreign-currency transfer business goes back to the early 2000s and the frustration now-CEO Brett Meyers was experiencing as an expat in Ireland sending money back to his native Australia.
He likened the concept to watching people queuing to change money at airports about to give away up to 10% of their money in commissions to foreign exchange booths.
"What if they just turned to eachother in the queue and said: 'look, I've got £200 and I want euro, and you've got euro and want pounds, and they just agreed a rate'," Meyers said.
"What we do is like that person-to-person mechanism but done online in a way that, with CurrencyFair looking after all the money, there's no risk."
Meyers sat on the idea for most of the decade until, in late 2007, the fear someone else would jump on it first drove him to start the business with his three co-founders.
Cheaper and faster
It launched in 2010 and still operates as a marketplace for peer-to-peer currency trades, but in about three-quarters of transactions CurrencyFair now acts as the buyer for those looking for a quick and easy deal.
Meyers said the company used domestic transfers via its own accounts on both ends to make the transaction about 90% cheaper than international bank transfers.
"Prior to CurrencyFair, if I had wanted to send $100 to my brother in Australia the best way to do it would have probably been to stick it in an envelope and post it," he said.
Over the past two years the business has gone from about seven staff to 50, with plans to double its workforce again by the end of the year. 
Most work out of its Dublin head office, but it has also opened satellites in Australia, the UK and Poland. The business now handles over €5 million in transfers every day with the aim of increasing that figure fivefold in the next 12 months.
No profit, no problem
Meyers said CurrencyFair, which has the backing of Enterprise Ireland and venture capitalists Frontline Ventures, wasn't turning a profit yet – but it could if the company wasn't more interested in growing bigger, fast.
"I could sit on these 50 people we've got, tick along and fund ourselves through revenue … or we can raise further funding, spend more on marketing, hire loads of people so that we can build a better product faster," he said.
Meyers said banks were finally starting to worry about losing some of their lucrative foreign-exchange business amid a wider bloom in financial-technology startups.
"It's one of those last areas where they are just charging fat margins for no apparent reason … just because they can," he said.
#Open journalism No news is bad news Support The Journal

Your contributions will help us continue to deliver the stories that are important to you

Support us now
"I think what has happened over the last few years, particularly with the crisis, is that the trust in banks has lowered. That meant that people became more likely to consider alternatives – and also they were a bit pissed off, they wanted to stick one up their bank."
Setting goals and happy staff
All this month, as part if its ongoing focus on the Irish small and medium enterprise (SME) and startup sector, TheJournal.ie has been looking at goal-setting and staff alignment – both of which Meyers said CurrencyFair had only started formally working on in recent months because of the company's growth.
"You still want to be like a startup in terms of being nimble, but you have to put some sort of framework in place," he said.
"You need objectives and people need to know how what they're doing relates to the overall themes of the company – but we don't want to get it overly bureaucratic."
Doing away with unwieldy procedures came down to creating a strong workplace culture in which staff could be relied on to make the right decisions when no-one was looking over their shoulder, he said.
And a big part of that was the "hugely" important element of staff enjoying their work – something which CurrencyFair tried to foster through a relaxed, social office.
"I'll call the guys in for meeting and we'll have a game of pool while we're chatting about something – I think it's good for freeing the mind up anyway," Meyers said.
"I obviously subscribe to the belief that happy workers are more productive workers."