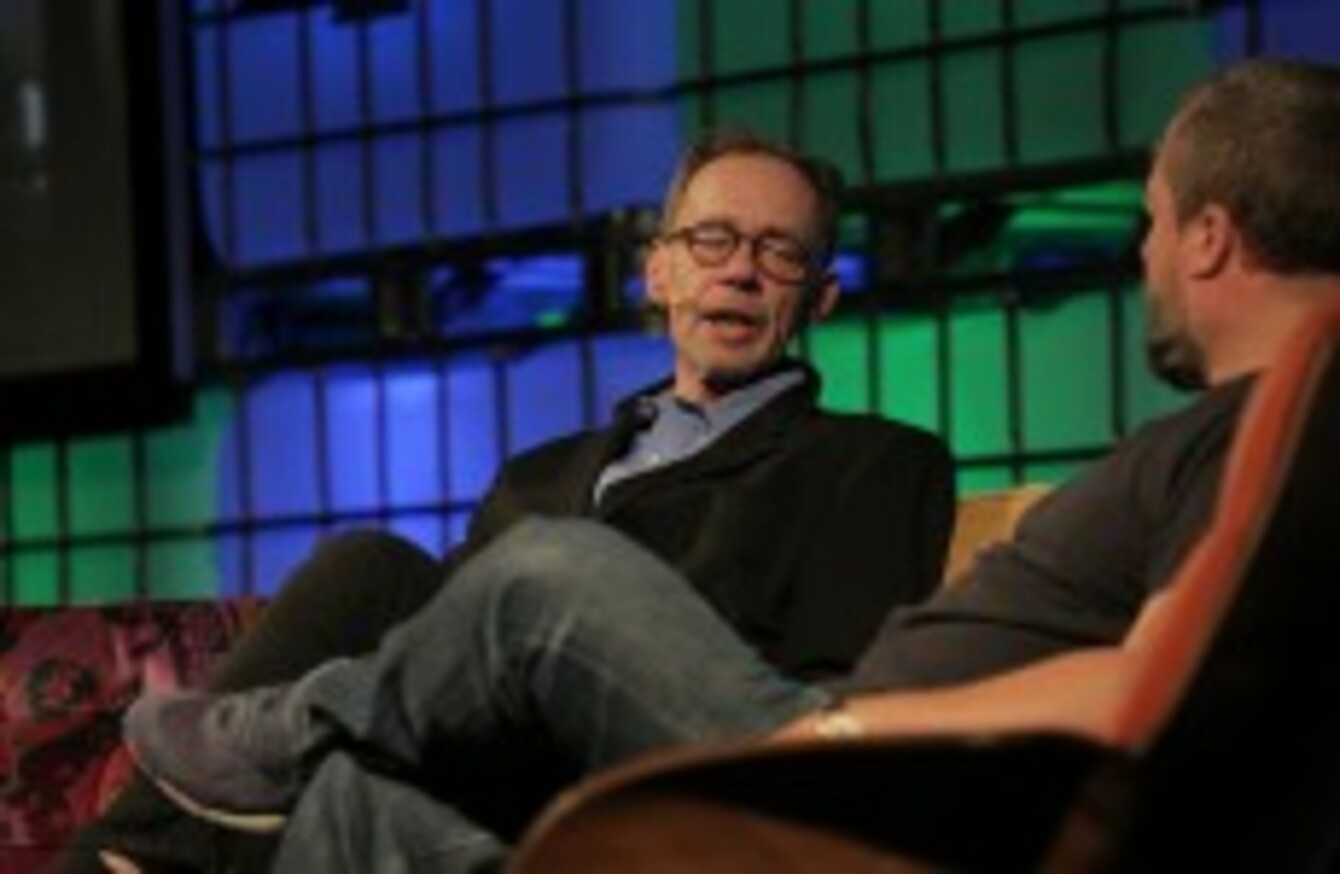 David Carr (left) on stage with Shane Smith at the Web Summit.
David Carr (left) on stage with Shane Smith at the Web Summit.
LAST NIGHT, news came that journalist David Carr had collapsed and died in his beloved New York Times newsroom.
Uncompromising, relentless and a shrewd analyst of the changing face of journalism and the fortunes of the media in general, he was widely respected and came to prominence in the documentary Page One: Inside the New York Times in 2011.
He was especially generous with his advice and support to other journalists – something that one of our writers here at TheJournal.ie learned first hand.
In 2013, Carr came to Ireland to interview Vice CEO Shane Smith at the Web Summit.  The two had previously had a blow-up which featured in the Page One documentary.
While Carr was in town, journalism MA student Amanda Connolly decided to write an opportune tweet to Carr. The Smith-Carr debate on stage went off without event on stage – but in the audience, Connolly decided to take her chances and tweet at Carr, who had been discussing the future of journalism.
She tweeted:
The hashtag in the tweet refers to a Carr quote.
And guess what ? It worked.
As Connolly wrote in edition.ie, the DIT news outlet where she was features editor at the time, she quickly received a call from a New York number and was invited by Carr to interview him in the private speakers' lounge at the Summit.
She wrote:
I thanked him for his time and for actually taking heed of my initiative."It's a numbers game. There are about 20 requests here today that I didn't respond to. I just picked one. It's nice to be nice." (said Carr)
And his advice to young people trying to make it in journalism? This is what Carr told Connolly:
Your time will come. What's important is that you have those stories, you own those stories. I used to run weeklies and hire a lot of young people. If I was hiring now I wouldn't really care that you went to DIT or that you got your Masters or that you're an editor with a college paper, I would like to see what you made with your own hands.

The fact that you've got stories that landed that were real, even though they didn't end up where you wanted, those are yours, those are yours to keep and if you get enough of them pretty soon someone will hand you a megaphone and you'll be able to shout out from a very high perch indeed; stay at it. I mean, my advice is remain patient but be impatient with your patience.

You know what, it's a fine time to be looking, and it's a fine time to be putting stuff out there. Sometimes you get a story and you might not work at some place that's that important in the national narrative but if it's important enough people will reach down and grab it and it will end up happening for you.
The upshot. Well, Amanda has been a valuable member of TheJournal.ie team since last year.
This is her final day for us as she embarks on a new stage of her journalism adventure with The Next Web in London. We wish her the very best – and thank David Carr for making the introduction.
A version of this piece was first published on 09 November 2013.