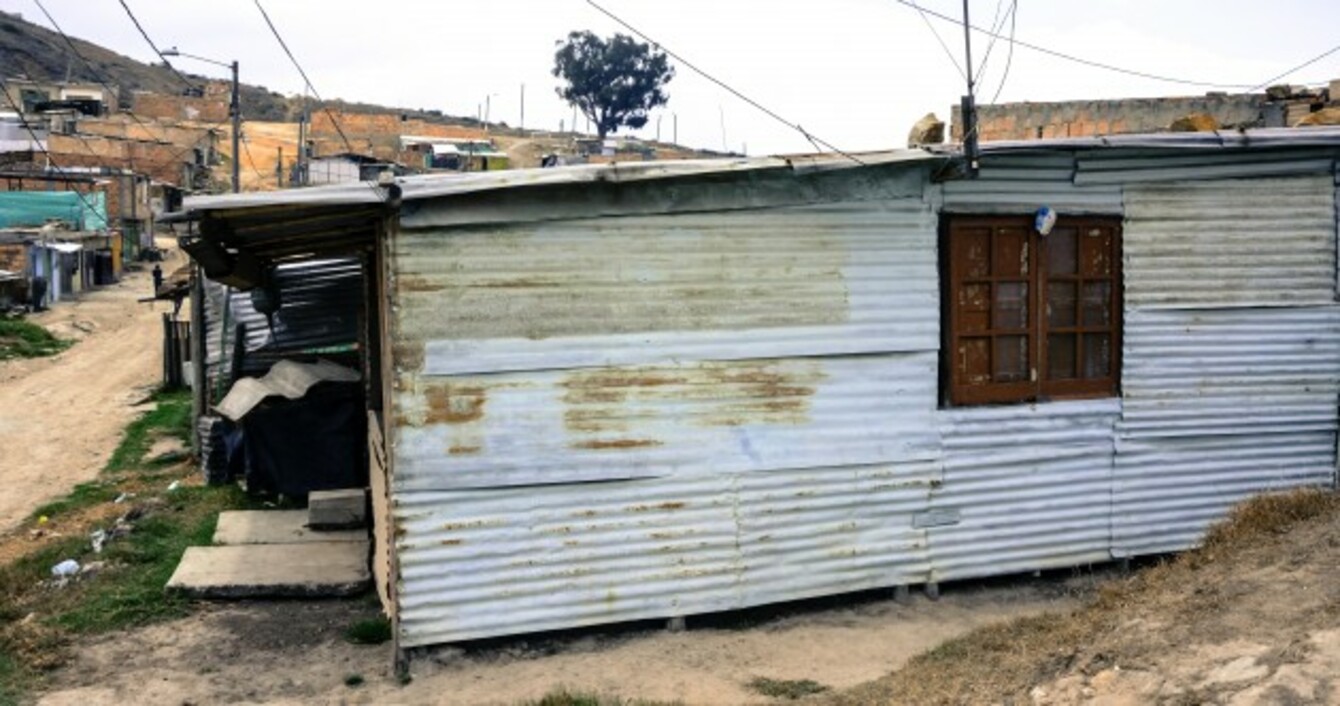 Image: Mario Aguirre
Image: Mario Aguirre
This article is the second installment of a series from Fergal Browne on displacement, sexual violence and other issues facing women in today's Colombia. The entire series has been reposted here this morning. 
IN ALTOS DE Florida in Soacha, clean water is considered something of a luxury.
Nowhere is connected to a water supply mains so, every three weeks, a truck traverses its hills and bumpy roads to give homes a tankard of water. Only if they can afford to pay, which many can't.
María Luisa is one of the lucky ones who can. "It usually doesn't last the full three weeks, so we use rainwater to wash ourselves and for the toilet," she says.
Ten years ago, her brother-in-law received death threats from armed groups. As a result, the mother of three moved with her family to the capital, Bogotá.
The Soacha municipality is just south of Colombia's biggest city. It's in the top three places in the state where those displaced by the country's war go to begin their lives anew.
Colombia has a population of 48 million people, 6.7 million have been internally displaced by its internal conflict, making it the country with the world's second highest amount of internally displaced persons after Syria, according to the Internal Displacement Monitoring Centre.
The war has taken place throughout Colombia's vast countryside.
Beginning in the 1960s, peasant farmers formed guerrilla groups like the Revolutionary Armed Forces of Colombia (FARC) to against the state for agrarian reform. Colombia has one of the highest concentrations of land ownership in the world. In response, paramilitaries, who were supported by big businesses and landowners, rose up to fight the guerrilla.
Death toll
More than 220,000 have been killed and scores of human rights abuses committed including massacres, rape and torture. Human Rights groups say forced displacement has been used by all sides, although particularly by paramilitaries, who account for 60%.
"There are strong correlating factors in Colombia's conflict between economic interests and forced displacement of populations, these include; large scale mining, agribusiness, and areas of strategic importance for drug trafficking," says a 2013 report by ABColombia, an advocacy group made up of five British and Irish NGOs.
Nowadays, though, Colombians hope for peace. In Havana, Cuba long-running talks are taking place between the FARC and the Government to reach a peace agreement, while broad concessions were controversially given to paramilitaries in exchange for demobilisation under the Justice and Peace Act, 2005. The anti-guerrilla entities still exist in smaller, fragmented groups.
About 300,000 people are displaced every year according to CODHES, an independent body which collates displacement figures, with the principle reasons being: caught up in confrontation between war actors (58%), direct threats (21.7%) and homicide (12.7%).
"Everyday there are 10 to 15 families who have just arrived and are looking to declare," says Yomaire (full name withheld by request), a mother of six, who fled her country home after being caught up in a battle between state forces and the guerrilla in 2008.
She also lives in Altos de Florida.
Drug trafficking paramilitaries 
While water is the main issue, it's not the only one. Not a patch of road is tarmaced among its steep hills meaning few cars can navigate up. Locals walk up and down or are 'taxied' standing on the back of troopers.
The houses are insecurely built out of scrap metal. The locality is almost 3,000 metres above sea level meaning frequent showers. When it rains, their homes aren't sufficiently protected and are vulnerable to flooding.
Violence in the area is also high.
"Soacha is a municipality very much involved in the conflict," says Raymond Vargas from Mencoldes, a foundation supporting the displaced in the area. "It's a strategic corridor used for drug trafficking into Bogotá controlled by paramilitaries."
The violence is a major concern for local residents. "It worries me everyday that my children will leave and not come back," says Yomaire.
In total, 51% of those displaced are women, only 20% are men, the rest are children. It's a statistic reflecting the high level of murder and forcible recruitment of men and boys.
About 43% of displaced households are headed by women. It's a group identified by the Colombian Constitutional Court as particularly vulnerable. Of them, 60% struggle to feed their children daily.
Both María Luisa and Yomaire's kids attend a UNHCR-funded primary school, but many don't go on to secondary school due to lack of interest coupled with needs at home and necessity to gain income for the family. Luisa's 14 year-old son, for example, wishes to go to school at night and work during the day. At the moment, though, he does neither.
With regards health, hospitals can be difficult for Bogota's poor especially those displaced.
"Usually they have to get up at 3 or 4am in the morning, wait all day to get an appointment for one month later. It's of very low quality', says Sandy Pinzón from the NGO Proyectar Sin Fronteras (PSF) which works to help the displaced in the San Cristóbal neighbourhood.
Overall, 500,000 displaced persons live in the capital, Bogotá. It is home to Colombia's biggest displaced population, who are mostly located in the mountainous slums to the south of the city.
Penniless in Bogotá
Lucina Roubles was displaced to Bogotá from Barrancabemeja – a place known as Colombia's oil capital – 34 years ago after receiving death threats to her life from, she says, 'the guys who rob gasoline'. She escaped and arrived to Bogotá penniless.
Nowadays, she lives in a house high in the hills of the San Cristóbal neighbourhood. She doesn't pay any rent because the state-built house she's living in is considered too high-risk for habitation.
She moved in anyway, illegally, because she faces a choice she says.
If I have rent all my money goes towards paying it, but here I can have a bit of meat everyday. The life here is like this. It's very difficult.
She lives with four people; her husband, daughter, son-in-law and grandchild, in a two bedroom house no bigger than an average-sized shed.
She works on-and-off as a seamstress and is lucky if she gets 20 hours a week. "There's no work here. And what there is, is poorly paid," she says.
Under international law, internally displaced persons (IDPs) remain the responsibility of their own Government who must preserve their basic human rights. A Constitutional Court order in 2004 stated the Colombian Government was acting unconstitutionally in not providing sufficient resources to provide these rights to displaced victims.
The Government passed the Victim's and Restitution of Land Law in 2011, which set up a Victim's Unit to coordinate help to the displaced. Its director, Paula Gaviria, calls it the biggest victims help support in the world.
"There is not a process in the world that is attending to so many people in the middle of a conflict, not one," she says pointing out that 2.5 million additional people have been helped in the last two years.
Once a victim declares and is confirmed they receive emergency assistance in order to satisfy their basic needs. After one year they move into a transition phase where it is assessed whether they need further insistence.
Nevertheless, the Unit is considered ineffective by other support groups. "If the state was efficient, we could say yes [that we only help in the transition phase]. But that's not the case," says Vargas from Mencoldes.
Up to five families come to our offices a day who are in a situation of emergency financially.
"We have many cases where it took nine months to receive a first subsidy [from the state]," he added.
Triple discrimination
Displacement has also disportionately affected Colombia's minority groups; the indigenous and Afro-Colombians. Afros, for example, make up 10% of the total population but 20% of those displaced.
"We are discriminated in three ways; for being black, for being women and for being displaced," says Rosa Murillo, head of CISPAC, an Afro-Colombian displaced women's organisation set up to preserve Afro-culture and help displaced persons, particularly women who are heads of households.
Only 29% of Bogotá's 100,000 Afro-Colombians were born in the city, a figure which reflects the high level of displacement. With the new arrivals discrimination is rife.
"A lot of landlords won't accept us. They say they don't want black people moving into the area. In schools they make fun of the kids because we talk differently," says Murillo who was displaced from the Pacific Coast region, Chocó.
We want a future
"Come to our neighbourhood and see how we live. We want our children to have a bright future, but how can they when they sleep on floors in rooms of ten people. Imagine a child that can't go to school, because his mother cannot afford to buy him a uniform and the school won't allow him enter without one. It's an awful situation', said another member of CISPAC who requested not to be named.
CISPAC members are a part of a music group that performs traditional African-style music across Bogotá.
"When we perform, we represent Colombia. Our songs are about Colombia. It isn't just at war, in conflict. It's rich culturally and the state has to contribute to that, not close the door to it."
This article was supported by the Simon Cumbers Media Fund. All photos, except where stated, are from Mario Aguirre.