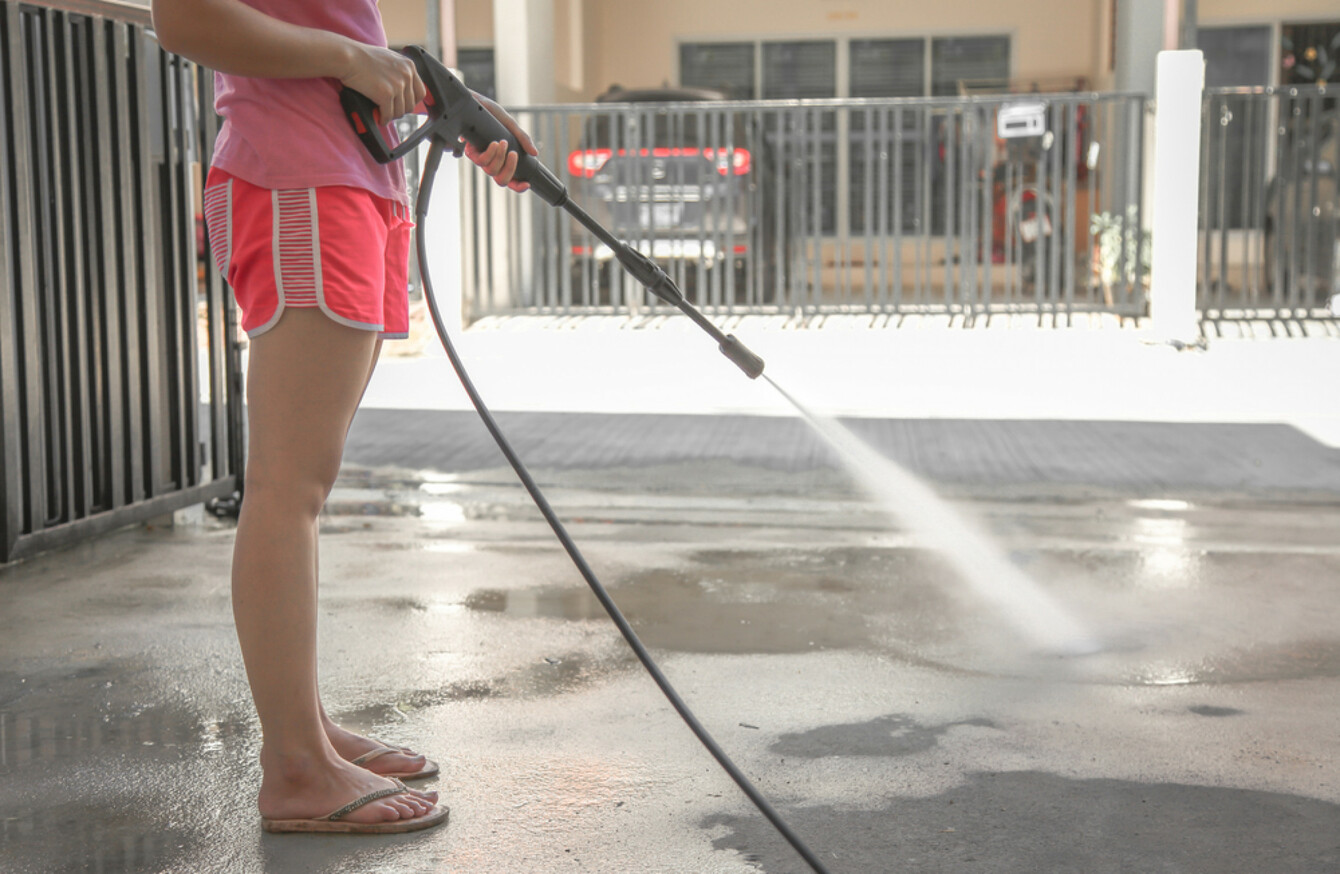 File photo.
Image: Shutterstock/Nitikorn Poonsiri
File photo.
Image: Shutterstock/Nitikorn Poonsiri
THE WATER CONSERVATION order and hosepipe ban has been in place now in the Greater Dublin Area since Monday.
With current drought conditions set to last well into next week, Irish Water is continuously appealing to the public and businesses to conserve water and curtail usage.
A current ban on domestic hosepipes for a number of activities (including watering a garden, filling a swimming pool, washing a car) have been in place since Monday.
The ban does not apply to commercial usage, however, and members of the public have been questioning what commercial entities and State services have been doing to curtail their usage while the drought persists.
Yesterday, a number of people raised concerns after a video emerged of the Papal Cross in Dublin being cleaned. The Office of Public Works (OPW) called the cleaning "essential" and said that a "minimum amount of water" was being used.
Irish Water said it had been in touch with "large commercial users" who had committed to conserve water and stressed that the utility was "very grateful to them for their efforts".
"Businesses will also be subject to the hosepipe ban for the purpose of watering gardens but we are also appealing to them to limit all non-essential water use and to avoid using hosepipes or power washers where possible, particularly if it is for cosmetic reasons," the utility said.
So how are councils are services conserving water?
TRANSPORT
A number of transport providers have said that they are heeding the Irish Water warnings and doing their best to curtail water usage.
Irish Rail
A spokesperson for Irish Rail said that the train service's standard practice was that trains are cleaned every two days.
"This is now being reduced at locations where Irish Water supply our water (Fairview, Connolly, Heuston and Cork) and in Inchicore (supply drawn from canal water) to at most once every four days," the spokesperson said.
We will assess the requirement on a case by case basis to see if this can be reduced further.
The spokesperson said that in other areas trains would be cleaned as normal as Drogheda, Portlaoise and Limerick have purpose-built wells which do not impact on the public water supply.
Luas
A spokesperson for Transdev – which operates the Luas tram service in Dublin – said that normally trams are cleaned every three days.
The spokesperson said that trams will only be cleaned when assessed as needing a clean.
"We will certainly use less water and if the tram doesn't need to be cleaned it won't be cleaned," the spokesperson said.
In relation to platforms, the spokesperson said that Luas would "continue to clean the platform for operational and safety reasons", but would "only do so when required".
The spokesperson said Transdev would continue to monitor the situation and follow the guidelines set down by Irish Water around conservation efforts.
Dublin Bus
A spokesperson for Dublin Bus said that it had been trying to conserve water since last week.
They said the service was washing buses less frequently than during normal conditions.
"We are only washing buses externally every third night during the current dry spell," they said.
This is saving up to 100 gallons of water per bus.
COUNCILS 
Dublin City Council
A Twitter user yesterday published a picture of Dublin City Council workers powerhosing O'Connell Street after the domestic ban came into effect.
A spokesperson said that the Council was "making every effort to minimise water usage while at the same time trying to maintain a minimum level of service in the city".
They said that in response to water restrictions in the city, the council was using water from the canals to deliver a reduced street washing service.
"We will seek to maintain a minimum level of washing on the main pedestrian routes within the city and areas where there are high levels of social activity particularly at weekends," the spokesperson said.
This will be kept under close review.
In relation to maintaining flowers and planters, the spokesperson said canal water and water from the Blessington Street Basin was being used.
South Dublin Council
A spokesperson South Dublin County Council said it is making every effort to minimise water usage while trying to maintain a minimum level of service in the county.
"Jetting and gully cleaning services have been reduced to an absolute minimum.
Handcart sweepers will be used instead of most of the street cleaning green machines. This will be kept under close review.
The spokesperson added that the council is trying to maintain some planters and floral displays with water sourced from the rivers.
Fingal County Council
FCC has said that it has a number of resources such as lakes and rivers for watering plants and street cleaning.
"Fingal County Council operations staff have been advised to water flowers and plants every four to five days as a means to conserve water.
"The Council has also advised all indoor and outdoor staff to conserve water and comply with the hosepipe ban," a spokesperson said.
Dun Laoghaire Rathdown County Council
Similarly to DCC, DLRCC said its Park Section is using mainly ponds and well water.
A spokesperson said that the cleansing and beach section in the council hope to achieve reductions of water use of up to 50,000 litres per day.
"Reductions in gully cleaning operations by 66% are in place and reduced use of road sweepers by 60% are also in place, with remaining sweepers to prioritise sweeping of town centres," the said.
Other services 
As well as these services the Irish Coast Guard said that all of its units had been requested to reduce consumption "as much as possible".
"It is essential for us to washdown equipment that has been exposed to saltwater and other harsh conditions so its ready for use in the next callout," they said.
Meanwhile, a spokesperson for the Aviva Stadium said that it had a 300,000 litre retention tank that stores rainwater harvested from the roof throughout the year.
The National Aquatic Centre and Croke Park had not responded to requests for comment by the time of publication.