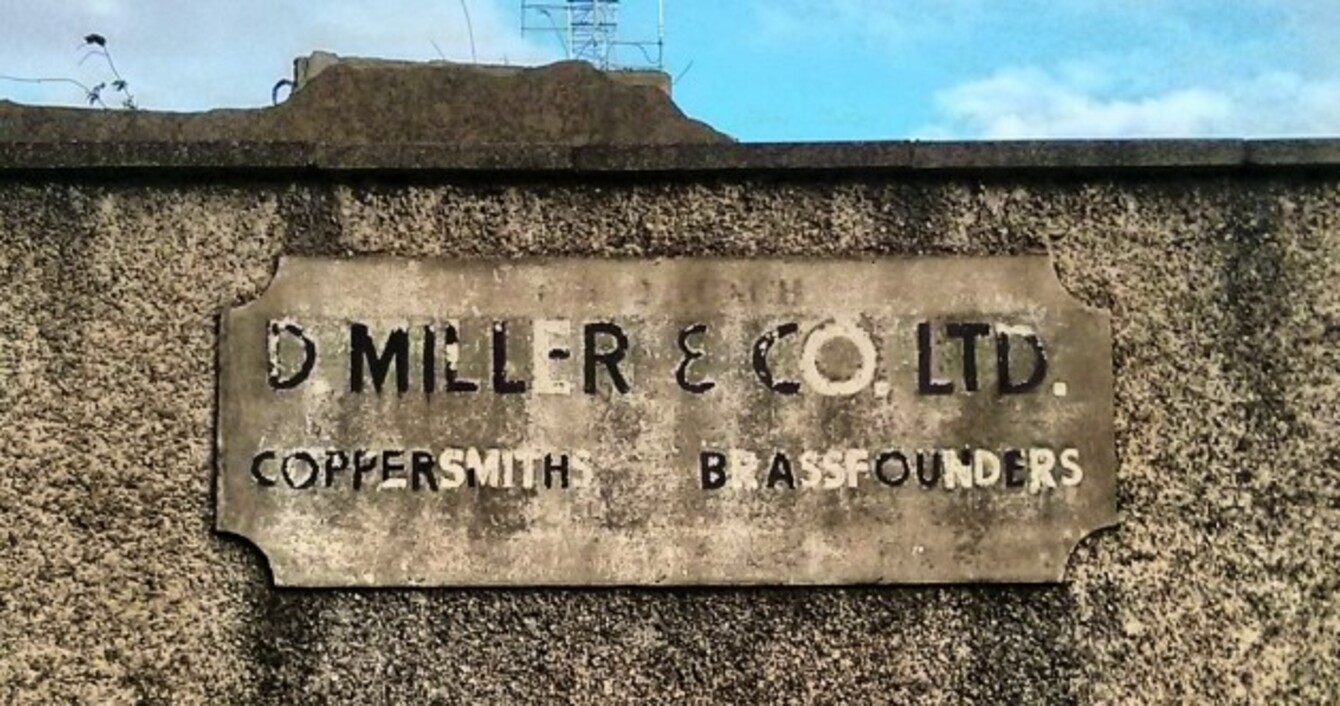 Image: Dublin Ghost Signs
Image: Dublin Ghost Signs
LONG BEFORE THE urban streetscape was taken over by international fast-food chains and fashion retailers, Dublin had a very different commercial face.
Then, the signs that greeted visitors and residents were more likely to be for the brushmakers, boot-repairers and food-manufacturers who made up the capital's merchant and industrial class.
For the past six years, Cork native turned-Dubliner Emma Clarke has been cataloguing that history through photographs and, more recently, her website Dublin Ghost Signs.
She said the idea came from seeing a stream of like-minded people posting images on Boards.ie, which sparked her interest in how the city was constantly changing around its residents.
"What I was noticing as I was walking around taking photographs was that something was often gone or a sign had changed when I came back," she said.
I think quite often people don't look up and notice what is going on around them – I thought in some way these things should be acknowledged and memories preserved."
A commercial history
Some of her collection, which now features over 1,000 images, are businesses once central to the city's economy, like old signs for the Jacob's Biscuits factory, which operated in Bishop Street from the 1850s through to the 1970s.
Another now-departed Dublin fixture was sweet manufacturer Williams and Woods, who occupied a site in King's Inns Street from about 1900 until the 1970s. It has since been converted into the Chocolate Factory creative hub.
Then there is Finn's Hotel in Leinster Street South, where James Joyce first spotted his future wife Nora Barnacle, which Clarke said was more important to the city from a historic perspective.
Barnacle was working at the hotel as a chamber maid and the hotel name was later taken as the title for a posthumously-published collection of the author's works.
While among purists ghost signs should only be hand-painted, Clarke has included all kinds of vintage ads – hanging signs, hand-carved wording and mosaic displays – among her collection.
The city's heritage as told through old signage has also inspired a book, Antonia Hart's Ghost Signs of Dublin, which was published late last year.
Personal histories
Clarke, who runs her website purely as a hobby, said part of the pleasure in posting her images was in uncovering the personal history behind many of the locations.
One, featuring a sign for Thos Maguire & Sons in Clanbrassil Street, drew a response from London-based historian Michael Haag. His grandparents raised 11 children in the house, which was two doors up from where Joyce's fictional Leopold Bloom was born.
Another was the 1896-built Dolphin Hotel in Temple Bar, where a man posted that his parents had first met over 60 years ago.
His mother was working in the hotel when his father was brought in as a decorator.
Source: Dublin Ghost Signs
I would love if there was something for all of the images on the site, really," Clarke said.
There are also Clarke's personal favourites, like the evaporating sign for Parnell Street's "Well-known Boot & Shoe Retailers", which has lost the remainder of its lettering over the years.
Disappearing
Much of the visual history Clarke chronicled was destined to be erased when properties were renovated or redeveloped, although a small share of owners preferred to preserve the links to the past.
One prime example was the restored exterior of the Dublin Civic Trust's building in Castle Street, complete with its sign board for T.H. Barnwell, bootmaker.
There are places that are preserving the signs and I think that can be done to great effect," Clarke said.
She said while many, like a sign for James J Daly – Brush Manufacturer in Beaver Street, represented trades which had virtually disappeared, she remained in "two minds" about actively preserving ghost signs.
They can be so important for the city's history, but on the other hand I think cities are always evolving."