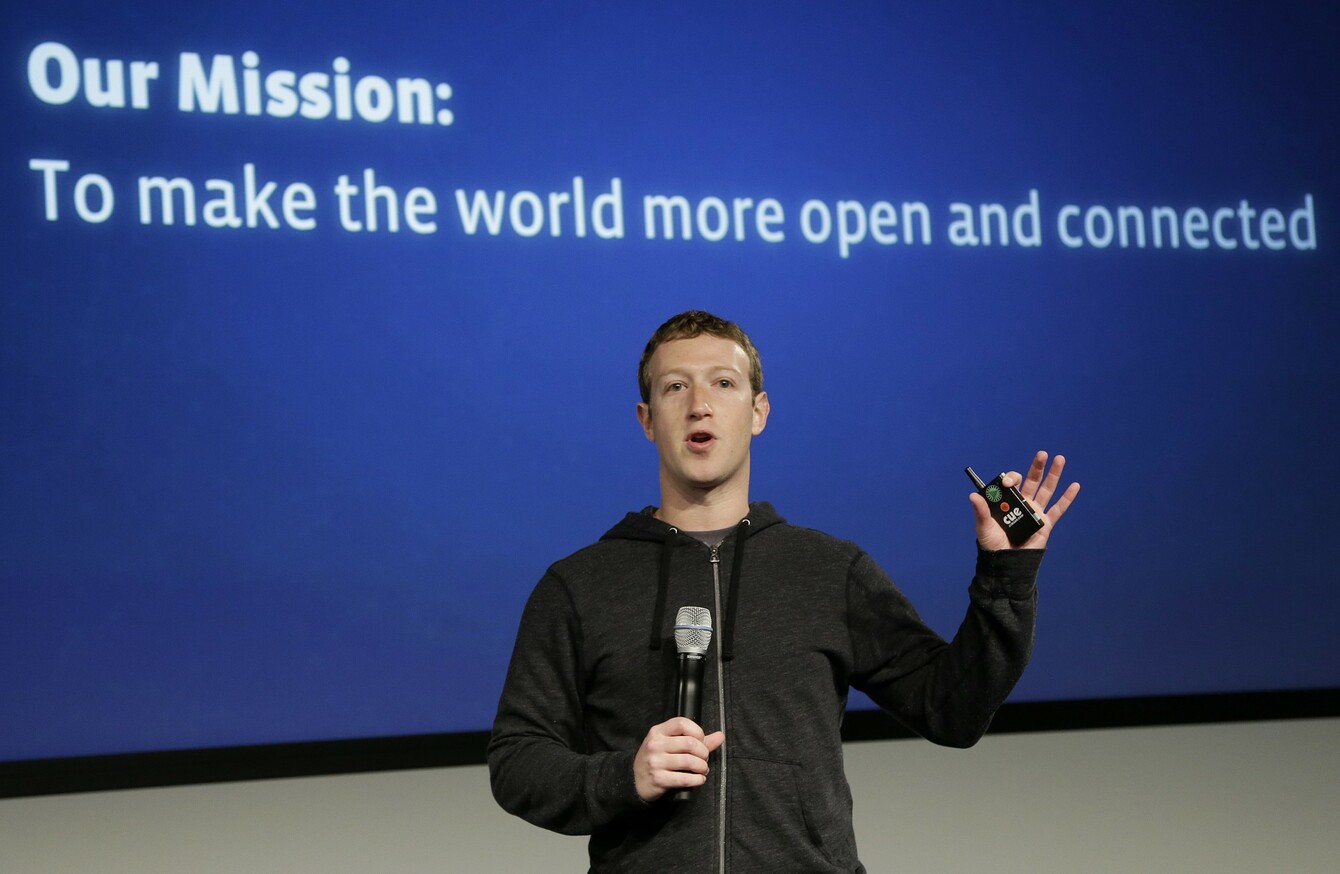 Facebook CEO Mark Zuckerberg with the company's mission statement in 2013
Image: AP Photo/Jeff Chiu
Facebook CEO Mark Zuckerberg with the company's mission statement in 2013
Image: AP Photo/Jeff Chiu
FACEBOOK'S MAIN IRISH arm paid €3.4 million in tax to the Exchequer last year on sales of €4.8 billion booked through its local operations.
Accounts recently filed for Facebook Ireland Limited showed a 64% rise in turnover recorded for its subsidiary compared to the figures for 2013. The company paid €2.3 million in corporate taxes that year.
"This increase was attributable to growth in online advertising revenue from third-party customers," the documents said.
The company also recorded the cost of delivering its annual sales as only €89.9 million, giving it a gross profit for 2014 of €4.7 billion.
However the company also booked miscellaneous "administrative expenses" which sliced the company's pre-tax net profits to only €12.8 million.
Click here for a larger version
The deductions included royalties paid "for use of the Facebook platform" to its direct parent, Facebook Ireland Holdings, another Irish-registered firm.
That company's unlimited share structure means it doesn't need to file annual accounts disclosing its revenue, profits or corporate taxes paid.
Facebook Ireland Limited's expenses also included unspecified royalties paid to its parent companies for data-hosting services and fees for "management-related services".
Facebook is among a string of global firms accused of using complex profit-shifting structures, often involving a network of loans and payments to its own companies, to reduce its bills by siphoning income into low-tax jurisdictions.
In the UK, for example, it paid £4,327 (€5,975 at today's rates) in corporate tax for 2014. However the company insists it adheres to all tax laws in the countries in which it operates.
The global pie
The average headcount for 2014, according to Facebook Ireland Limited's accounts, was 478 for 2014, a 13% increase on its workforce in 2013.
Facebook says it employs about 1,000 people in its Dublin office, which serves as the company's international headquarters.
The revenues recorded at the Irish company formed part of global income for Facebook worth $12.5 billion (€11.5 billion today) in 2014.
Net income, or after-tax profit, was $2.9 billion worldwide, while the company put aside nearly $2 billion – or 16% of its overall revenue – for corporate taxes.