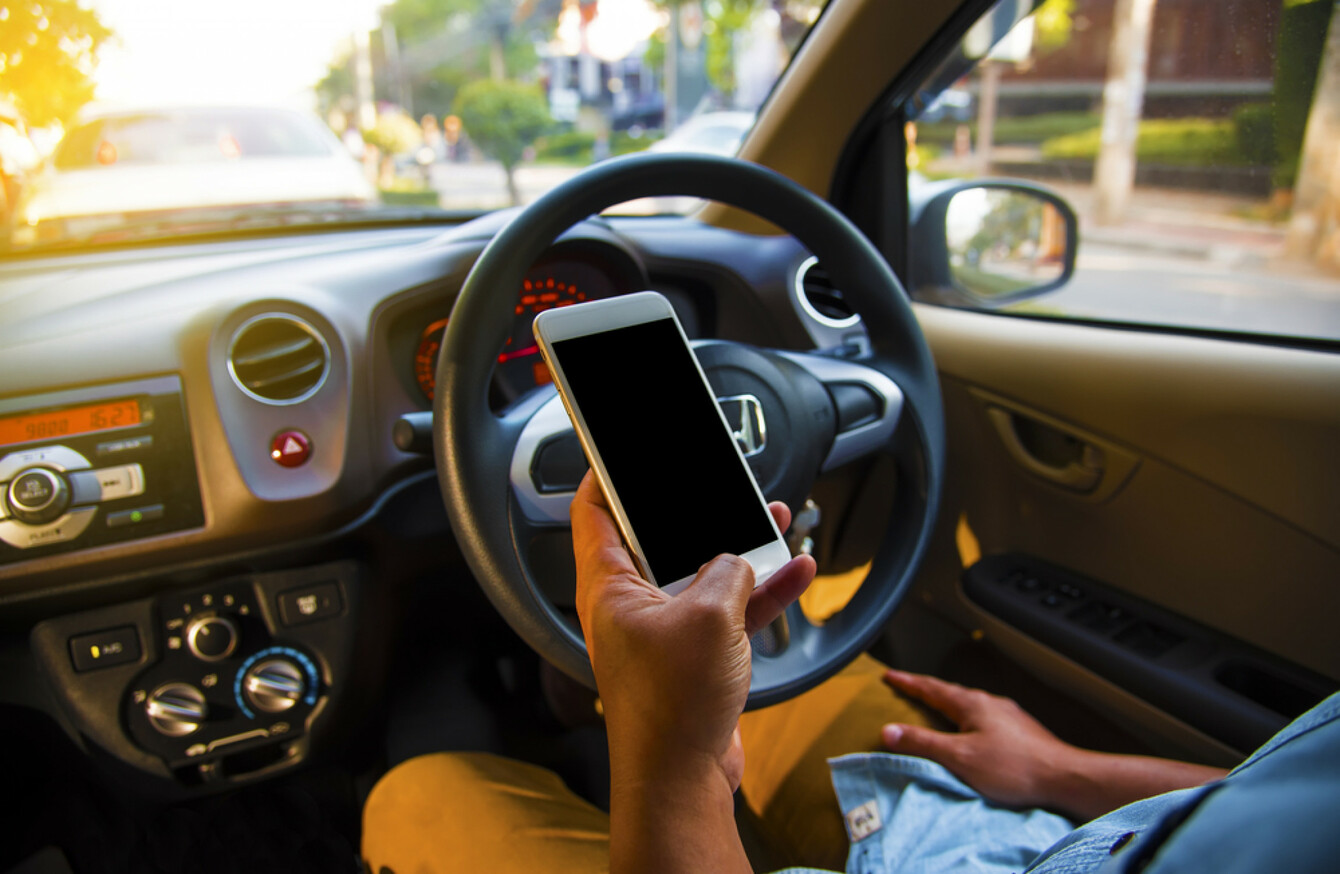 Image: Shutterstock/Ton Anupong
Image: Shutterstock/Ton Anupong
IN IRELAND FOUR out of five (84%) drivers admit to using electronic devices or consulting maps while driving, according to a new survey by insurance company Aviva.
This compares to two-thirds (66%) of drivers across the pond in the UK. When it comes to texting a quarter (26%) of Irish drivers admitting to this offence, which is double that of UK drivers (13%).
Forty-five per cent of motorists in Ireland admit making calls without a hands-free kit, compared with just 20 per cent in the UK. The number who reported checking social media while driving in Ireland is also more than double the UK rate, at 15% against 7%.
In this respect, only Italian drivers are worse than Irish drivers among our European counterparts at 17 per cent.
The key findings of the survey are: 
Making a phone call while driving: Ireland 45%, UK 20%, USA 63%, China 76%
Sending text messages while driving: Ireland 26%, UK 13%, Indonesia 53%
Checking/posting to social media while driving: Ireland 15%, UK 7%, India 41%
Viewing or uploading images to social media while driving: Ireland 11%, UK 4%, India 37%
But it is not only technology that distracts us whilst driving. The survey also showed that 60 per cent of drivers in Ireland eat and drink at the wheel, the highest proportion out of the European countries surveyed.
And we get distracted by passengers, with 43 per cent saying this happens. Again this is the highest proportion of any European country in the survey. We top the list again with 7 per cent admitting to putting on makeup behind the wheel.
Speaking about the findings, Michael Bannon, Underwriting Manager with Aviva Motor Insurance, said:
It is shocking to find that so many drivers are taking such risks, given all that we know about road safety. Just a split second of distraction or lapse in concentration can result in death on the road.  Technology has revolutionised our lives for the better in very many respects but when it comes to road safety its ability to distract can prove lethal.