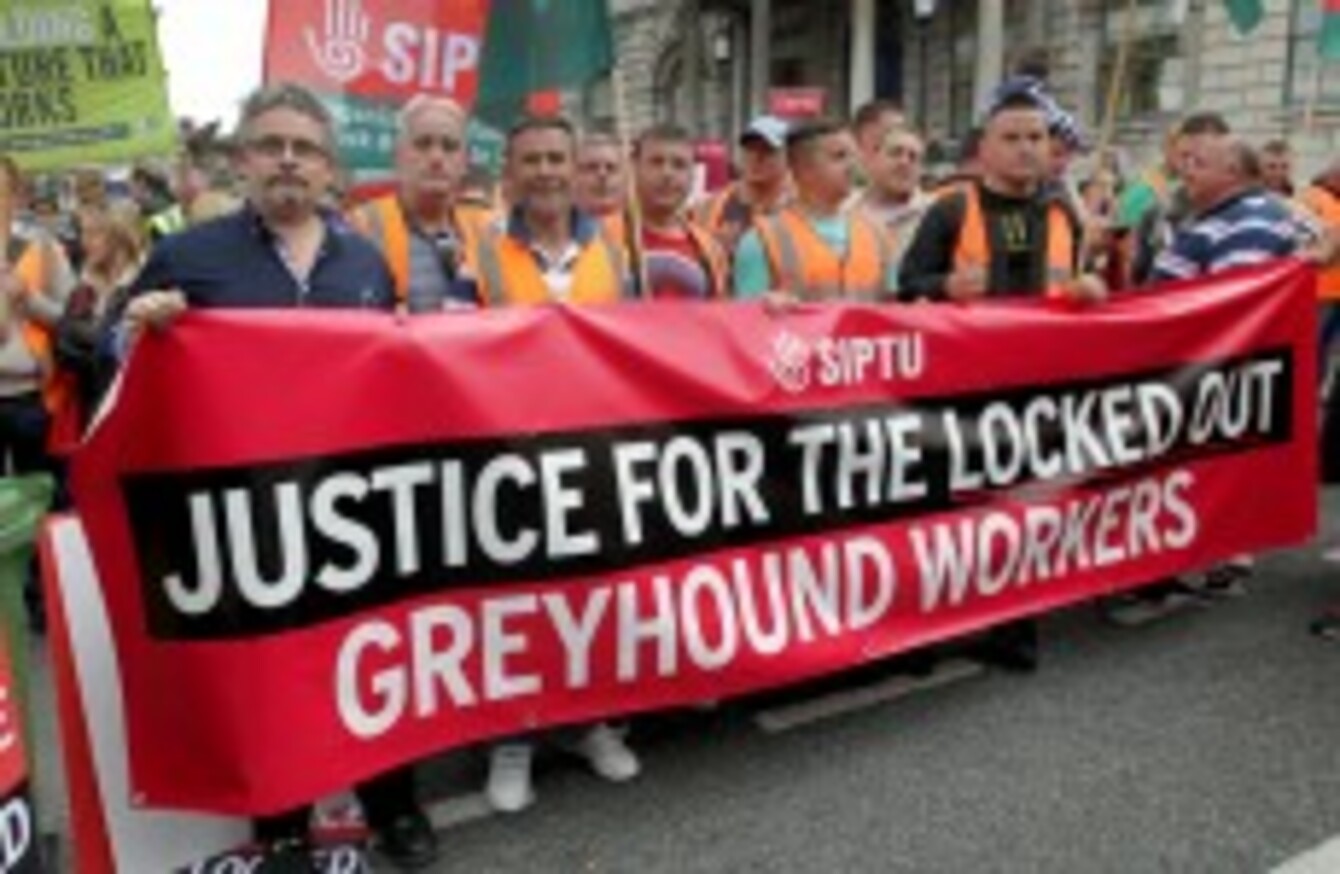 Image: Mark Stedman/Photocall Ireland
Image: Mark Stedman/Photocall Ireland
GREYHOUND BOSSES SAID today that they are willing to continue dialogue with workers and SIPTU over the ongoing lockout.
The brothers who own Greyhound, Michael and Brian Buckley, were also asked by SIPTU to allow workers to get back to work – under their previous work terms and conditions – while any talks take place.
Pay and conditions
A union representative and the Greyhound owners spoke to The Business on RTÉ today.
Michael Buckley said that when he and his brother acquired the business when Dublin City Council sold it in 2012, "we inherited pay and conditions that are 60% above industry norms".
He said that their original business plan was very viable, but what has changed is "market forces" and that there are about six new businesses that have recently entered into the market that Greyhound is operating in.
Brian Buckley said that since this discussion was started in late February, early March, 25% of customer bins are not being emptied on a daily basis and Greyhound is bringing in alternative crews to finish this work. "That is bad customer service," he said.
He said that they need to bring back staff to work on a realistic industry wage.
Discussions
It has been in discussions with SIPTU since 2012 and there is a collective bargaining agreement in place.
According to Michael Buckley, consultants brought in in 2013 confirmed the company's cost base was out of sync, and serious cost savings had to be brought in.
In March 2013 crews moved from a 30 hour week to 39 hour week but the company said productivity declined.
The company has undertaken five months of negotiations this year.
After a "marathon" session at the Labour Relations Commission, crews voted down a cost-saving plan. They then went to the Labour Court.
Today, Michael said that the "only way we're going to resolve the dispute is dialogue". He indicated they would be willing to go back to the Labour Relations Commission.
SIPTU and Greyhound have differing interpretations of the Labour Court recommendation.
Ongoing dispute
Owen Reidy of SIPTU said that the lockout doesn't reflect well on the industry.
He said that involved in the dispute are "people with commitments; with families with children who are effectively on the breadline for the last three weeks because of the actions of Greyhound".
He agreed that more talks are needed, but said "the only way we can talk is if workers are allowed back to work on their existing conditions of employment" to allow a time-bound mediated process.
He also questioned the use of two employment agencies to bring in extra staff during the lockout.
Brian Buckley said that if SIPTU wants the entire industry to start getting paid more, it needs to bring together the whole industry.
Michael Buckley said "we have to get a level of savings or there will be no jobs for anybody", adding that Greyhound is "not interested in disputes with people" but has to maintain the integrity of the business.