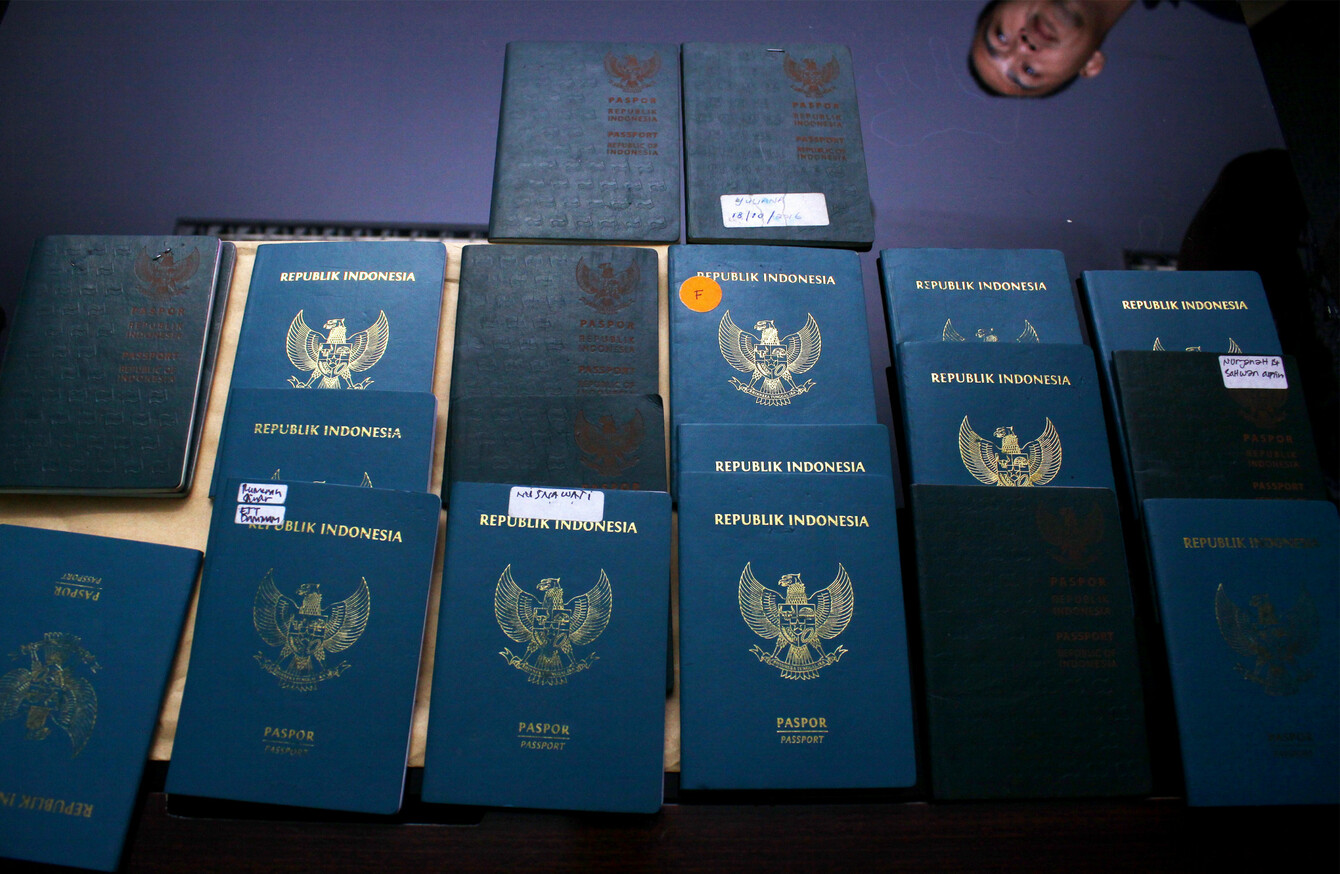 File photo.
Image: PA Images
File photo.
Image: PA Images
NON-EU MIGRANTS CAN run into difficulties in proving their identity in Ireland, which sometimes puts them in a bureaucratic limbo due to a lack of acceptable documentation.
Recognising passports that are handwritten, which aren't machine readable or aren't chip-enabled, is one of the problems that Irish authorities face in processing migrants outside of the EU who wish to live in Ireland.
Legal, but handwritten passports pose problems for authorities because it makes them easier to forge. Other challenges for Irish authorities include translation issues, and problems in accessing supporting or "breeder" documentation (eg, birth certificates).
In the first report of its kind, the ESRI looked at Ireland's system of processing applications from non-EU migrants, and highlights some of the difficulties faced by authorities here.
The significance of the processing migrants' documents is noted in the report in the context of recent terror attacks, which have been raised in the Dáil.
Concerns have been raised in parliament regarding national security following terror attacks in Europe, including concerns related to:
Intelligence sharing, deportation orders, progressing access to SIS, mechanisms for the exchange of fingerprint and DNA data, security on airbridges, measures to improve border controls and counter illegal immigration threats and security-related mechanisms such as Interpol checks, Advance Passenger Information, and Passenger Name Records (PNR).
The report also cites a case study highlighted by Immigrant Council of Ireland; in 2016 a child family reunification applicant was abandoned by her father, who was in possession of her passport.
She was unable to produce identification as a result.
These types of "failures" to verify identity can lead to rejection of a migrant's application for a visa or for residency in Ireland.
But the report also says that without adequate documentation, Irish authorities may also face difficulties returning an asylum seeker whose application is rejected to their country of origin, or the country from which they last travelled from or lived in.
(Protection applicants are not required to have a passport or travel document to access the asylum procedure.)
Around 104 passports and 52 identity cards were deemed invalid by the Garda Technical Bureau in 2016; identity documents from Nigeria, Somalia, Pakistan and Ghana were most frequently seized for examination during that year.
The total number of applications for visas increased by 40% between 2012 and 2016 to 107,508. The total number of visas refused in that same time period increased by 54% to 11,154.
What is Ireland's 'complex' process?
The involvement of several Irish authorities is required in the process to establish identity, (which isn't unusual for EU member states).
Here's a quick runthrough of what's involved:
Some migrants require a visa before arriving to Ireland. At this stage, documentation is checked and fingerprints are taken
When a migrant arrives in Ireland, immigration officers check the consistency of the information provided and may check immigration history using various national and international databases
When a migrant applies for residency within 90 days of arriving in Ireland, the migrant's identity is verified again by an immigration officer
Increasingly, the process requires the sharing and storing of biometric and other data between Irish authorities and with other countries, which requires a layer of oversight and legal protection.
Of course, it's not always as clean-cut as that.
Apart from non-machine-readable passports, other challenges include in countries where Ireland has no embassy; where there are issues with issuance, translation or validity of supporting or breeder documents or when a country is moving from one form/style of identity documentation to another.
In cases where people have fled war-torn countries or persecution, it can happen that people don't have the adequate documentation that proves their nationality. This can cause delays at the very least, while countries try to discern the nationality of a person; and at the very worst it can end in the person being declared as stateless, where no country recognises them as a citizen of its nation.
The Irish Naturalisation and Immigration Service's Border Management Unit and the Garda Technical Bureau identified the following factors as major issues in their process:
Poor quality/damaged genuine documents carried by genuine owner
Genuine documents carried by an impostor
New travel documents issued by non-EU authorities, the features of which are not yet familiar to front-line staff
The use of forged or falsified EU ID cards is also a major issue.
The Irish Immigrant Support Centre also noted that quite often official documents from embassies or authorities in the country of origin contain mistakes, including spelling mistakes, or incorrect dates of birth, which also delayed the application process.
In its conclusion, the report says that in Ireland, does not seek to establish identity in a vacuum, but rather it's seen "as part of the process of establishing the overall credibility of the applicant's claim".
"Establishing identity is also commonly identified as challenging in the context of 'rejected asylum seekers' subject to a deportation order.
In order to effect a deportation order the nationality of the person, if not the identity, must be established, often in the absence of identity documentation.
"The process of seeking documents for return is resource intensive."
You can read the full report on the ESRI's website.