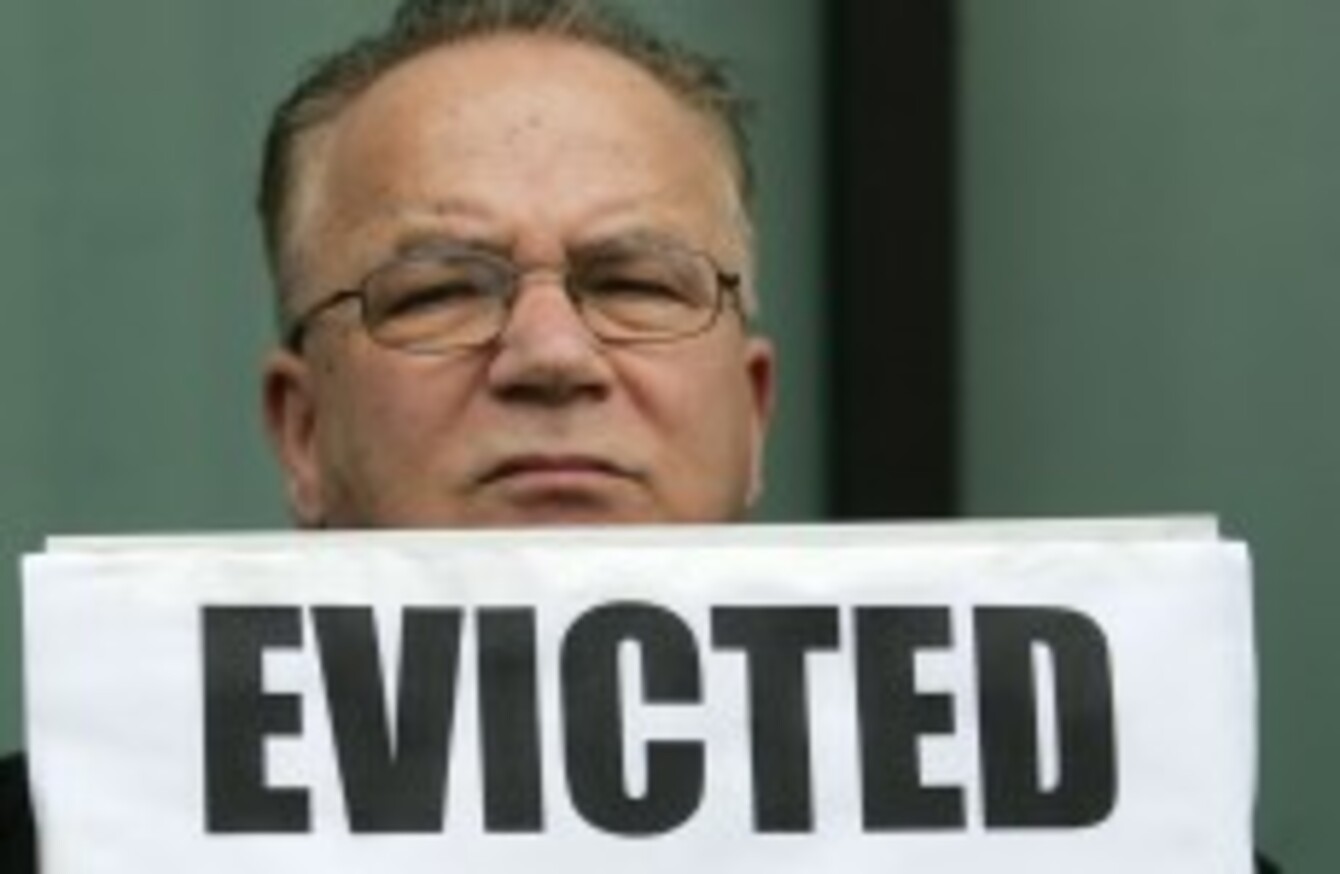 Image: Sam Boal/Photocall Ireland
Image: Sam Boal/Photocall Ireland
OVER 37,000 HOMEOWNERS are more than 2 years behind on their mortgages – and that figure is still on the rise.
And while the total share of mortgages in arrears is decreasing, the number of family homes being repossessed also hit a record number in the most recent 3-month period.
The Central Bank today released data which showed the outstanding balance on loans for peoples' main homes stood at €105.5 billion.
Out of that total, some €8.1 billion, or 7.6%, came from the 37,484 accounts that were over 720 days behind.
It was a similar story for loans on buy-to-let properties, for which there was €28.8 billion outstanding and an even bigger share, 16.6%, worth €4.8 billion, that were at least 720 days overdue.
The figures also revealed banks were in possession of 2,027 properties by the end of September, up nearly 30% from the same time in 2013.
About two-thirds of the total seizures were borrowers' principal homes.
But in positive news, the total number of mortgages in arrears for peoples' main homes fell for the fifth straight quarter and the figure now stands at 117,889 – or 15.5% of all accounts for principal dwellings.
Negative equity falling
Earlier this year, the Economic and Social Research Institute (ESRI) forecast the number of people in negative equity – those who had borrowed more in the boom years than their homes were now worth – would fall below 180,000 by the end of the year thanks to rising property prices.
But the latest Central Statistics Office (CSO) figures showed Dublin house prices were still 35.7% lower than their peaks of early 2007 despite bouncing back strongly over the past year.
The Irish Mortgage Holders Association said the biggest cause for concern was the rising number of family homes with mortgages in long-term arrears.
#Open journalism No news is bad news Support The Journal

Your contributions will help us continue to deliver the stories that are important to you

Support us now
Association chief executive David Hall said: "It is now very clear that the banks have no interest in restructuring the most vulnerable people in arrears – those who have been in difficulty for more than two years."
There appears to be a strategy to deal with the low hanging fruit of early arrears and leave those in deep deep trouble without any solution."
Reckless lending 'brought this country to its knees'
Meanwhile, the Central Bank wants to introduce mortgage rules in an attempt to stop a repeat of the property bubble and has proposed the bulk of new loans be capped at a maximum 80% of the home value – meaning borrowers would have to come up with a minimum 20% deposit.
But Fine Gael MEP Brian Hayes today said there was a range of other measures the bank could take, including a ban on interest-only mortgages and the introduction of a government 15-year bond to price fixed-interest loans for first home buyers.
"It is in everybody's interest that we never repeat the terrible mistakes which brought this country to its knees," he said.
"Individuals, families and the wider economy are still dealing with legacy issues arising from the crash."