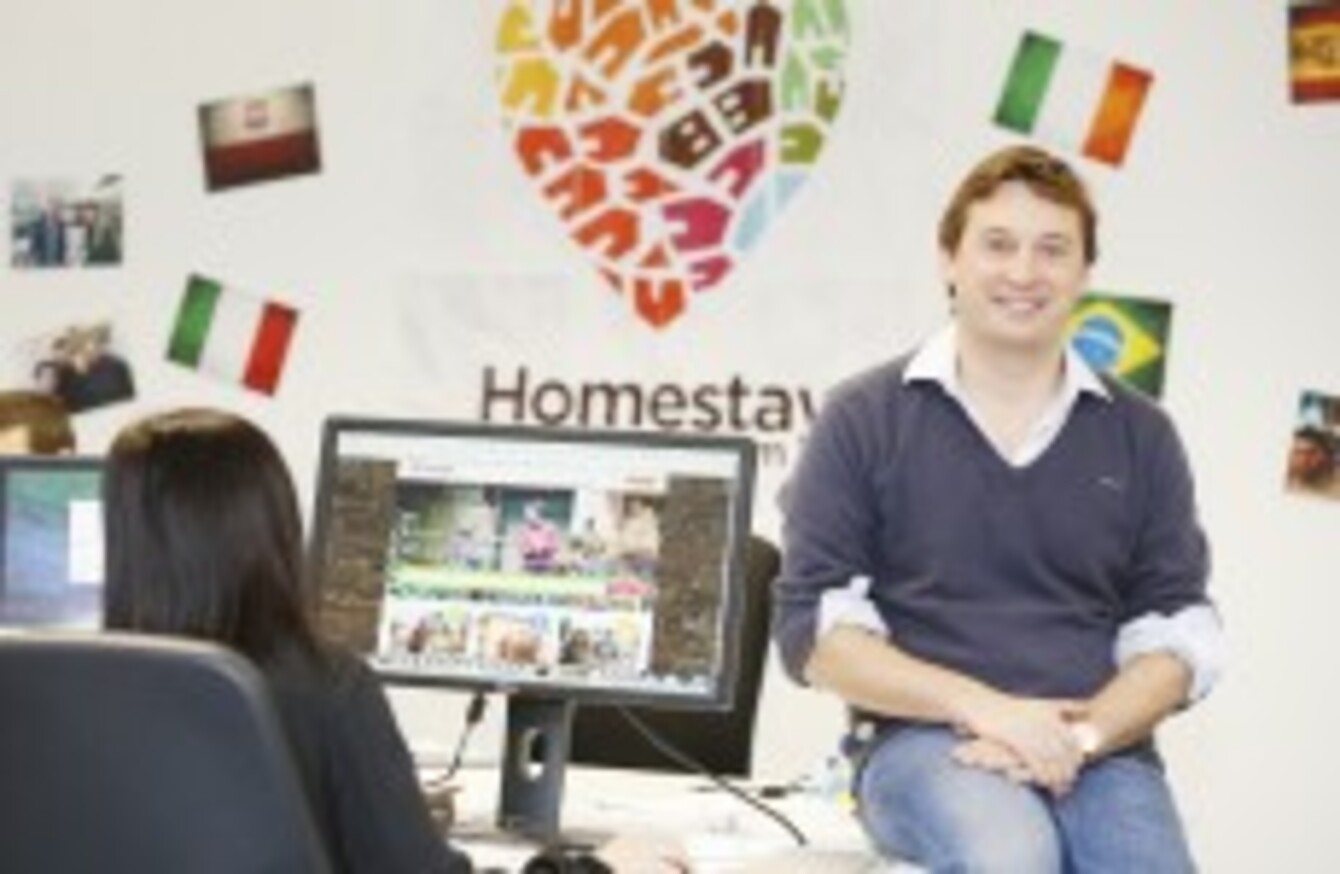 Homestay chief executive Alan Clarke
Homestay chief executive Alan Clarke
IT COULD BE the eHarmony of the accommodation-sharing world.
Not that the brains behind Homestay.com, the latest Irish startup starting to make waves in the global business arena, particularly want to be compared to a matchmaking website.
But in the same way the dating site shook up the industry by offering a more-personalised experience, so one of the newest entrants to the burgeoning "sharing economy" could rock Airbnb's stranglehold on the shared-accommodation sector.
"If you think about how eHarmony disrupted Match, essentially it was around finding the right attributes or questions to ask as you build profiles," chief executive Alan Clarke told TheJournal.ie.
"We're thinking about the same sort of process – how do you make sure that a host in Homestay is going to say: 'Oh, I always get the right guests so that's why I list my site on Homestay'.
And guests will also say: 'I always get a fantastic experience on Homestay because the nature of the host I went to was exactly what I was expecting'."
Only a year old but away and running
While it started life to smooth and take the process of students looking for hosted accommodation online, Clarke said the site's backers quickly discovered that everyone from holidaymakers to those relocating were after a similar experience.
The Dublin-based company now has "nearly" 35,000 hosts signed up of which about 15,000 are live for bookings despite launching its site only a little over 12 months ago.
But the rapid-fire growth is not altogether surprising as the company has serious pedigree behind it in founders Debbie Flynn and Tom Kennedy, one of two men who jointly started Hostelworld to tear up the rules for the hostel-booking industry.
Homestay's latest figures showed its average holidaying guest stayed a lazy 12 nights, compared to 20 nights for students, although Clarke said the company had just taken a booking for a guest headed to South America for 211 nights.
He said the biggest problem at the moment was signing up enough hosts to keep pace with booking demand.
'People-based travel'
Clarke said that over the next few months, the company would also be trying to breath more life into its concept of "people-based travel" – finding the right ways to connect hosts with the most suitable guests and vice versa.
"Athough the price is probably cheaper than some of the other alternative accommodation options, primarily people are choosing to book a homestay because it's about meeting new people," he said.
"Equally on the host side, when you ask people about their motivation for hosting, earning cash is a reason, but meeting new people and having a cultural experience are as important or even more important."
One planned move was to introduce video chatting in the booking process to cut down on any potential "friction" between guests and hosts, while another would be matching peoples' interests and expectations.
How about a night at the pub… or day at the beach?
A guest coming to Ireland could expect a visit to the local pub as part of the experience, for example, while a Sydney-based host might include a trip to the beach in their offering.
Clarke said people had been using homestay products for "decades" – the only difference was until now the work of choosing and booking a host wasn't being done online.
"I think the process of booking a homestay, because there is always host present, is different (to Airbnb) - where and at what price are important factors in the decision-making process for us, but who is an equally important part."
READ: Carol Bergin came to Ireland on a homestay in 1970… and never left
READ: You can rent an actual 'self-catering Irish pub' in Tipperary on Airbnb