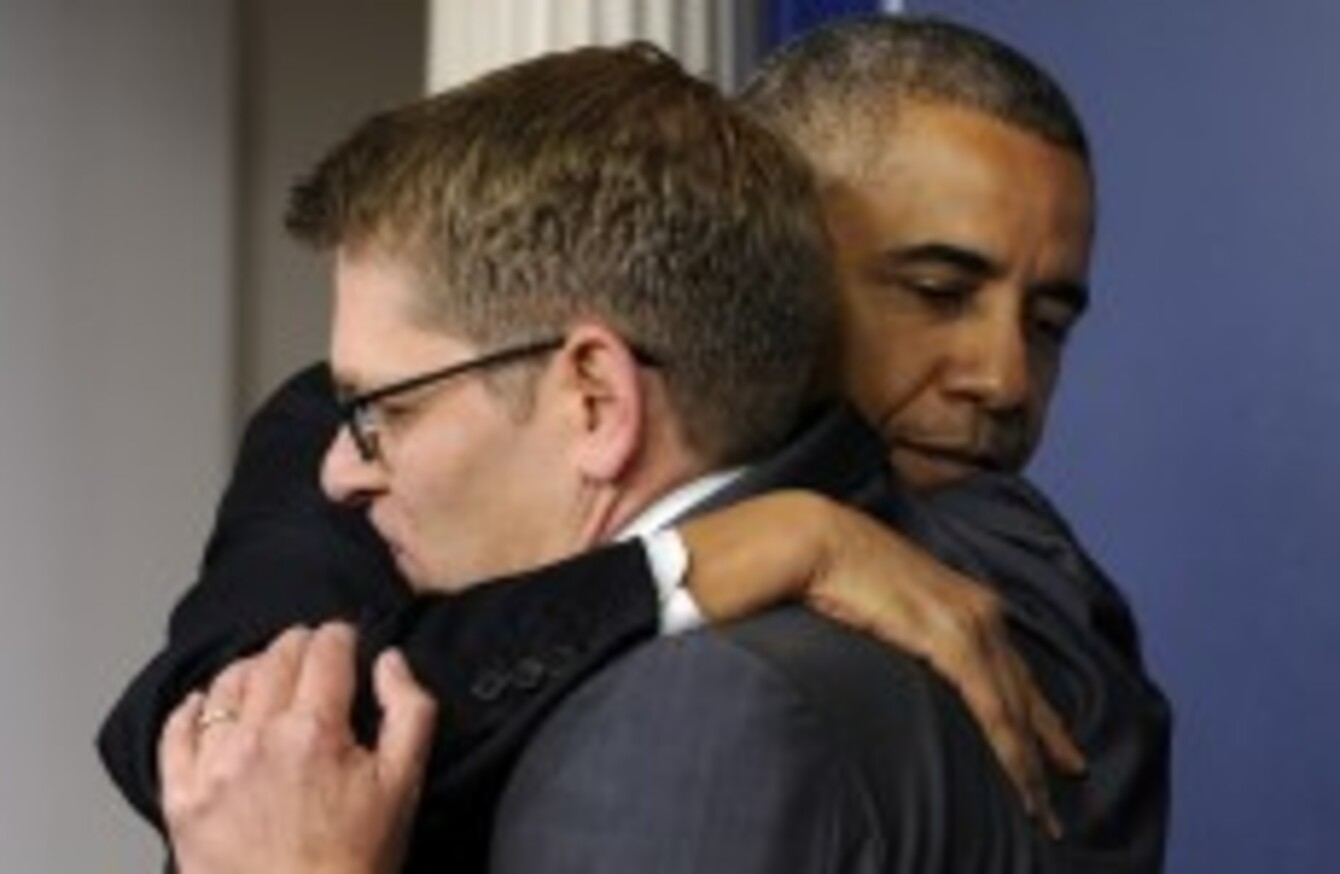 US President Barack Obama hugs his press secretary, Jay Carney
Image: Susan Walsh/AP/Press Association Images
US President Barack Obama hugs his press secretary, Jay Carney
Image: Susan Walsh/AP/Press Association Images
ARE BOSSES BETTER off being nice to their staff or using the fear factor to get the best results from workers?
In the managerial battle between the carrot and the stick, it appears that the likeable leader stands a better chance of getting good results than the domineering boss – as long as they have the skills to back up their personality.
According to the Harvard Business Review, drawing on a study by one of its writers, people who appeared confident but lacked warmth tended to draw resentment from those around them.
On the other hand, those who appeared warm but were judged incompetent didn't get any respect – only sympathy.
The key was to demonstrate both the key attributes of strength and warmth.
But because leaders who tried to prove their strength before establishing trust with workers risked breeding dysfunction, it was better to focus on warmth as the gateway to influencing staff to start with, the authors said.
Fair play for workers
Organisational behaviour expert Dr Maeve Houlihan, from the UCD School of Business, told TheJournal.ie that a large part of being an effective and likeable boss came down to demonstrating the concept of "fair play" with workers.
An example would be hiring more staff to lighten the workload after demanding extra output from fewer employees in the rush to cut costs during the recession, she said.
"Some organisations are recording good profits now, so are they going to reinvest and hire more people so that staff aren't carrying so much of the burden?.
If you don't, but you're still telling your employees 'more and better and more and better' then that's hypocrisy, and that's the opposite of fair play."
Sharing is caring
Two top US management consultants, Jack Zenger and Joseph Folkman, studied over 50,000 leaders and found only one in 2,000 were simultaneously rated in the bottom 25% for "likeability" but in the top 25% for effectiveness.
That means bosses who failed to connect with staff were only a slim chance of inspiring the best results, no matter how knowledgeable or skilled they were.
Zenger and Folkman recommended steps like trying to spread "positive emotions" in the workplace and being willing to pitch in with the team as being some of the ways bosses could boost their likeability (read their full tips here).
#Open journalism No news is bad news Support The Journal

Your contributions will help us continue to deliver the stories that are important to you

Support us now
Get some vision
Zenger and Folkman also tipped "sharing a vision of the future" as one of the ways bosses could make themselves more liked and deliver better results.
Houlihan agreed it was important to communicate goals and share information with staff so workers had some "investment" in what a business was doing.
"There is no doubt that people need to know where they are going and particularly, why – and what the priorities are," she said.
This month, as part of TheJournal.ie's ongoing small and medium enterprise (SME) focus, we look at how setting goals and getting staff working together can deliver the best results for a business.

If you have a suggestion for an Irish SME you would like to see featured in January or know a business with an innovative way of keeping employees motivated, send the author an email below.