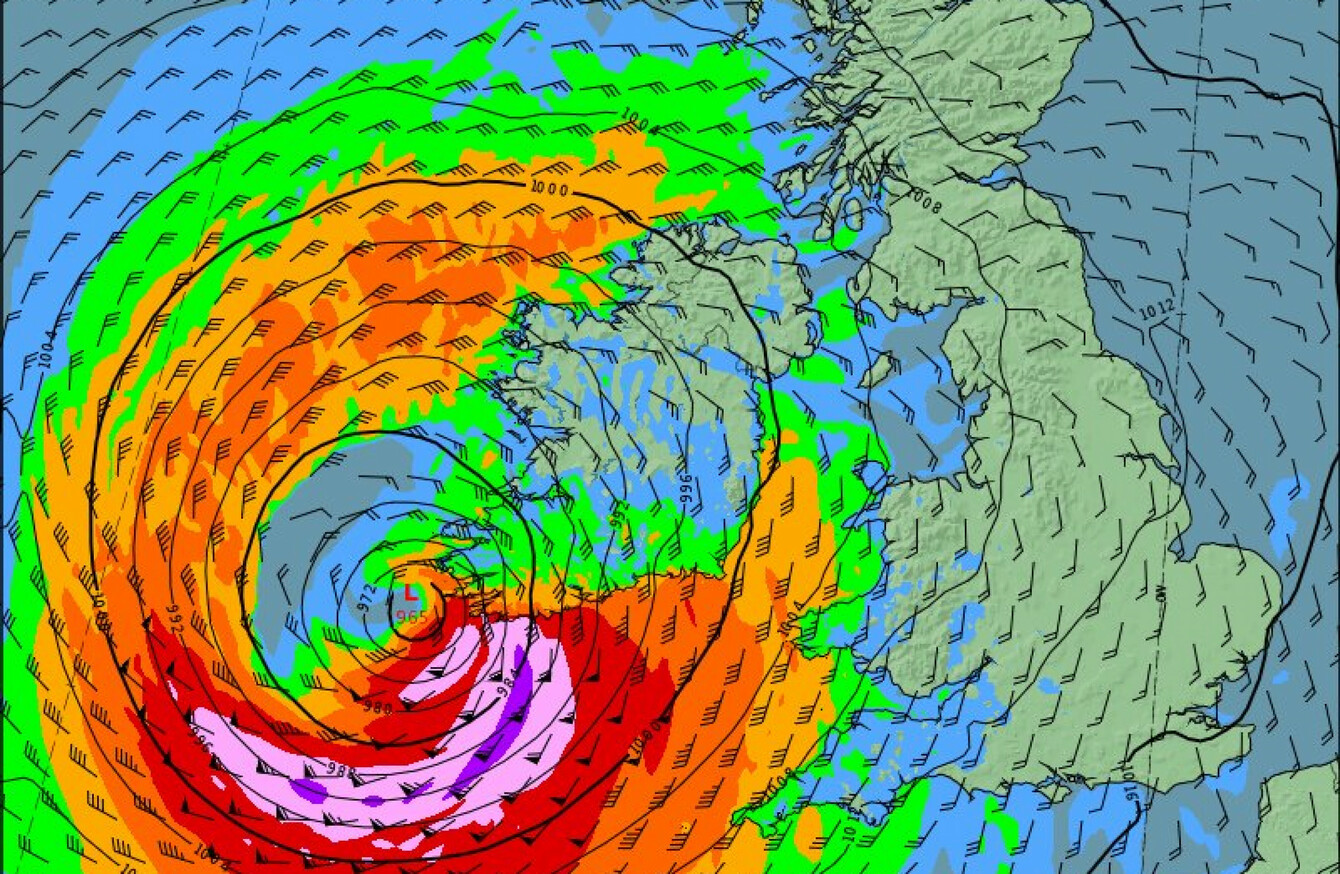 Image: Met Éireann
Image: Met Éireann
Updated 8.52pm
THE MOST POWERFUL storm ever recorded this far east in the Atlantic  is still making its way through Ireland.
Ex-Hurricane Ophelia made landfall in Kerry early this morning and is winding its way through the north of the country this evening.
Met Éireann had warned that the storm is likely to be the most severe weather event to hit the country in over 50 years.
A red alert wind warning remains in place for the entire country until 1am. Separate orange and yellow rainfall warnings have been issued also.
With widespread travel disruptions, closures to schools and universities and multiple warnings from government and local councils, here's some of the main points you need to know about the impact of the storm:
Three people have died in incidents related to Ophelia. One woman died after the car she was travelling in was struck by a falling tree in Waterford; a man was killed while clearing a fallen tree with a chainsaw in Tipperary; and a man died in Louth after a tree fell on his car.
Everyone – from gardaí to local councils to Met Éireann to the Taoiseach – is saying that people should continue to remain indoors and avoid unnecessary journeys.
There is major travel disruption to Dublin Bus, Luas, Irish Rail and Bus Éireann services.
All schools and colleges were closed today and hospitals cancelled all outpatient appointments.
Businesses up and down the country did not open their doors today. Here is a list of many of them.
Over 330,000 customers are without power and ESB Networks has warned that it may be days before power is restored to everyone.
Rescue 116 and lifeboat crew were tasked to windsurfers in difficulty off the Louth coast. The Coast Guard has warned people to stay away from coastlines.
The storm has caused significant damage with images shared across social media showing roofs blown off and debris flying in its wake.
The Hurricane
Ophelia came up from the south through Kerry, before spreading to Cork and the rest of Munster.
Gale force winds early this morning gradually spread northwards across the country during the day.
Hurricane-force winds reached southern coastal counties late this morning with storm force winds spreading inland and northwards during the day.
Rain wasn't as much as an issue as the wind, but there was expected to be rainfall of up to 50mm in parts of the west with isolated totals above 5mm in elevated areas. Across the eastern part of the country, rainfall amounts will likely average less than 30mm.
A dangerous storm surge is expected to produce significant coastal flooding near and to the east of where the centre of the post-tropical cyclone makes landfall.
Near the coast, the surge will be accompanied by large and destructive waves.
The storm is expected to exit Irish coastal waters before midnight.
Staying safe
People across the country have been advised to remain safe and vigilant.
Authorities have repeatedly warned that this hurricane is a life-threatening event.
Among other guidelines, people are told to:
Prepare their houses. Loose items can become dangerous.
Make sure they have sufficient supplies of torches and/or candles.
Don't touch fallen electricity wires.
The Coast Guard has asked the public to avoid any visits or walks to coastal or cliff areas and waterways.
Minister for Defence Paul Kehoe, who is also the chair of the Government Taskforce on Emergency Planning, said that the full resources of the Defence Forces will be made available to the Local Authorities and the Primary Response Agencies as they are needed.
"Public safety is our key concern," Kehoe said in a statement.
Councils in Waterford, Tipperary, Carlow, Kilkenny and Wexford worked through the day to ensure they were adequately prepared for the fallout from the storm.
An Garda Siochána had warned that there is likely to be significant damage caused by winds, especially fallen trees and downed power lines.
Similarly, ESB had warned that there will likely be significant power outages in the wake of the storm and that it will have engineers working to restore any power losses once it is safe to do so.
There are currently 330,000 homes and businesses left without power.
You can keep up to date with the ESB's power checker here.
Closures
There was widespread closures and cancellations of state services today.
All schools, colleges and third-level institutions across the country closed and all school bus services were cancelled.
In relation to hospitals, the HSE has cancelled all hospital outpatient appointments which were due to take place today. These appointments will be rescheduled as soon as possible, the HSE said in a statement.
Patients who are scheduled to have a planned procedure have been advised to contact their hospital directly to confirm whether their procedure will be going ahead. "In order to minimise unnecessary travel risks for patients, only urgent procedures will take place tomorrow," the HSE said.
An Post did not deliver post in Cork, Kerry, Waterford, Galway, Clare or Limerick on Monday.
Almost all court sittings – including all due to take place in the Supreme Court, Court of Appeal, High Court, Special Criminal Court, Circuit and District Courts -  were postponed.
The Department of Foreign Affairs and Trade closed all of its offices, aside for essential staff, including the Passport Offices in Dublin and Cork.
Meanwhile, the Department of Employment Affairs and Social Protection also closed all of its offices.
All driver theory test, driving test, and National Driver Licensing centres were closed.
Citizenship ceremonies which were due to take place in the Convention Centre in Dublin were cancelled.
Coillte has closed all its forests across the country and no public access is permitted until further notice.
Travel
Local councils, the Road Safety Authority and gardaí have all advised people to avoid non-essential travel.
An Garda Síochána said there should be no cycling, and warned that drivers of high-sided vehicles and motorcyclists should be extremely cautious as they are particularly vulnerable.
There have been multiple disruptions to bus routes, ferry services and flights.
Bus Éireann has cancelled all services nationwide for the rest of the day. It said that it hoped to resume services from 5am tomorrow. Find the latest updates on the Bus Éireann website.
Dublin Bus withdrew all services from 10am. Here's the company's latest statement:
Services will be withdrawn at 10am. We hope to return services from 7pm or when we can safely operate our services. However, customers should be aware that services may experience delays and disruptions to service and service levels will be dependent on weather conditions.
Dublin Bus will review the situation on an ongoing basis and is taking advice from Met Éireann and the National Emergency Coordination Committee.
Its latest update, Irish Rail said all services into and out of Connolly will be suspended from 2pm. All services into and out of Heuston are now terminated.
All Intercity and Commuter services are also affected.
More on the Irish Rail website.
The Luas has also ceased operating for the day.
Hundreds of flights have been cancelled across Dublin, Cork, Shannon and Knock airports.
Irish Ferries and Stena Lines ferries have issued a number of cancellations to their Dublin and Holyhead services.
All DublinBike stations will be closed for the entire day.
Everyone is advised to follow regular updates from Met Éireann on Twitter and their website.
Additional reporting by Christine Bohan, Sean Murray