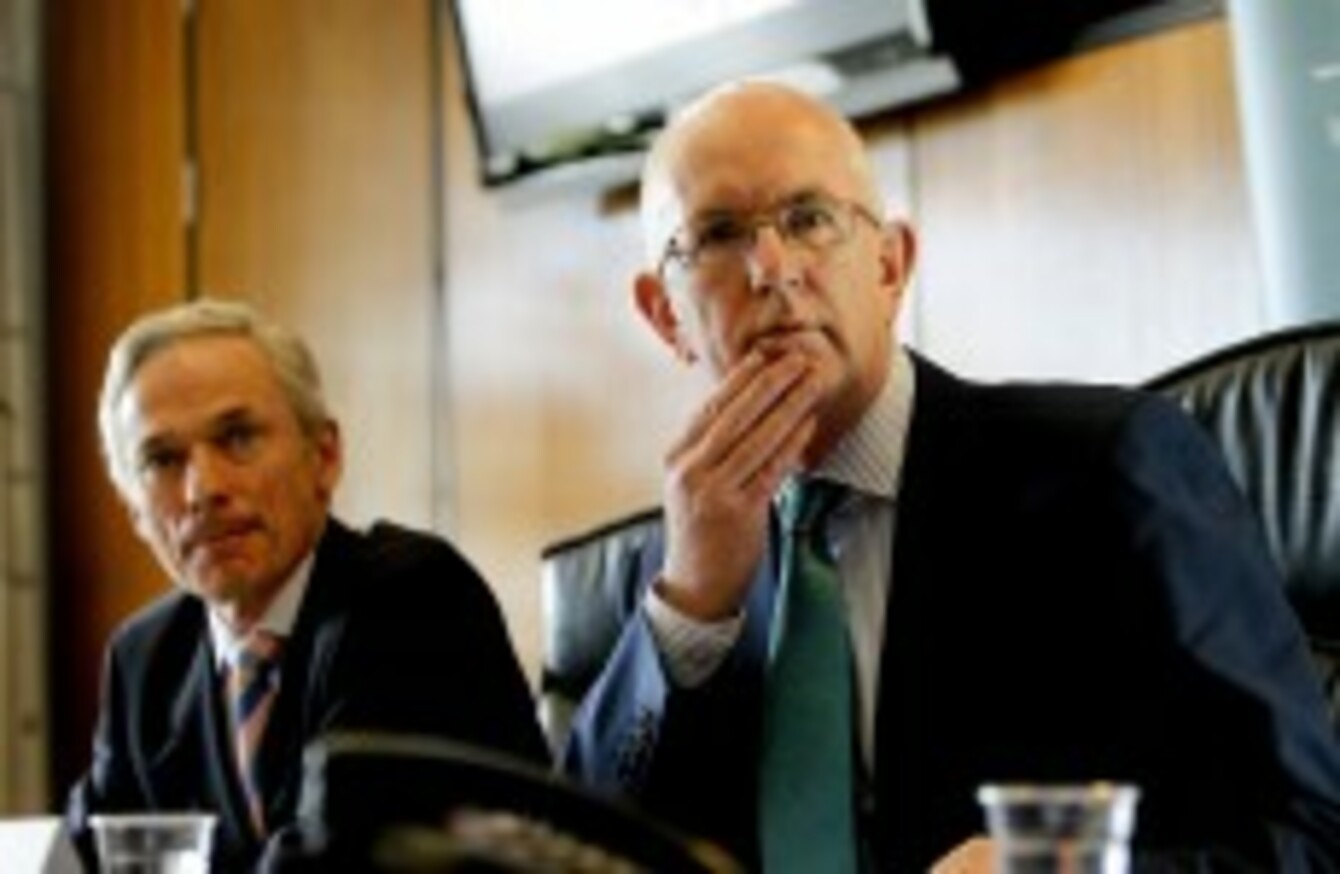 Minister Richard Bruton, left, and Barry O'Leary of the IDA.
Minister Richard Bruton, left, and Barry O'Leary of the IDA.
IRELAND'S INVESTMENT PROMOTION agency, the IDA, is boasting the highest job-creation figures in over a decade, according to its report for 2013.
The State agency, which tries to attract direct foreign investment here, said that companies which it dealt with had created 13,367 jobs in Ireland in 2013. The net increase (when you take away all the job losses announced last year by similar companies) was 7,071.
The IDA (Industrial Development Agency) is also reporting that it increased by almost one-fifth (18 per cent) the number of companies who were attracted to investing in Ireland for the first time.
However, the target set out in the Horizon 20 20 document for regional development – that 50 per cent of all those jobs created through the IDA's dealings in 2013 be located outside of Dublin and Cork – was not met. The agency managed to only place 30 per cent of the jobs it claims to have a hand in, into regional areas.
The Chief Executive of the IDA, Barry O'Leary, said that they had beaten their "ambitious targets" of creating 6,000 net new jobs and securing 132 investments by multinationals in Ireland.
O'Leary also claimed a positive ripple effect of these direct jobs, saying: "Every 10 jobs created in multinational companies lead to approximately seven jobs being created elsewhere in the economy in supply and service businesses."
Why are multinationals coming to Ireland?
The IDA noted several factors contributing to Ireland's attractiveness to multinationals. First, undeniably so, is the corporation tax: "tax will remain a source of competitive advantage between competing FDI (foreign direct investment) offerings".
Barry O'Leary also namechecked the new opportunities in the pharma industry, in spite of the challenges from generic drugs and patent expiries. He also said that the IDA is considering building extra manufacturing capacity "in locations where the private sector is unable to provide the capacity".
On an interesting side note, O'Leary claimed that Nama, as well as "other stakeholders" were being spoken to in order to ensure high-spec office space in the Dublin area. He also wants to build in "select regional locations" including in Waterford, Athlone and in Letterkenny in Donegal.
How is 2014 looking?
Ireland enters 2014 in a far stronger position than in recent years and that will bolster the country's brand image, spurring additional interest from investors.
If you cannot read the figures in the table above, click here for a larger version.