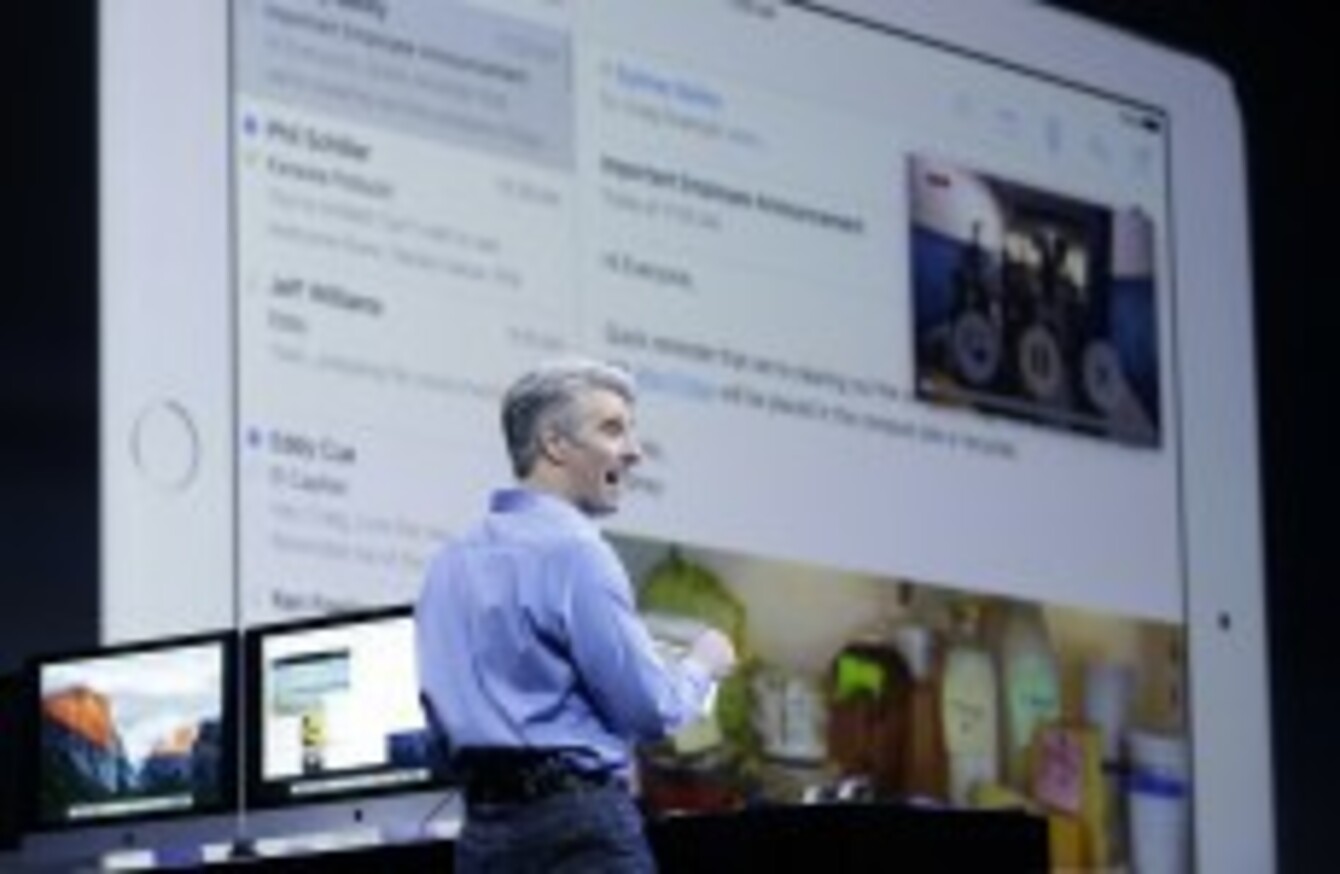 Image: Jeff Chiu/Press Association Images
Image: Jeff Chiu/Press Association Images
AS FAR AS announcements go, iOS 9 was less about making radical changes and more about refining what was already there.
Considering the numerous problems iOS 8 had when it arrived, it's an understandable move from the company and from first glance, it looks like it was the right decision.
Now there are a few things about iOS 9 that suggest this update will be a lot smoother for iPhone and iPad users. Here are the biggest reasons why you will want to download it.
The lifespan of older iPhones and iPads has been extended
If you own an iPhone 4s or an iPad 2, you would have expected these phones to no longer be compatible with iOS 9 as per tradition with previous updates.
The good news is the same devices that were compatible with iOS 8 can upgrade to iOS 9, extending the lifespan of many older devices.
Siri and Spotlight could end up becoming very useful
The reason behind that subheading is Proactive, a Google Now-like personal assistant that offers contextual information through the data on your phone. For example, if you regularly listen to music through your headphones at a certain time in the day, Proactive will take a note of this and begin to suggest it.
The other feature will see apps deep-linked in spotlight, allowing you to search through them in the one place. The key behind this is context and by getting these apps to work together, alongside the AI Proactive uses, it could end up becoming a second home screen for users.
Privacy and security are enhanced further
Something Apple emphasised throughout the iOS 9 presentation was how much it values privacy and security. For one, two-factor authentication is finally an option to iCloud preventing anyone from breaking into its cloud service, while any device with TouchID will be required to upgrade from a four-digit to a six-digit passcode.
Stronger end-to-end encryption will be used when you're syncing files while a new set of security extensions will prevent unauthorised access to secure files. The latter will be bad news for those who like to jailbreak their iPhones, but the payoff is a core that is unlikely to be compromised.
The other message Apple wanted to get out is it doesn't collect data on you. Instead, it will be anonymous and is something that was mentioned regularly during the Proactive demo.
You're going to be more productive on your iPad
Split-screen mode is now a thing for the iPad as you're able to keep two apps on display simultaneously, one is open while the other is on standby. The other feature is Picture-In-Picture which allows you to keep a video playing in the corner of your screen while you use another app.
The final feature is SplitView which allows you to operate both apps at the same time, instead of switching back and forth. This feature is only available on the iPad Air 2, but it hints more toward a pro version of an iPad being released sometime in the future.
You will (likely) be able to fit more apps into less space
For one, the update to iOS 9 is a lot smaller than before – 4.6GB to 1.3GB – but the other interesting feature is something called App Thinning. Effectively it's a method which will make app downloads more dynamic and better suit your device.
For example, instead of just having one main version to download, an iPhone 4S may download different files compared to an iPhone 6 Plus.
The other feature is 'on-demand resources' which means entire features can be left out of an app until the user wants to use them.
When they do, it will download from the App Store. Alternatively, it will remove certain features when they're no longer needed and disk space is low.
In the best case scenario, that will mean apps will take up less space and reduce the amount of data needed to update, and that's great news for those with only 8GB or 16GB devices.
You can squeeze out more life from your battery
In general, iOS 9 will add an extra hour of battery life during normal usage, but a low power mode, while not the most original idea in the world, will reduce the iPhone performance and activity so it can squeeze out another three hours of battery life, according to Apple.
While there's a single switch to activate it, it will also provide details on the most taxing apps on your phone. Again, it's not revolutionary but at the very least, it addresses the battery issues that plague most iPhones.
So when can you get it?
iOS 9 will be officially released in autumn to coincide with the release of the next iPhone model. If you want to get it earlier, a public beta version will arrive next month and you can sign up for it here.