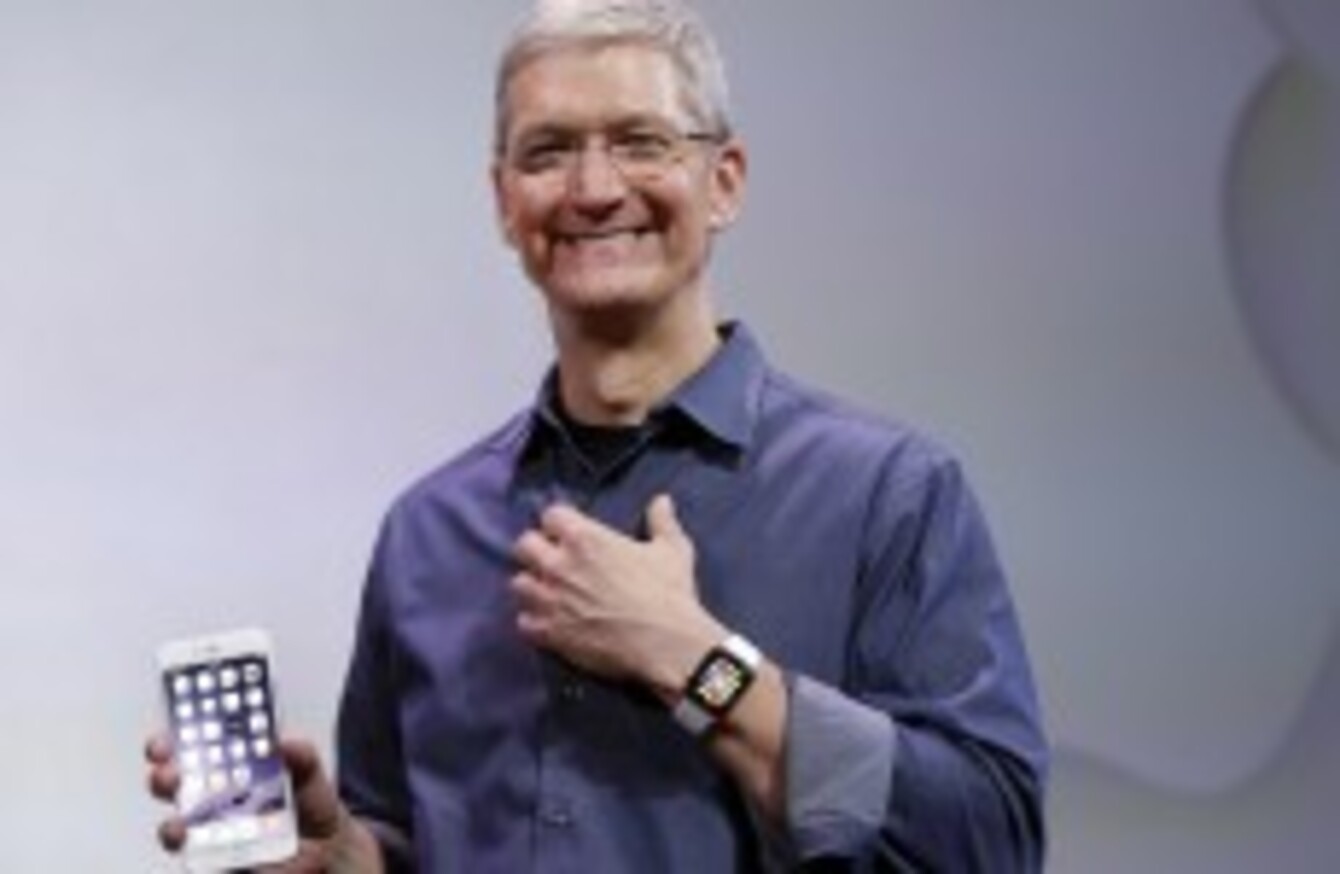 Apple CEO Tim Cook with the iPhone 6 and Apple Watch this time last year.
Image: Marcio Jose Sanchez/Associated Press
Apple CEO Tim Cook with the iPhone 6 and Apple Watch this time last year.
Image: Marcio Jose Sanchez/Associated Press
Updated at 6:05am
LATER THIS EVENING, Apple will hold one of the biggest events this year and it could be one of the most important ones in a while.
A larger venue suggests a bigger event but while the iPhone S range will be a refinement of what came before it, the spotlight will be placed on some of its other products.
When is the event happening and how can I watch it?
It's taking place at 6pm (Irish time) in the Bill Graham Civic Auditorium in San Francisco, a 7,000 seater venue. The event will be livestreamed on Apple's site, but with one exception, you will need an Apple product to view it:
- An iPhone, iPad or iPod Touch with Safari on iOS 7 or later.
- A Mac with Safari 6.0.5 or later running on OS X v10.8.5 (Mountain Lion) or later.
- A 2nd or 3rd-Gen Apple TV with software 6.2 or later.
- A PC with Microsoft Edge on Windows 10.
What type of iPhones will be launched?
The expectation is it the type of devices offered will be similar to last year offering: a 4.7-inch iPhone 6S and a 5.5-inch Plus version.
There were rumours that a third phone, a budget iPhone 6C, would be introduced but this looks unlikely. Instead, it's expected the iPhone 5C will be discontinued soon after the new iPhones are announced.
This is the standard part of the event and will likely be the first item out of the way. A similar thing happened last year where the main event was the announcement of Apple Pay and Apple Watch, two products that are still finding their feet at the moment.
What improvements are expected to be made to the iPhone?
To start, a vastly improved camera is the one thing people seem to agree on. The iPhone 6 has a 8-megapixel camera and can record 1080p footage, but the 6S will bump this up to 12-megapixels and allow 4K HD recording.
There are also rumours that it will also allow panoramic shots and slow-motion 720p recording, something iOS 9 Beta alludes to with its configuration files.
The other serious upgrade is said to be Force Touch, a feature which senses how hard you press on the screen and carries out a different action, and haptic feedback, which gives you the impression you've pressed down on a physical button.
It would act like a right-click for your phone, allowing for extra shortcuts and help reduce clutter on the screen.
This rumour has been around since the summer, and since both its smartwatch and new Macbook have the same capabilities, it's not crazy to assume the same thing will be included here as well.
One potential drawback could be Apple's decision to stick to 16GB, 64GB and 128GB options.
The latter shouldn't be as bad as previous editions as iOS 9, which will be included on the new devices, has a number of methods to reduce the amount of space apps take up. Even the update to iOS 9 has been reduced to 1.3GB compared to iOS 8′s 4.58GB.
Still, that's not going to be the main showcase as it's likely Apple TV will be the centre piece.
Why would that be?
A couple of reasons. For one, it's expected to be a jump from previous versions, more expensive (some of the prices suggested range around the $150/€150 mark) but with more features.
It's still a set-top box but will come with updated software and hardware. Siri, Apple's personal assistant, will be included and 'Universal search' will allow you to search for TV shows across apps without having to visit them.
The device will finally embrace third-party apps and will get its own dedicated app store and will be available with 8GB and 16GB of storage.
The other area that Apple will be properly moving into will be gaming, which will be used as a main selling point.
It's suggested that the remote will double up as a games controller as well, and will likely start off by bringing games from iPhone and iPad to the bigger screen.
The aim isn't those who already own a PS4, Xbox One or Wii U but casual users who are unable to dedicate time to the bigger games.
It's not clear whether Apple TV will have its own dedicated games or not upon launch, but it already a vast collection of games on the App Store so bringing them to the TV screen might not be a bad idea.
#Open journalism No news is bad news Support The Journal

Your contributions will help us continue to deliver the stories that are important to you

Support us now
Are there any other products that could be announced? 
There's an outside chance that a pro version of the iPad will be announced, although it seems like the end of the year is a more realistic date.
The iPad Pro is said to be a 12.9-inch display, similar to many laptops, and will included 64GB of storage space as minimum. The split-screen mode on iOS 9 will allow both apps displayed to operate in full screen instead of a condensed version
While it will run on iOS 9, it looks like it will be positioning itself closer to Microsoft's Surface series, although a keyboard and stylus will be sold separately.
It's more likely that Apple will hold a separate event for both this iPad and for its Mac range, similar to what it did with the iPad Air 2 last October.
What else will be announced at the event?
iOS 9, which was first revealed at WWDC in June, will be shown here since all new iPhones mark the arrival of a new iOS version as well as watchOS 2. Both will have a recap of what to expect when they arrive later this month.
Other products that will likely be touched upon will be HomeKit, Apple's venture into smart objects, HealthKit, ResearchKit, CarPlay, Apple Pay and Apple Music. If they're not covered, they'll be at least mentioned in passing.
And finally, will U2 be making an appearance again?
They're playing in Amsterdam tonight so no.
Originally published 31/8/2015