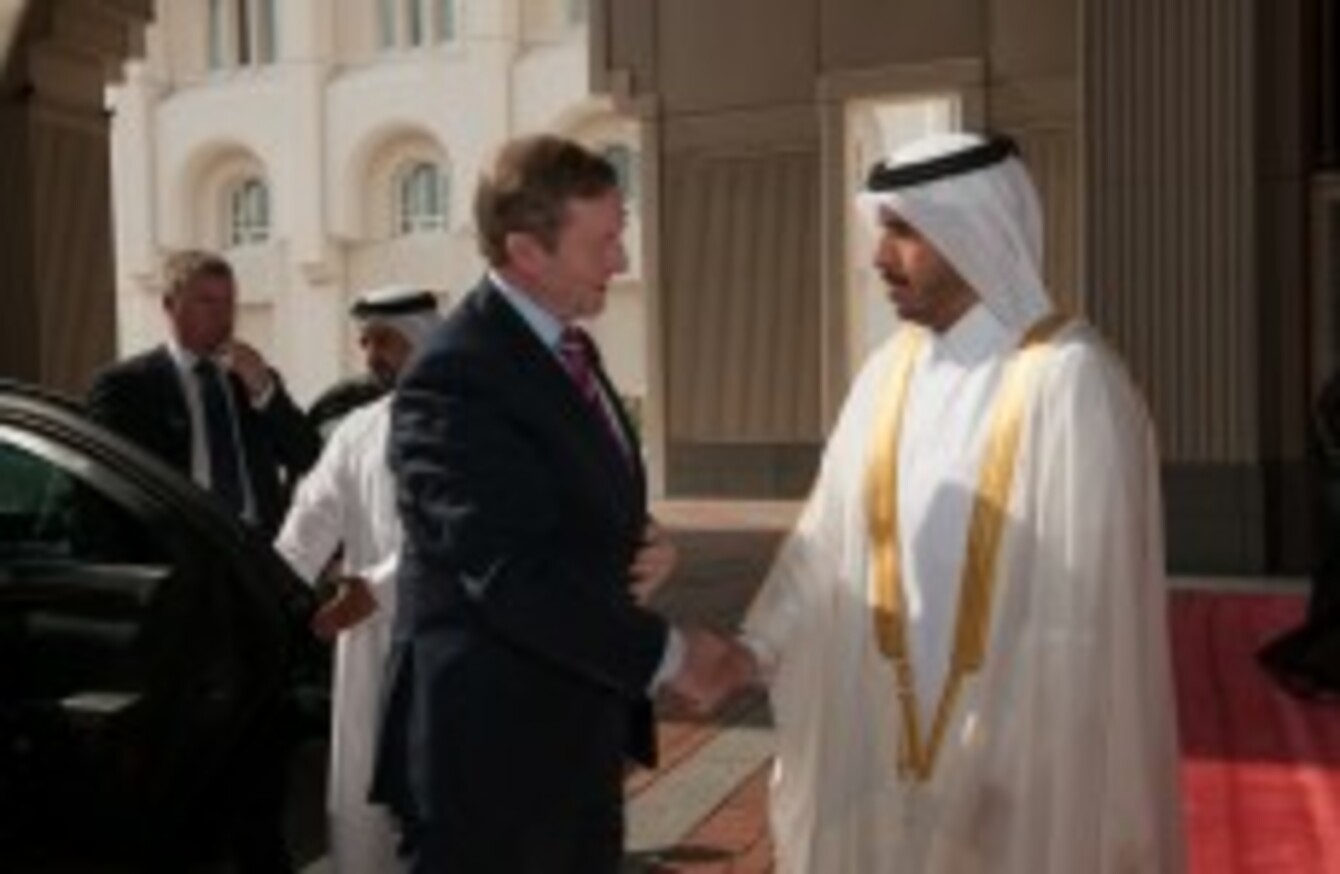 Taoiseach Enda Kenny being received by Qatari Prime Minister, H.E. Abdullah Bin Nasser bin Khalifa al Thani
Image: Photocall Ireland/GIS
Taoiseach Enda Kenny being received by Qatari Prime Minister, H.E. Abdullah Bin Nasser bin Khalifa al Thani
Image: Photocall Ireland/GIS
THE IRISH TRADE mission to the Gulf States has yielded contracts worth €25 million so far.
The Department of Jobs announced this morning that nine Irish companies made the new contracts and business developments worth more than €25 million during the first three days of this week's trade mission to the Gulf.
The mission was organised by Enterprise Ireland and is led by Taoiseach Enda Kenny TD and Minister for Jobs, Enterprise and Innovation, Richard Bruton TD.
Earlier today, Minister Bruton agreed when asked if the trip wasn't the "time or place" to bring up the subject of human rights issues in Gulf states.
The contracts were secured on the Saudi Arabia and Qatar legs of the five-day mission. The team are now journeying on to meet business people in the United Arab Emirates for the final two days.
Escher Group signed a new contract with Saudi Post.
Instant Upright signed a $1m deal with the Saudi Electric Company.
Jones Engineering signed a deal worth in excess of €15m with a major multinational consumer goods brand.
Ezetop inked a deal with the largest retail bank in the Middle East, Al Rajhi Bank to provide software.
Rehab Group signed an agreement worth an expected €2.3million over the first 12 months with the Human Resources Development Fund.
KCC Architectural announced multiple contract wins with customers in Doha including the Kempinski Hotels, Qatar Airways and Aspeter Hospital.
Kentz Corporation opened an office in Doha to offer specialised oil and gas, infrastructure and transportation sectors.
Byrne Looby entered a joint venture partnership with ASCO Consulting Engineers in Qatar.
Díona Technologies announced a partnership with MDS in Qatar.
Separately, Absal Paul, an Irish Saudi contract services provider announced that it had signed more than €100m in contracts over the past twelve months, with partners including Haliburton, the Saudi Stock Exchange, Boeing and General Electric.
The Taoiseach described it as a "fantastic result so far" and commended all of the companies who have made today's announcements.
Minister Bruton said that "more exports means more jobs in Ireland".
Julie Sinnamon, CEO Enterprise Ireland, said that EI will continue to work with these companies to ensure they have all the supports they need "to compete and win" in these markets.