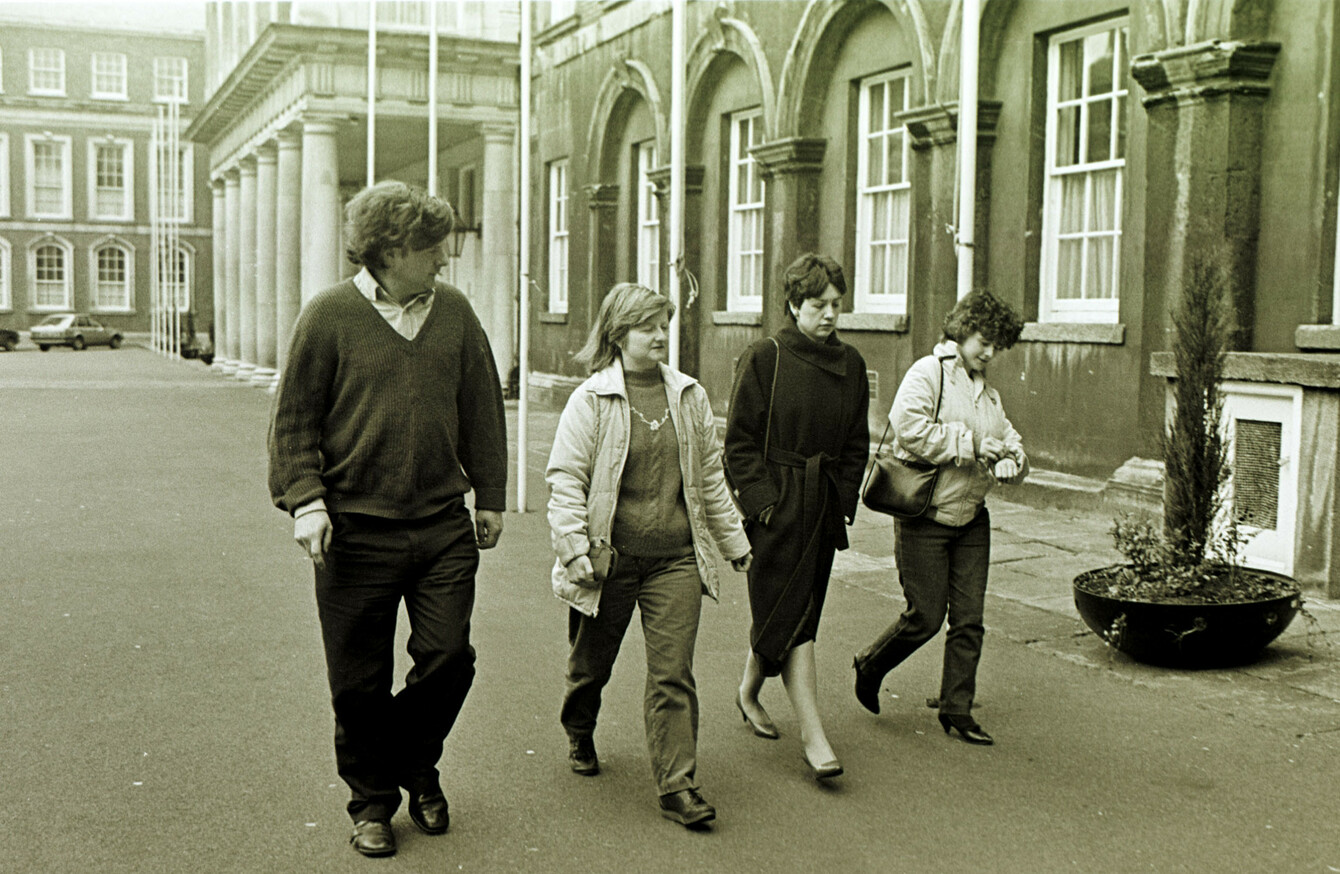 The Hayes family at the Tribunal in 1985
Image: RollingNews.ie
The Hayes family at the Tribunal in 1985
Image: RollingNews.ie
DNA TESTING WAS not available in 1980s Ireland.
A scientific analysis we now expect in every garda investigation could not be used to rule out suspects or create familial links in any serious crime.
Its absence in Kerry in 1984 left a nation forever changed.
The tragic news of a newborn baby found dead and abandoned on the White Strand near Cahersiveen was reported on RTÉ on 14 April 1984.
People across the country were understandably shocked but nothing could prepare the population for the social upheaval to come over the next 20 months when they would, collectively, have to examine Ireland's treatment of women, attitudes to sex and the function and capabilities of An Garda Síochána.
There would be a criminal investigation and a Tribunal. The establishment was shocked to see not only many in the media but ordinary people – from Kerry locals to Dublin activists – turn against it over the handling of the case. They sided with 25-year-old Joanne Hayes who had been dragged into a murder inquiry, 76 kilometres from where she lived, to have her sex and personal life scrutinised.
What was her place in it?
A new DNA profile, details of which are due to be made public later today, will likely rule out any connection between Hayes and the Cahersiveen Baby, baptised and named John. It is a test that she and her solicitor have requested for a number of years.
In April 1984 she lived with her family in Abbeydorney, about 90 minutes' drive from the beach where John was discovered with multiple stab wounds.
Despite the distance, gardaí investigating the infanticide arrived at her door. Their justification for the visit was knowing that she had become pregnant by a married man, Jeremiah Locke. It was known in the area that the pair worked together, had been in a relationship and that he had fathered her daughter, who was now one-and-a-half years old and living on the farm with her.
One of the lines of inquiry detectives had taken in the case was to look for women who could possibly have given birth to 'unwanted' children.
Hayes had already delivered her child – a baby boy who had died during or after his birth on the farm. She told gardaí this, explaining that after the labour she panicked and returned to the farmhouse. A day later, she returned to the spot to find the baby's body. She put the remains in a paper bag and then a plastic bag before placing them in a pond elsewhere on the 65-acre farm.
She told gardaí that the body remained on the farm. They didn't believe her and did not ask her to bring them to the burial site.
Confessions
Inexplicably over the next few days, 'confessions' about the Cahirsiveen baby were elicited from members of the Hayes family.
During lengthy interrogations, they said that Joanne gave birth in the house and killed the baby by stabbing it with a carving knife and beating its head with a bath brush. They also said that they helped dispose of the body into the sea near Dingle.
On 1 May 1984, Joanne was charged before a special court with the murder of an unnamed infant and remanded in custody.
According to a government memo written ahead of the tribunal:
Although the charge did not specifically allude to the Cahirciveen baby, this was the only unnamed infant known to the gardaí to have died at that time.
The gardaí had not found Joanne's baby.
A day later, a member of the Hayes family brought gardaí to the farm where they found Joanne's baby buried.
The newborn would become known as the Abbeydorney Baby. A post-mortem did not give conclusive results and it was unclear whether the baby had lived after childbirth.
Gardaí now had two deceased newborns and just one mother.
Tests
Although there were no DNA tests performed, gardaí were able to test the blood type of both infants.
It was clear that Hayes and Locke were not the parents of the Cahirsiveen Baby, who was blood group A and therefore one of his parents had to be of the same group. They were both blood group O, as was their child found in Abbeydorney. The definitive answer, however, did not stop theories forming that Hayes could have mothered the babies as twins to different fathers.
Gardaí put forward the theory that Hayes must have had sex with two different men – one with a blood group A – over 48 hours and become pregnant by both.
This extremely unlikely occurrence is known as superfecundation and, according to Nell McCaffrey's book A Woman to Blame, is "so rare that it is a footnote in medical journals".
With this narrative, gardaí pressed ahead with charges and began to prepare a book of evidence against the Hayes family.
They were stopped in their tracks by the Director of Public Prosecutions who dropped 'this amazing case'. Éamonn Barnes had based his decision on the evidence available.
Media coverage
Hayes was soon able to tell her side of the story, explaining to RTE's Today Tonight (and quoted in Eamonn Sweeney's book about the 1970s and 1980s Down Down Deeper and Down) that she signed the gardaí's written statement under duress "because they told me they were going to make Mother charged with murder as well and put my little girl in an orphanage, and going to sell the farm as well".
The public were astonished as media coverage of the garda handling of the investigation ramped up and the Hayes family complained about the alleged ill-treatment which they said included assault, harassment and oppressive conduct.
As pressure built, the Garda Commissioner established an investigation, asking two senior chief superintendents to report back to him.
There were always going to be problems with that plan, however.
The Hayes family refused to be interviewed, instead handing in prepared statements. According to a government document at the time, this meant there was "no opportunity of clearing up contradictory aspects or of assessing the truthfulness of the witnesses".
The same approach was taken by some gardaí who were involved in the interrogations of the Hayes family. They handed in prepared statements to reiterate their earlier testimony. It led investigators to believe that some aspects of their work were being concealed.
The garda report also said that no explanation was given for why gardaí pressed on with charges after the blood test results emerged. It also noted that gardaí never asked Joanne Hayes to point out where she had disposed of her baby.
A government memo from then Justice Minister Michael Noonan's department, released in 2015 under the 30-year-rule, summarises the main gist of the report:
To all intents and purposes, active investigation of the case ceased once the charges had been preferred against the Hayes family, notwithstanding the finding of the second baby. The conclusion of the investigating gardaí from the finding of the second baby seemed to be that Ms Hayes must have had twins although the results of the forensic tests on the blood groups clearly threw serious doubt on this.
The memo goes as far as saying the Commissioner believed that investigating officers were "grossly negligent" in their handling of the case. He considered a sworn inquiry was needed to "establish what really happened".
Noonan wanted a tribunal of inquiry into the garda handling of the case. Calling for his government to back him, he said the issues involved were "clearly of major public importance and warrant the most searching investigation".
"Moreover, as a result of all the publicity the case has received, there is a very large public interest dimension to the case," he added.
His request was granted and a Judicial Inquiry was announced.
Over 82 days in 1985, Justice Kevin Lynch heard evidence from Joanne and other members of the Hayes family, Jeremiah Locke, investigating gardaí and others.
#Open journalism No news is bad news Support The Journal

Your contributions will help us continue to deliver the stories that are important to you

Support us now
As the tribunal dragged on, public opinion was firmly with Joanne Hayes. People were horrified at the line of questioning she faced – she was asked about contraception, her sexual experiences, her menstrual cycle – as part of attempts to portray her as capable of anything. She broke down in tears numerous times and required medical attention while giving evidence.
Locke was also asked whether Hayes was a virgin when they first started seeing each other. He was asked "how many other boys or men had Joanne had intercourse with". Justice Lynch allowed the lines of questioning as counsel for gardaí argued that if he could "show that Hayes had a previous sexual history… and that during her relationship she was also having sex with others; and if any one of these others had blood group A, then it will be… not only possible but probably that twins born of that union could have had blood group A in one, O in the other".
To the dismay of gardaí and their counsel however, the superfecundation expert called to give evidence said that the possibility of this having occurred was so minuscule that it could be ruled out.
The judge eventually concluded that the Hayes family wilfully and freely gave false statements to the gardaí, finding that they perjured themselves when talking about garda ill-treatment.
In his report, he did not make it clear how four people, interviewed in separate rooms, came up with eerily similar 'confessions' to incriminate themselves in a crime in which they played no part.
The tribunal also found that Joanne was the mother of just the Abbeydorney baby and, despite forensic evidence to the contrary, that she had killed her child by suffocation and blows to the head.
The worst Judge Lynch said about the garda investigation was that it was "slipshod", that their searches of the Hayes farm were "deplorably inadequate" and that they didn't find the second baby straight away was "deplorable".
He said that it was Joanne's own "guilty conscience" that led her to tell gardaí about the Cahirciveen baby. He noted that the second child was probably "illegitimate".
What is so unbelievably extraordinary about two women in Co Kerry, in one of the weeks in 1984, both deciding to do away with their babies? The tribunal accepts that it is something of a co-incidence, but does not accept that there is anything really unbelievable about it.
In her book A Woman To Blame, journalist Nell McCafferty looked at how Hayes was treated by gardaí and the judge and how this reflected the attitudes towards women at the time.
A measure of his temperament and attitudes to women in the Kerry Babies case is the judicial pronouncement made at its end by Justice Lynch. He asked, "What have I got to do with the women of Ireland in general? What have the women of Ireland got to do with this case?" He presumed to lecture Irish women on what he saw as their misguided support for Hayes in her agony, by sending her flowers and Mass cards.
(And Justice Lynch had made a point of asking where the flowers were for Mr Locke's wife during his summary of the proceedings.)
Neighbours had travelled to Tralee to picket the inquiry's proceedings, while feminist groups came together to protest against the treatment of women by authorities.
In the same year, schoolgirl Ann Lovett died after keeping her pregnancy secret. She was found at a holy grotto in Granard with a stillborn infant boy next to her.
It was also the year in which school teacher Eileen Flynn lost an appeal against her firing. She lost her job because she became pregnant outside of marriage. When first dismissing her case, the Circuit Court judge said that the nuns in the school had been too lenient with her.
Taoiseach Garret Fitzgerald's papers at the time show how much correspondence he and Michael Noonan received in relation to the cases.
Among the letters to the Justice Minister following the tribunal is one from the Irish Women's Forum which had just passed a motion of no confidence in the Irish legal system.
The Dail Committee on Women's Rights described the questioning of Hayes as "insensitive … very, very frightening… harrowing and quite horrific. . . and shameful".
Women were starting to come together to protest against how they were viewed in society, and particularly against the lens placed on young unmarried women.
The tragic case of Ann Lovett, Eileen Flynn's fight and the wrong done to Joanne Hayes were seen not as instances of individual women in trouble but, as McCaffrey wrote, womanhood itself on trial.
Joanne Hayes still lives in Kerry and refuses all requests for interviews about the time. Her long-time solicitor Pat Mann has always said that forensic testing of Baby John (the Cahirciveen Baby) would be welcomed by his client.
At 2pm today, she will finally see the results broadcast across the same channels which carried the most intimate, and heartbreaking, details of her life as a young woman in Ireland.
Gardaí will hold a press conference in Cahirsiveen this afternoon. Follow TheJournal.ie's Cianan Brennan on Twitter, @ciananbrennan and @thejournal_ie, for updates.