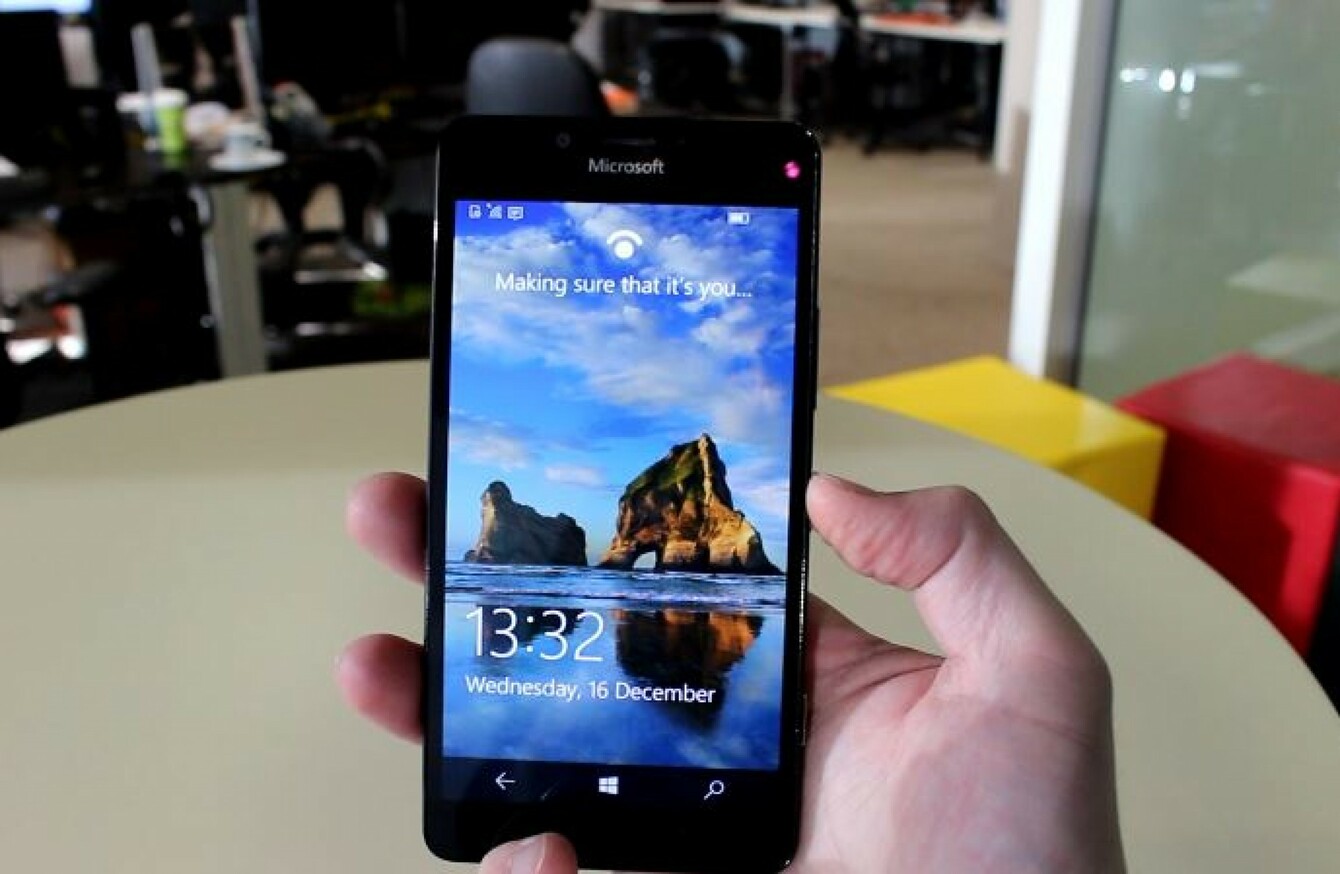 Score: 7/10
Verdict: Some nice ideas make the new Lumia 950 a better prospect but even for fans, it's not the flagship device Windows Phone needs.
AT ITS KEYNOTE event back in October, Microsoft revealed two new Lumia devices, the 950 and 950 XL. In previous years, the Lumia range were a talking point yet their reveal felt more like footnotes than something to get excited about.
That may be a harsh assessment but the OS has struggled to stand out from iOS and Android, a decision that led Microsoft to say these phones are aimed towards the serious Windows fans. That may be a decision made out of necessity, but now that they're here, do they deserve our attention?
Note: The device reviewed is the Lumia 950. The only differences is the 950 XL has a larger screen and a slightly improved CPU and chipset.
Focusing on the basics
If there's a word to describe the Lumia's build, it's 'solid'. Apart from the camera, which has a metal rim surrounding it, it uses a plastic build. There are many similarities between it and the Lumia 830, in that it's fine but it does nothing to wow you.
Much like previous Lumia devices, the back cover can be removed and so too can the battery. A nice feature for those who like to carry a second battery around with them.
The hardware running it is pretty good with 3GB of RAM, 32GB storage and a Snapdragon 808 chipset. It's not quite flagship quality, but considering it's running Windows Phone, this isn't as big a factor as you would expect.
The 5.2-inch screen is nice and bright, managing to pack in a decent amount of detail into photos, videos and everything else in-between.
The other high point are the cameras, a stable of the Lumia series, and it's what Microsoft do with both the 20MP rear end and 5.1MP front-facing cameras that counts.
If you're looking for vibrant and realistic photos, you've come to the right place. Even after taking the photo, features like Rich Capture (a mixture of HDR and dynamic flash, meaning it works better with still objects) do a great job in ensuring the lighting looks as natural as possible.
It's not perfect, and it can take a few attempts to get the lighting correct, but you won't have many complaints about it.
Lumia 950 photos

Lumia 950 photos

Lumia 950 photos

Lumia 950 photos

Lumia 950 photos

Lumia 950 photos
Tidying up
Windows Phone has had a troubled past and while you can point towards a number of factors, it wasn't helped by the software running it. While it had good ideas like live tiles, the way it handled settings and other sections of the OS left a lot to be desired.
Subsequent updates fixed parts of this, but Windows 10 does feel like the update with most logical changes.
Many of them you will find on other platforms – drop-down notifications, animated photos, reachability (an iPhone 6 Plus feature that brings the screen down halfway), a search feature for settings and so on – but for the user, it's tidier and some of the navigation headaches associated with previous versions are no longer here.
Yet there are bugs apparent, there were some crashes, certain actions weren't recognised and one particular bug stopped us from scrolling through photos.
Keeping this in mind, it's probably no surprise that Microsoft has delayed the release of Windows 10 for mobile until early 2016. While there is a solid foundation here, this does feel like a work in progress in many ways, both for Microsoft's products and third-party apps.
Speaking of which, the lack of big name apps is still a problem, and while it a tired argument that comes up anytime Windows Phone is mentioned, it's hard to ignore.
Microsoft hope to rectify this through universal apps, which will see the one app work on all screen sizes, but this is going to be a slow process, one that will be pushed by those using Windows 10 on desktop than on tablet or smartphone. The early signs are encouraging for the platform, but this will take time for it to develop.
For the Lumia 950, there are two major additions. One is Windows Hello, which scans your iris to unlock your phone. With an infrared light glowing while it searches for you, it quickly recognises you and unlocks your phone, making for a more convenient experience than a fingerprint.
The other one is continuum, where you connect your Lumia device to a dock and monitor and turn it into a lightweight PC.
It's more Chromebook than full-fledged PC where only one app can be displayed at any one time, but the problem is you need a docking station to be able to use it. Since they weren't available to use at the time of writing, we will have to wait till later before we can try it out.
Should you buy one?
If you're a fan of Windows Phone and need to upgrade, then you know what to expect here, but for the rest of us, it's a matter of how dedicated you are to Windows as a platform.
If you use Microsoft suite products regularly, then it makes sense to look at this. Yet the problem, and it continues to be a problem, is there is little here that will appeal to non-Windows fans.
Despite the nice touches, it's hard to see why iOS and Android users would want to switch over.
Windows has a long building process to go through before it carves out a proper niche in the smartphone market. There are rumours of a Surface phone swirling around so for that alone, it's probably better to wait until that arrives.
Pros
- Windows 10 is a logical update for smartphones.
- Windows Hello is a genuinely useful lock screen mechanism.
- Camera quality is still great.
Cons
- Windows 10 is buggy and needs work.
- Lack of apps still a major problem.
- Nothing here that will convince iOS/Android users to move over.
The Lumia 950 costs €599 unlocked and is available in Microsoft Store, Vodafone, Three, and Meteor.