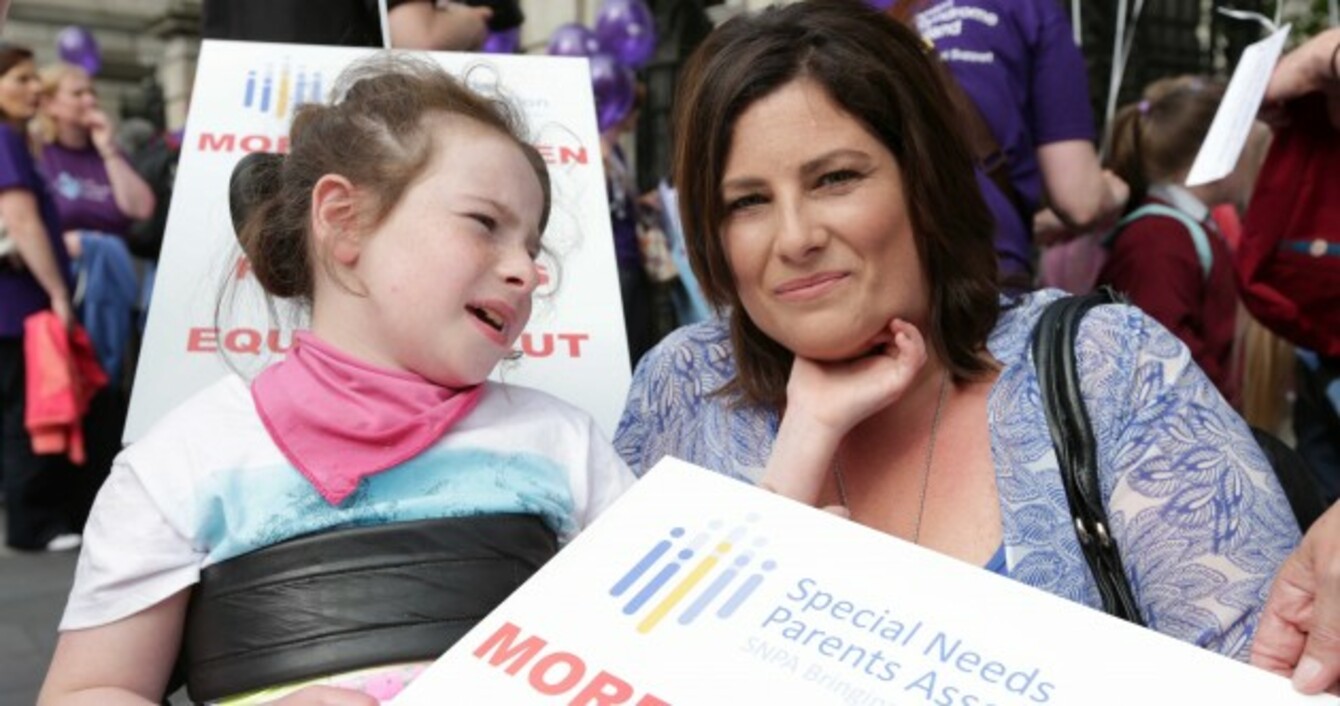 Lorraine Dempsey and her daughter Rianna (10) from Wicklow protest outside Leinster House this evening
Image: Laura Hutton/Photocall Ireland
Lorraine Dempsey and her daughter Rianna (10) from Wicklow protest outside Leinster House this evening
Image: Laura Hutton/Photocall Ireland
HUNDREDS OF PEOPLE turned out for protests against special needs cuts in Ireland this evening.
The protests took place to highlight a 10 per cent cut to Special Needs Assistant support which parents say will be evident in the coming school year this September. Minister for Education Ruairí Quinn rowed back on cuts yesterday to resource teaching hours for pupils with special educational needs.
He said he planned to implement measures "to retain the level of resource teachers available to students with special educational needs at the 2012/13 levels" and 500 additional teaching posts would be released to schools in September.
However, Fianna Fáíl raised a motion in the Dáil last night regarding the ongoing SNA issue and the protest outside Leinster House was organised by the Special Needs Parents Association (SNPA).
Fianna Fáil Deputy Micheál Martin spoke to parents, SNAs and members of disability rights groups but a small number of people in the crowd shouted 'Shame on you!'
Ogra Fianna Fáil, who were also present at the protest, said that there were "political reasons" behind the shouts.
http://youtu.be/hCzGXpNHFao
(Dublin Says No/YouTube)
Protests also took place in Cork, where teachers, parents, children and other participants met at Patrick's Bridge in the city centre, and in Eyre Square in Galway.
Yesterday, Chairperson of the SNPA Lorraine Dempsey welcomed Minister Quinn's announcement but said that the call to action "was not solely about raising awareness of a single issue of resource hours".
She added that the group also wanted to highlight the problem relating to Special Needs Assistants provision, which she said "will be further exacerbated by having to share the allocations with an extra 2000 children requiring SNA support, while the CAP on SNA numbers remains in place at 10,575″.
SNA cuts protest

SNA cuts protest

SNA cuts protest

SNA cuts protest

SNA cuts protest

SNA cuts protest

SNA cuts protest

SNA cuts protest

SNA cuts protest

SNA cuts protest

SNA cuts protest