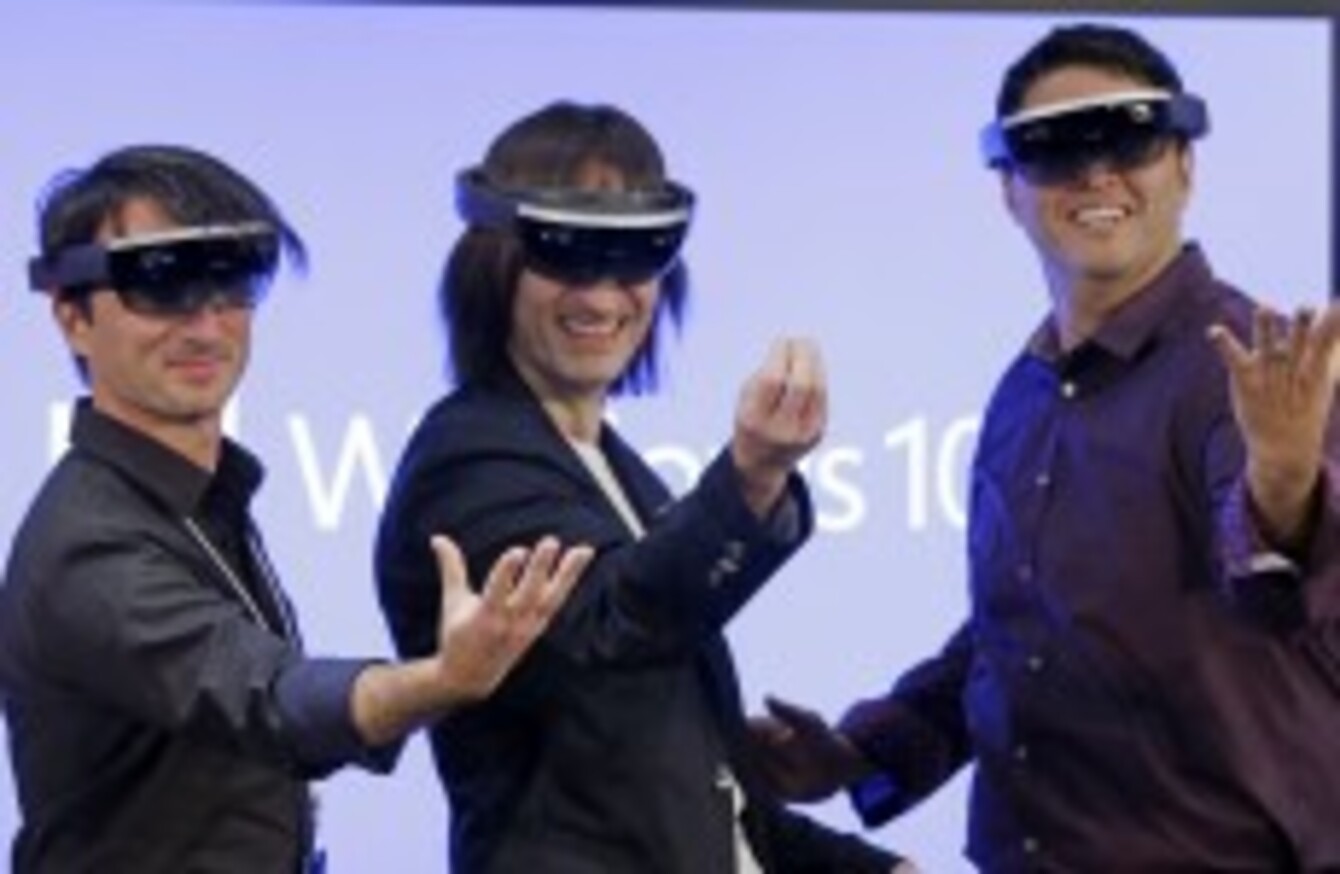 Image: AP Photo/Elaine Thompson
Image: AP Photo/Elaine Thompson
MICROSOFT ANNOUNCED A vast number of changes and features at its keynote last night, yet the most intriguing part of its keynote was the unveiling of its new headset, the HoloLens.
Microsoft's Alex Kipman said that this was a product that it had been working on for years. So what is it and is it something worth getting excited about?
So what is it?
Looking like a cross between Oculus Rift and Google Glass, HoloLens allows the wearer to see 3D images in the space you're in, and blends them in with the environment around you.
Calling it a hologram is only really true from the user's perspective as it acts more like Augmented Reality than anything else. When you put on the device, you will be able to see holographic-like images that you can interact with through physical gestures and voice commands.
Its similarities are closer to the likes of Oculus Rift as it's really designed for home and business use instead of wearing one out in public. So the only people you will have to worry about seeing you wearing one will be either your family, friends or work colleagues.
The core use seems to be business related, but there is also a social element included such as Minecraft. Being able to see a whole world in your living room is a tantalising prospect, despite the promo video below making it sound almost too sci-fi like.
Source: Microsoft/YouTube
How does it work?
As well as using an onboard CPU and graphics processor, HoloLens uses what Microsoft call a "Holographic Processing Unit" (HPU), a specialised processor that will power the 3D images.
The device tracks the user's eye movement to figure out where he/she is looking, and it uses built-in cameras to recognise hand gestures like pinching.
It creates these images by using a high-definition stereographic display, which makes it look like these virtual objects are lying on top of real-world objects.
Microsoft has its own application called Holographic which will be supported on Windows 10, and will allow developers to create their own software using it.
What can it be used for?
For now, only a few demos were mentioned but creation and immersion were two that cropped up.
One of the demos at the keynote was HoloStudio, which from first glance plays the same role MS Paint played on Windows. The purpose of it is taking the space in front of you and creating whatever object that comes into your mind, with the possibility of 3D printing your creation also touted.
Other applications included allowing NASA scientists to work virtually on Mars, using software called OnSight, playing a demo of Minecraft and fixing a light switch while using Skype, all while a electrician drew where to position the lightswitch and how to test it.
It's the latter that could be the major applications as the uses for it around the house and in business are vast, although the other areas shouldn't be neglected.
What's the reaction been like so far?
Largely positive although there's still a long way to go. Those attending Microsoft's keynote were able to try out the device with four demos prepared in advance, but they weren't allowed to take photos, or record video of it in use.
Still, the general impression was that Microsoft is onto something. Ars Technica's Peter Bright praised the visuals and how it removed the washed-out feel people associate with holograms.
It looked for every bit like the holographic projection we saw depicted in Star Wars and Total Recall. Except that's shortchanging Microsoft's work, because these virtual objects were in fact far more convincing than the washed out, translucent message R2D2 projected, and much better than Sharon Stone's virtual tennis coach. The images were bright, saturated, and reasonably opaque, giving the virtual objects a real feeling of solidity.
Wired's Jessi Hempel was also impressed but noted that Microsoft has a lot of work ahead of it if it wants to make this a must-have device.
As I remove the goggles, he reminds me that it's still early days for the project. This isn't the kind of thing that will be, say, a holiday best seller. It's a new interface, controlled by voice and gesture, and the controls have to work flawlessly before it will be commercially viable. I get that. I love voice controls, and I talk to Siri all the time. But half the time, she doesn't give me a good answer and I have to pull up my keyboard to find what I'm looking for more quickly. Project HoloLens won't have a keyboard. If the voice and gesture controls don't work perfectly the first time, consumers will write it off. Quickly.
While The Verge said it is "probably the most intriguing (and, in many ways, most infuriating) technology we've experienced since the Oculus Rift."
 And there are many parallels with the Rift to be had: both are immersive, but in different ways; both require you to strap a weird thing on your head; both leave you grinning like at absolute idiot at a scene only you can see. And, crucially, both need more work when it comes to thinking through exactly how to control and interact with virtual things.
Pretty much everyone was impressed with the Minecraft demo – its purchase of Mojang for €1.9 billion already looks like a shrew decision and will end up being a cornerstone for future Microsoft products – and the bright, vibrant LEGO-style visuals the game uses will pave the way for future applications.
Granted it didn't say that it was coming to HoloLens, but it's hard to see it not making an appearance when it's released.
What's working against it?
As harsh as it may sound, Microsoft itself. The company has made steps towards changing its image and approach since Satya Nadella took over as CEO little over year ago, but public perception takes time to change.
It doesn't get the same response as Apple or Google when they release a device – just think of the hype Apple Watch and Google Glass received as an example – and the bad publicity of Google Glass, despite having few similarities, may make it a harder sell.
The second problem is how exactly will other developers use the technology and if there will be much support for it. Microsoft's desire to push the next big thing stems from its slow movement into mobile and for now, it's hard to see a world where such headsets will become the norm. That will inevitably have an impact on the type of developers and companies that will back it.
Yet it may be the right balance between true VR like Oculus Rift and AR from Google Glass. Provided the price is right and it irons out the kinks, Microsoft could be pushing this industry forward.
When can we expect it?
Microsoft say that HoloLens will be available around the same time Windows 10 comes out, which looks like it will be the end of the year.