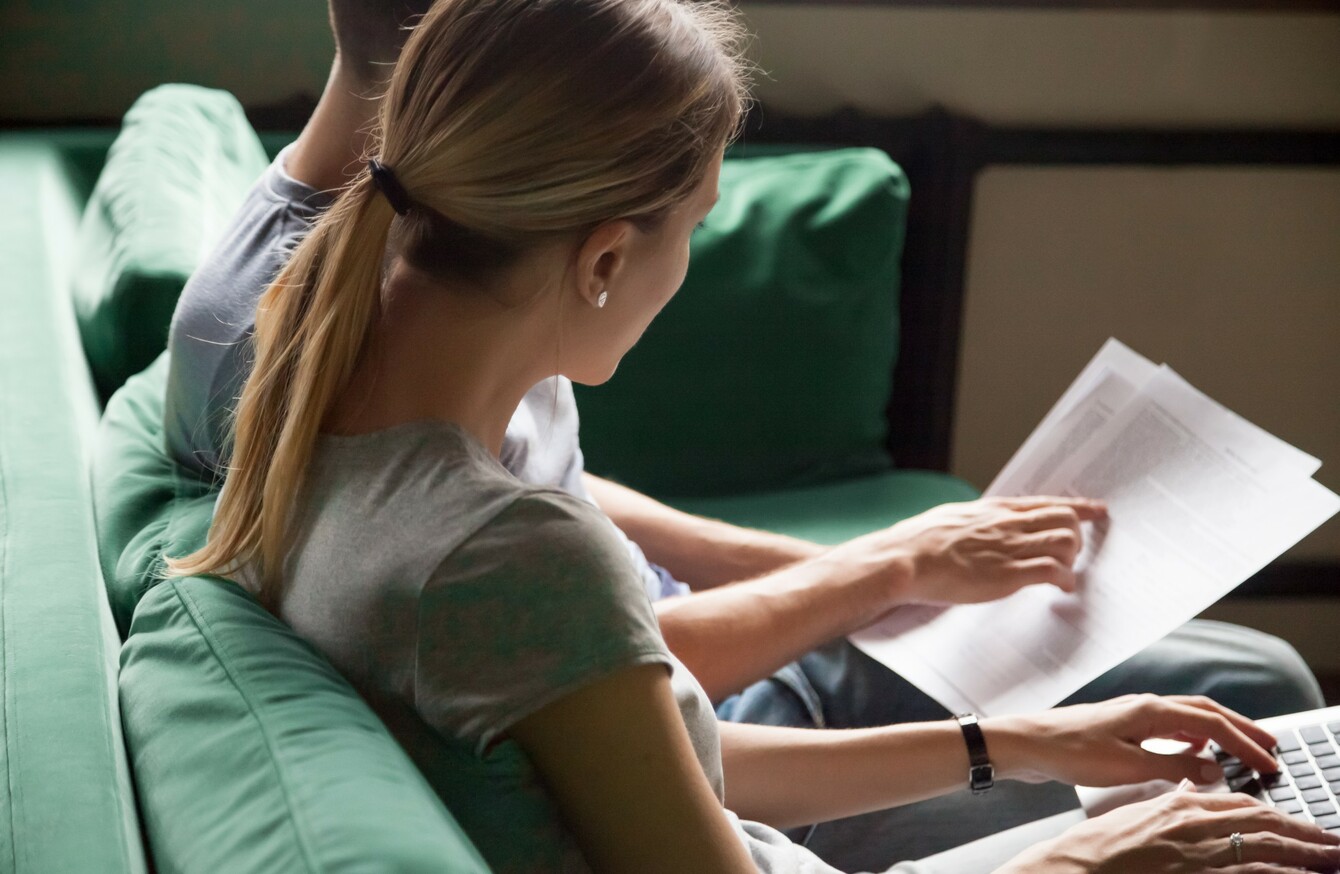 Image: Shutterstock/fizkes
Image: Shutterstock/fizkes
WHEN IT COMES to buying your first home, it's easy to think that 'saving a deposit' and 'applying for a mortgage' are two distinct stages of the process. However, these stages are actually closely intertwined.
To know how much you have to save for a deposit, you'll need to get a clear understanding of the mortgage requirements – and you'll end up completing some parts of the mortgage application process while you're still saving.
Keeping everything straight can be stressful and exhausting, so we talked to Nick Lawlor, a financial advisor who specialises in financial wellbeing at the Wellness Crew, for tips on getting through the mortgage process with a minimum of heartache.
And to get an understanding of the timeline of the mortgage application process, we spoke with David Tierney, director of IMS Financial, a mortgage broker in the Cork, Clonmel and Galway areas.
First, a rundown of the mortgage application timeline — and several dos and don'ts that can help you along the way.
Six months before you apply
Do… get a clear picture of your total likely repayments: One of the first things you'll need to do in the mortgage application process is to get a clear picture of the total repayments you'll need to make — either from a loan officer or a mortgage broker. Whether you're just starting to save, or have saved a portion of your mortgage, you'll want to ensure you understand your total monthly repayment. Tierney explains:
"If someone is looking to buy or build a house in six months, I predominantly look for what they qualify for. A lot of people go in thinking they're going to buy a €400,000 house, but when you actually sit down with them and go over the repayments, the property tax, life insurance, home insurance, they realize they don't want to be paying that."
He also reminds buyers they need to ensure they save enough money for the stamp duty and legal fees in addition to the deposit of 10%.
Don't… stop saving too soon: Perhaps you've already reached your deposit amount – but don't stop there, says Tierney. "When people already have that money together through that savings or a gift coming from somewhere, they kind of stop saving or stop showing what banks look for, which is evidence of repayment capacity. That's probably the most detrimental thing." While you might have your deposit ready and waiting, lenders will still want to see your ability to repay a mortgage monthly, especially in the six months leading up to application.
Three months before you apply
Don't… use savings for other things: In the last few months leading up to applying for a mortgage, keeping your savings intact is especially important in order to show repayment capacity and commitment to savings. If you have other savings, just make sure they are clearly separated. "Lots of people might be sticking money away for a holiday," says Tierney. "Just try to separate those funds out into two separate accounts."
Do… look for a solicitor before you need one: While you won't likely be using a solicitor's services until you've gotten mortgage approval, found a house, and had an offer accepted, Tierney suggested finding a solicitor you gel with earlier than later. "There's no harm in having spoken to one or two solicitors to get a prospective quote, just getting an indication of the fees," he said, "Some auctioneers will gauge how serious you are by having a solicitor organised yet." 
At the time of application
Don't… wait to apply for life insurance: Most lenders will require life insurance in order to grant mortgage approval. "If you have any underlying health condition or are currently undergoing any medical tests, you need to be applying for your life cover early," says Tierney. Waiting on life insurance could hold up the mortgage approval process, he says. "If you have to get a medical, you might be waiting for 30 days."
Taking the stress out of the process
Does all this sound a touch stressful to you? Well, you're not alone. There are plenty of factors causing stress through a mortgage application, says Nick Lawlor of the Wellness Crew. "Financial stress comes from the unknown, lack of preparedness, and lack of education. If we were to use that model around a mortgage decision, then all of those factors do stack up."
Know what you can control, and what you can't: Overall, he says, the best way to combat stress is to distinguish between the things you have control over, and those you don't. "If an individual can try and understand the elements they can control, that can greatly reduce the stress and anxiety around it," he says. "Know that we can't change the central bank rules, can't change income, can't change the amount my house will be sold for, how much of a gift I'll get from my parents. Those things are uncontrollable." What you can do, however, is ensure that you are as well-informed as possible. "Your education or preparedness are controllable."
Manage your environment: Of course, the situation you find yourself in as you're saving for your mortgage can also have a big impact on your stress level. "While you're trying to get on the property ladder, if you're renting a shared bedroom, or renting an apartment with four others and all working from home – your surroundings can add stress," Lawlor says. Doing things to try to enjoy your environment while you're saving can help mitigate that stress. "Individuals should be conscious of the environment. You really need to get out for walks, you need to see friends," even if it's over a video call. "Try to take control of things you know are getting you down."
Outsource the work: If the actual mortgage application process is stressing you out, a mortgage broker might be the right avenue to take. "Outsource this!" says Lawlor. "A mortgage broker will work for you for free and they'll receive a fee from the lenders that the money is drawn down with. They have an array of choice because they work with five to seven lenders, they'll put your paperwork together once, and then they can liaise with the lender that gives you the best repayment and rate." Having someone walk you through the process can certainly help alleviate potential hiccups with your application.
Managing the stress of the mortgage application process is equal parts understanding the requirements, and proactively taking control of the elements you can control. The reminders outlined here should help you get through in one piece.
At Glenveagh Homes, our vision is that everyone should have the opportunity to access great-value, high-quality homes in flourishing communities across Ireland. We understand that buying a home is possibly the biggest decision you will ever make in your life – but we want to make it your easiest. Click here to find out more about Glenveagh developments.