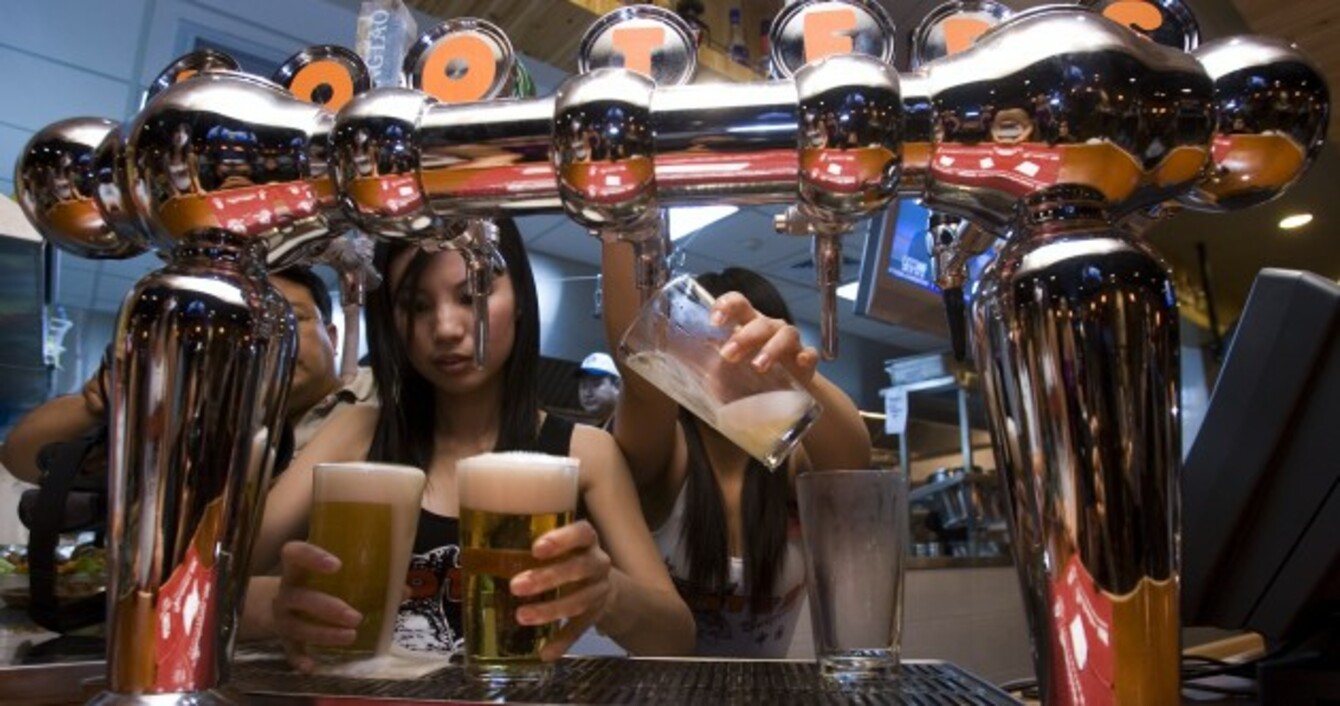 Waitresses fill beer glasses at the Beijing outlet for Hooters
Image: AP Photo/Andy Wong
Waitresses fill beer glasses at the Beijing outlet for Hooters
Image: AP Photo/Andy Wong
IT SELLS MORE than three times the volume of Heineken, but you're not going to find the world's most-popular beer on your supermarket shelves.
Snow, a largely-flavourless Chinese brew made only for the country's massive domestic market, is the highest-selling beer across the globe by volume, despite one of its more-generous drinkers describing the lager as "water in a can".
Figures from analysts Euromonitor, as crunched by Bloomberg, show the beer now makes up 5.4% of the world's total market with sales up more than sixfold since 2005.
In 2012 its consumption was enough to full 12 Olympic swimming pools every day of the year – as noted by brewing giant SABMiller, which makes the beer as part of a joint venture with a Hong Kong-listed firm.
However it appears the beer's main appeal is its price - which starts at about 3 yuan (€0.43) for a small can or bottle – rather than its taste.
Reviewers have variously described it as having hints of "fruit (and) wet cardboard" with the overall verdict ranging from "nothing special" to "quite awful".
It was generally dismissed as a poor flavour cousin to Chinese rival Tsingtao, the second-highest selling beer in the world, which unlike Snow has made its way onto the export market.
This was one drinker's take:
Mouth-feel is unpleasant – sticks to the inside of your mouth. I want to say 'soap' again. Light body. Drinkability low. Won't be finishing the can."
The beer economy
Four of the world's top-10 selling brews are now Chinese, reflecting the sheer size of the country's market for beer – its most-popular alcoholic beverage.
This chart from Euromonitor puts the figures in perspective when sales within the Asian nation are compared to those for Germany, western Europe's biggest consumer:
Snow first overtook the most-popular beer in the US, Bud Light, to become the world's highest-selling brand in 2008.
Unlike sales of the popular Chinese lagers, which have been riding the wave of rising incomes among the country's burgeoning middle class, consumption of top American beers like Bud Light and Budweiser has been falling as US drinkers increasingly turn to craft and imported alternatives.
These are the top-10 beers in the world, according to Euromonitor:
1. Snow (China) – Market share: 5.4%
2. Tsingtao (China) – Market share: 2.8%
3. Bud Light (US) – Market share: 2.5%
#Open journalism No news is bad news Support The Journal

Your contributions will help us continue to deliver the stories that are important to you

Support us now
4. Budweiser (US) – Market share: 2.3%
5. Skol (Brazil) – Market share: 2.2%
6. Yanjing (China) – Market share: 1.9%
7. Heineken (Netherlands) – Market share: 1.5%
8. Harbin (China) – Market share: 1.5%
9. Brahma (Brazil) – Market share: 1.5%
10. Coors Light (US) – Market share: 1.3%