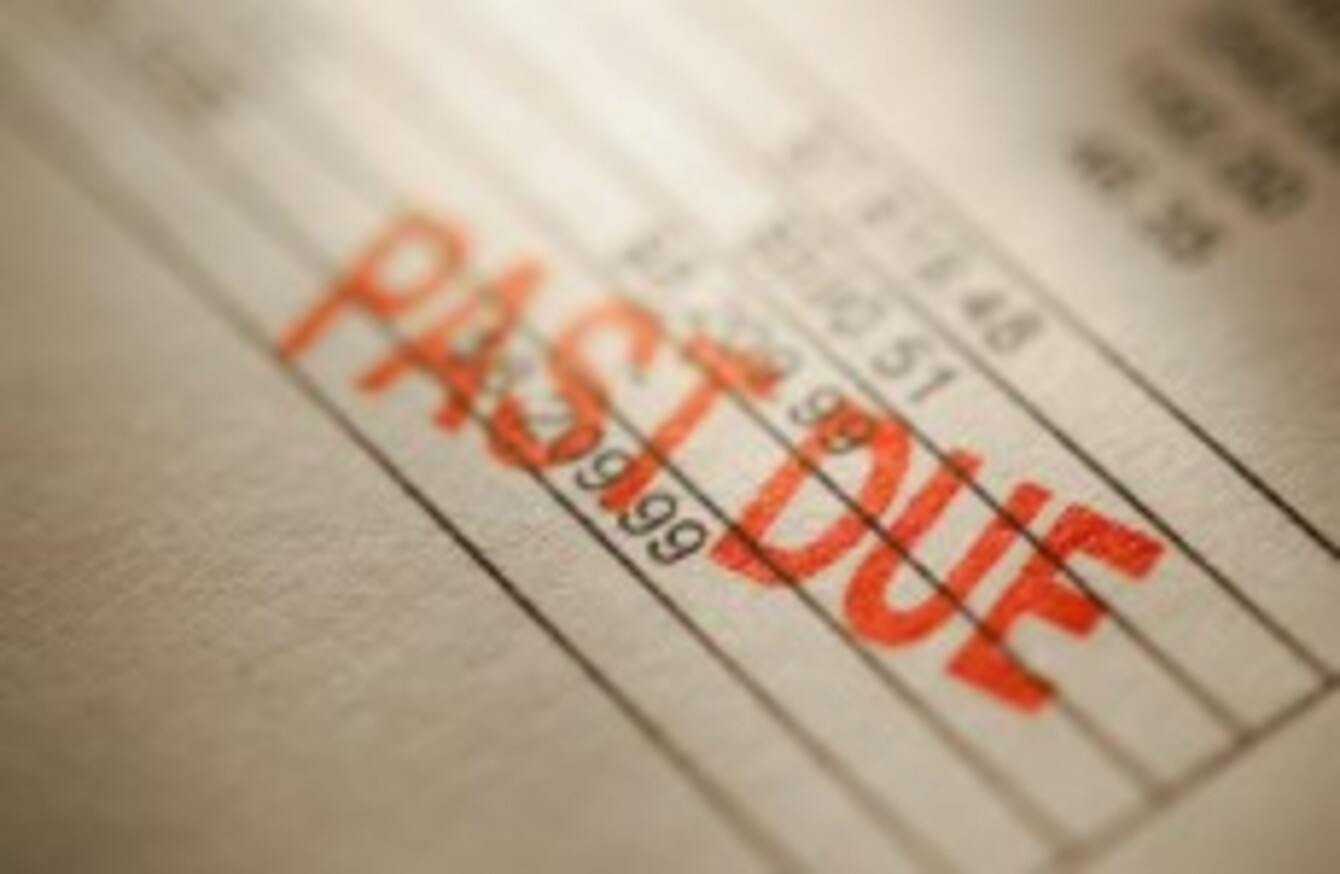 Image: Shutterstock
Image: Shutterstock
NEARLY HALF OF Irish companies are forced to dismiss staff because of the pressure put on cash flows by late payments.
A new survey of by payment manager Intrum Justitia  shows that unpaid bills are putting Irish employers under huge pressure, depressing the job market and leading to redundancies.
One expert said that a total of €3.5 billion is unpaid to Irish companies at any one time, with larger companies and the Government slow to pay contractors, who in turn are forced to lay off staff.
The pressure is such that, in addition to the 47 per cent of companies that say the problem has forced them to lay off staff, 60 per cent of employers have held off on making new hires because they are hobbled by late payments.
Intrum Justitia UK & Ireland sales director Gerry Barrett told TheJournal.ie that Ireland is at risk of falling into the category of worst-performing countries such as Spain, Greece and Italy when it comes to bill payment.
He sharply criticised both Government failure to legislate for the issue and the State's slow payment of contractors itself.
"The government aren't great payers either. They're not leading by example. There's no moral authority."
He continued: "Until they make it punishable by law, nothing's going to change."
Risk
The survey was conducted across 10,000 European companies.
Barrett said that Ireland was close to falling into the bottom category of countries such as Spain, Italy, Greece and Portugal, where the late and non-payment of bills is endemic.
By contrast, it is illegal not to pay for a service in many Nordic countries.
He continued:
This gives the lie to the narrative that's being spun. That we've turned the corner, that everything's rosy in the garden. It's not.
"It's the 'extend and pretend' philosophy that's here at the moment."
The report states: "The more positive mood of the European Commission that recovery is underway is definitely not shared by the over 10,000 companies who took part in the European Payment Index 2014 survey."
The report says that more companies than ever before say late payments are a threat to their ability to survive and grow.
Barrett said that previous attempts to tackle the issue with guidelines, such as the European Payment Directive, were useless and were widely ignored, particularly by larger companies.
"The EPD is effectively being ignored. The big companies are eating up the small companies, and the smaller companies are also passing that down the food chain. It's like a virus that affects everybody."
Late payments, mounting losses
The survey shows that the delays in payments in Ireland usually last around 29 days for business-to-business payments, with 14 days the norm for public sector payments.
This compares unfavourably with countries like Finland, where payment delays range from four to six days, or Denmark, where they rarely exceed 10.
However, apart from the Nordics, Ireland also performs at the same level – or worse – than many Eastern European countries. Romanian payment delays cover a span from 16-21 days, Slovakia from 14-25, and Poland around 18 days.
Companies are also being forced to write off increasing proportions of debt. This has climbed from 2.8 per cent in 2011 to 3.7 per cent in 2014.
The survey found that some 74 per cent of Irish business people feel less confident about getting the financial support from their bank, with 57 per cent saying that risk will increase more over the next year.
Ronan Horgan, who is managing director of Ireland's largest invoice financing provider Bibby Financial Services, said:
"Late or non-payment of debt can have a devastating effect on any company, particularly its cash-flow and ultimately its ability to successfully trade."