Plain packaging on cigarettes was announced earlier this year
Image: Mark Stedman/Photocall Ireland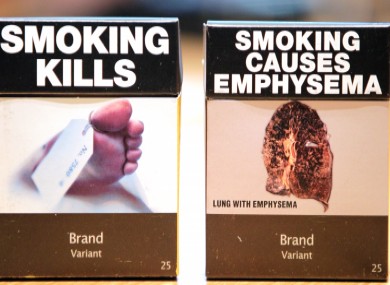 Plain packaging on cigarettes was announced earlier this year
Image: Mark Stedman/Photocall Ireland
HEALTH MINISTER JAMES Reilly is considering plans to reduce the number of smokers in Ireland to just 5 per cent of the population by 2025.
Reilly says that he wants to make the country completely smoke-free, but his campaign has been called a 'personal crusade' that could do 'enormous harm' to Ireland by a pro-smoking lobby.
But, would it be easier to ban fags completely? Or is a campaign to cut them down an attack on personal freedom?
Let us know what you think.
Poll: Should the Irish government ban smoking?