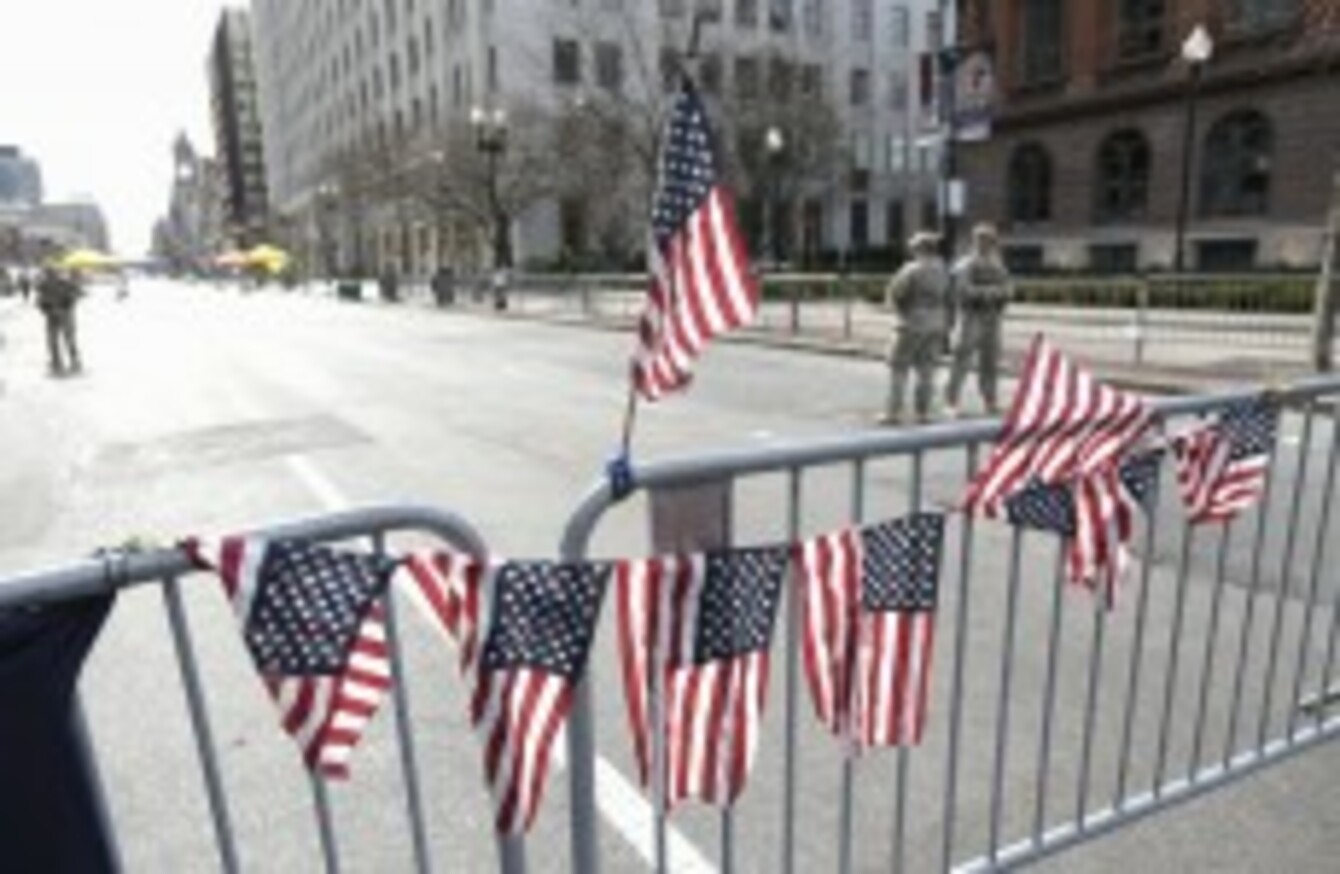 Image: Julio Cortez/AP/Press Association Images
Image: Julio Cortez/AP/Press Association Images
IT IS THE day after the Boston Marathon bombings. My bag got checked by a group of security guards at the train station on my way to work this morning and women offered me counselling on the streets. The sun is shining with tremendous strength today, which is ironic or comforting or both.
I live in Cambridge, which is about 6 miles from downtown Boston. Two bombs exploded yesterday at the finish line of the Boston Marathon and left three people dead and over hundred people severely injured. It is all very surreal to be honest, but in a new and different way.
Gruesome things happening only a few minutes away
All those terrible and gruesome things happened only a few minutes drive away from me, yet I experienced everything through the screen of my laptop. As I would normally, when awful events shock the world. Only this time one thing was different. I had planned to go and watch the marathon yesterday, but a friend who spontaneously decided to Skype me, kept me at home. I've only been living in Boston for the past two months and everyone recommended going to the marathon. "It's a great event for Boston, it's fun", they said. I didn't even check the route as part of my plan to go, but when I did afterwards, I knew the spot that I would've chosen;  the one that would be most convenient for me to get to was the finish line. Horrifying thoughts swirl around my head as I begin to contemplate the reality of what could have been.
The usual distance of these kinds of attacks vanishes instantly and the reality of it creeps up on you – suddenly, it's happening where you live and not in a country far enough away to keep you from worrying.  I became increasingly hyper-aware of connections. Somehow I was expecting to know someone who was there, or to know someone who knows someone else who had been injured. That's how it works, isn't it? The Boston Marathon is an event for locals and tourists alike, everyone is expected to be there.
Speed of reports, false announcements, distasteful images
It was also the first time that I was following the development of events almost instantly from the very beginning. I had mentioned to my boyfriend that morning that I was planning to go to town to watch the Marathon, and before I was aware of the events that had unfolded, his call in the middle of the day surprised me. "Where are you? Have you heard of the explosions?" he asked frantically, while I was talking to my friend on Skype. "At home." I replied, "What happened?" This was only 15 minutes after the explosions and in true testament to my 21st century Internet dependence, I googled 'Boston Marathon Explosion'.
The first Twitter picture had already appeared online, only a few minutes after the explosions. This is how news works these days; Twitter and Facebook exploded, news feeds everywhere, and no one to trust. What I experienced for the next three hours in front of my computer shocked and frightened me. The speed of reports, false announcements, distasteful images and the disgraceful greed and curiosity of the virtual onlookers seemed inhumane. It's just as scary, in fact, as what happened at the finish line.
I don't know too many people in the city, but one friend of mine works in a shop which is situated around the corner from the Marathon finish line. I was thinking of him when I heard where it happened and remembered how I had just visited him on Saturday. I was there, where it happened; I had walked down the same street and saw the preparations for the Marathon. My friend was one of the first to be on Facebook to assure that both he and his staff were safe.
Frantic calls and emails
I am safe, I am okay. Words I also needed to repeat several times over the past few hours, while friends and family contacted me. It is a strange feeling to know that people, especially in Ireland, where I recently lived and Germany, where I'm originally from, thought that I might have been injured, or worse. There is panic in their voices and a desperate urgency in their texts and e-mails.
I am only happy that I could tell all of them that I am safe, that I am okay, but then the connection came –  my co-worker's cousin went to school with the eight-year-old boy that didn't survive the explosion. Suddenly there's no distance anymore. No safety. It's right there in front of me – reality.
It is the day after and the sun is shining. Downtown Boston is a crime scene and I'm sitting in my office only a few miles away. I am so close to the devastation geographically and emotionally, yet I feel somewhat removed from it, as if my brain will not let me fully comprehend the enormity of the situation. I try to go about my daily routine, but no matter what I do, my mind shifts to the flashing images of news reports from the bomb site. It is too raw, too vicious an attack to make sense of. Everything is still so very surreal.
Jan Schneider, currently living in Boston Massachusetts. He lived in Dublin for the last four years before he moved to the US in February, he will return to Dublin in July to finish his degree in Arts Management in IADT, Dun Laoghaire.