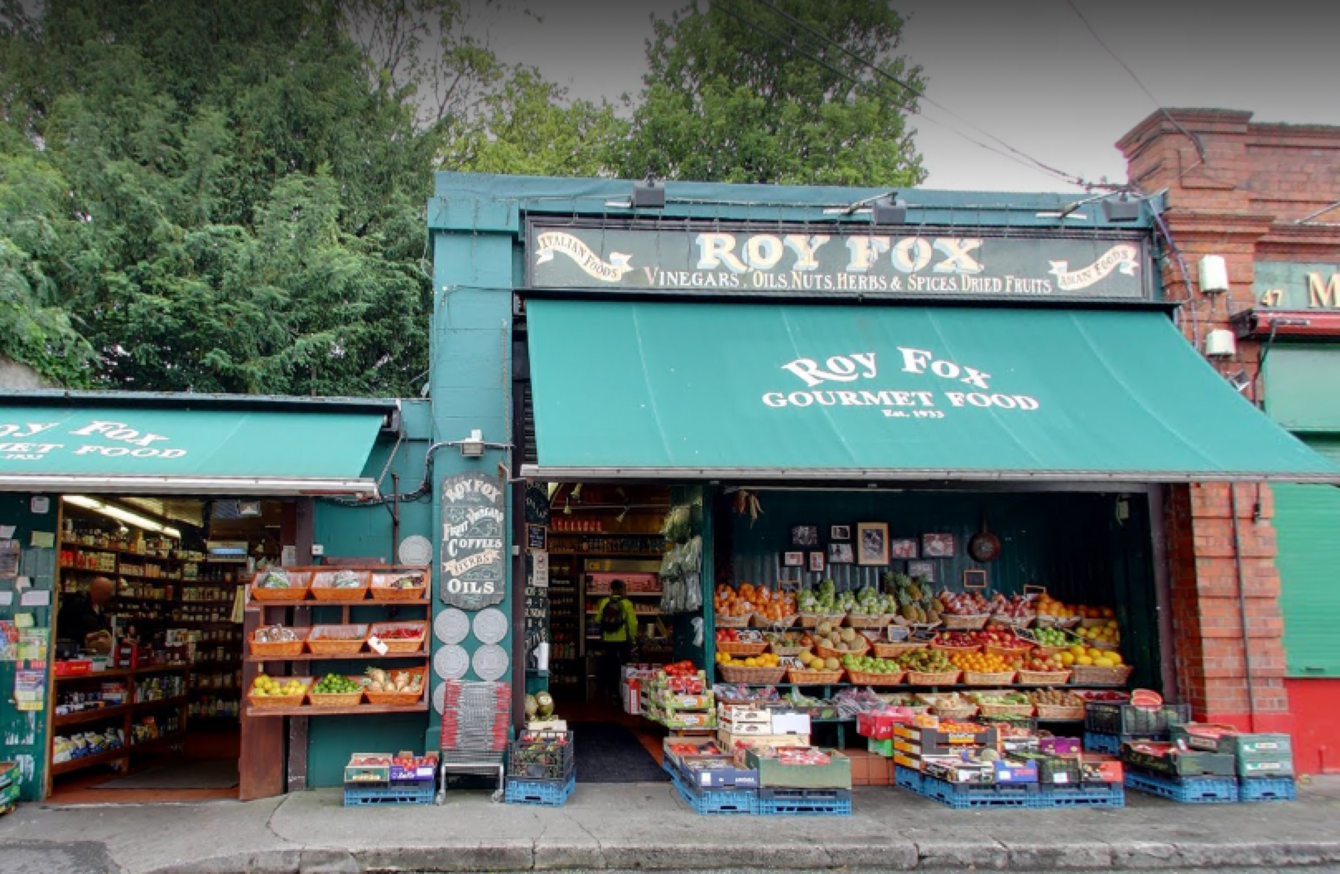 Roy Fox first opened a shop in 1933.
Roy Fox first opened a shop in 1933.
GREENGROCERS ROY FOX closed its doors in December after over 80 years of trading in Donnybrook, Co Dublin.
The business, passed down from friends and through three generations of a family, had once been at the forefront of commerce – importing the most exotic fruits, herbs and spices and bringing them to Dublin tables.
Now it's had to close its doors because prices had fallen too far, and the global market place was too big for the small stalls in a red-bricked Dublin alleyway.
Joanne Donnelly represents the third, and now the last generation of family members to have run the local shop. She remembers how her grandparents came together in the early 1940s, and the unique produce the shop offered.
Then strangers, Joanne's grandmother Sheila and grandfather Frank met a bread delivery man who tipped them off that a job might be going in Donnybrook. They went for the job, and the owner Roy Fox gave them both a job that day.
When Roy Fox died at a young age, his girlfriend offered Sheila and Frank the chance to take over the business, which they did. They were partners in business, and after a while they started to date, eventually getting married.
"Shortly after Frank died in 1948, my dad Des bought the business from my grandmother," Joanne told TheJournal.ie. "He turned it into a greengrocers and would go over to the fruit market in Covent Garden London and bring back a container because so little produce was available in Ireland."
Embassies, cooks, and families
I left school in 1987 and went to work full time in the shop with my Dad and Granny. We had a lot of cooks, housekeepers and ambassadors' wives from the embassies and a lot of local people, especially local women.
"The shop would be full of older ladies just chatting and having a joke after the 10 o'clock mass. There was absolutely no way you'd be given any time off in the mornings – it was just too busy.
"Students from the country or abroad loved the family atmosphere. especially my granny who could make them feel like she was their granny for while they were there. She was in her 90s when she retired."
A different way of living
The Roy Fox shop wasn't just a fruit and veg shop – it also stocked a small amount of dried fruit, beans and pulses, and olive oil.
On Saturday mornings there were queues out the door, with families and couples shopping and more for chats at what was the village's unofficial meeting place.
In the late 1990s and early 2000s, their customer base grew to include a lot of new faces; especially from China, the Philippines, Poland and Russia – Joanne said it was striking how much fruit and veg they ate.
"For example, a Chinese customer would buy some cherries, then within the half hour mopeds and cars full of young Chinese would come and buy boxes and boxes of cherries, or watermelons, or lychees (a Chinese fruit). They told us later that had phoned their friends straight away to tell them about the shop.
It was a really good time in the shop. Our new customer base and a new interest in food in general meant we could sell produce that wouldn't have sold before.
Recession effect
Then the recession hit. Joanne says that this, coupled with a clamp down on the English schools meant that a lot of their customers went back to their country of origin or moved in an attempt to find work. She said people's shopping habits changed.
"The customers we got in after the 10 o'clock mass had become non-existent. Those ladies had either passed away or become too old to come out. Their houses were sold and replaced with younger, busier people."
In 2008, Joanne's father Des died and she took over the running of the shop. The business wasn't in great shape – but it was steady.
Global marketplace
"By 2014, when we were being told we were coming out of the recession, I started noticing a steady decline in business. Mornings became quieter and quieter, and Saturdays changed completely."
One of the more difficult parts of adjusting to the global economy is dealing with cheaper produce and greater competition. This is particularly tricky for small grocers that are selling produce that often doesn't keep for long.
We were suddenly surrounded by supermarkets having price wars that we couldn't compete with, and quite frankly I wouldn't have wanted to with the knock on effect their prices have on suppliers.
Habits continued to change. When they opened their shop on Sundays in the 1990s it was unusual: now it had become the norm and sudden Sunday was just another shopping day.
At the same time, Joanne noticed that people had started spending more time in work. more time in traffic and were rushing to try to get more and more things done in one go: benefiting supermarkets, and putting more pressure on the business.
Last day of trading
Joanne says that she sometimes felt the shop's long legacy actually went against them. They had assumed it would always be there: instead it became more and more of an ornament.
"Right up until the day it closed, the shop had a brilliant customer base.
"I have been lucky enough to see some of the kids that came into the shop on Saturdays to do their weekly shopping with their parents, grow up and in turn bring their kids shopping. Without all of them I couldn't have stayed open as long as I did."
After a year of contemplating what to do, Joanne finally made the decision to put the store up for sale.
Selling the shop was not something I did lightly. In a way, I didn't make the decision to sell the shop – instead it was made for me financially.
"The last day of trading was on Saturday 10 December 2016. It was an incredibly emotional day, but also very heartwarming. It was very obvious the impact the shop had had on people's lives over the years.
"It's sad that it's gone, but wonderful that it existed for so long. I got to be part of so many people's lives and that's quite special."