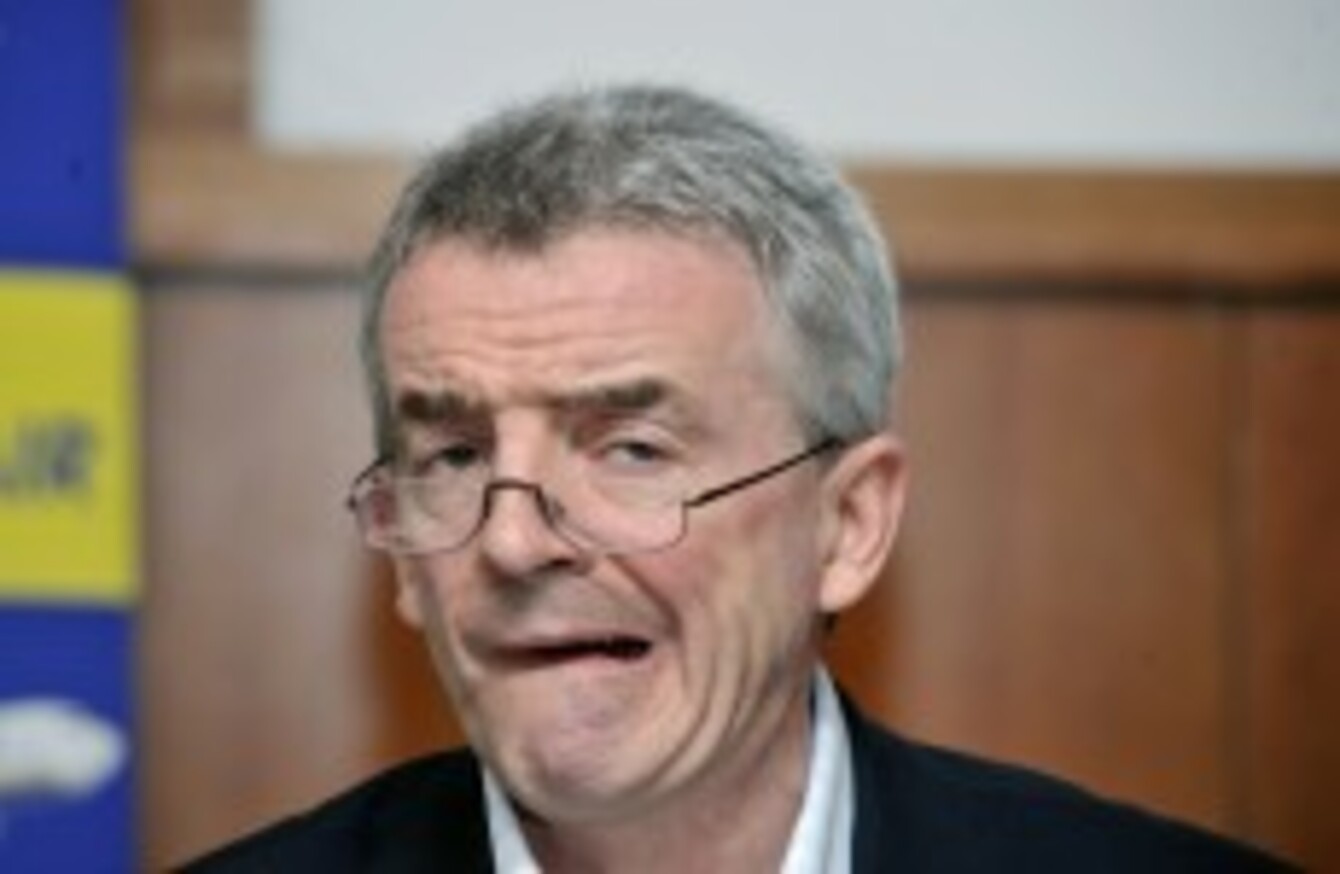 Ryanair boss Michael O'Leary.
Image: Sasko Lazarov/Photocall Ireland
Ryanair boss Michael O'Leary.
Image: Sasko Lazarov/Photocall Ireland
Updated at 3.30am
THE UK'S COMPETITION watchdog has ordered Ryanair to sell most of its almost 30% stake in Aer Lingus.
The final warning follows a long-running stand-off between the budget carrier and the body, which says Ryanair needs to reduce its shareholding to 5%.
The airline vowed back in February that it would keep fighting the ruling, after the UK Court of Appeal rejected Ryanair's bid to overturn it.
A statement from the company at the time cited its "human rights" – while this morning, the carrier has slammed the latest announcement as "ridiculous".
Ryanair had requested the Competition and Markets Authority re-examine its decision at that point – a year-and-a-half after the original ruling in August 2013. However, an April ruling the CMA provisionally found there was "no material change or special reason" to do so.
That decision has been finalised this morning. A statement on the watchdog's website said that in light of IAG's current bid for Aer Lingus "the CMA will ensure that implementation of this remedy interacts effectively with the bid process and the assessment of the bid by the European Commission".
"IAG's bid for Aer Lingus is dependent on securing Ryanair's agreement to sell its shareholding. This recent development illustrates that Ryanair can decide whether a bid for its major competitor on UK/Irish routes succeeds or fails," Simon Polito, Chairman of the CMA's Ryanair/Aer Lingus inquiry group said.
"This concern was an important part of our decision to require Ryanair to reduce its shareholding. It's not good for competition when one company holds such an influence over the future of one of its major competitors.
Although at this point Ryanair has yet to decide whether to sell its shares to IAG, we need to ensure that, whatever happens in relation to this particular transaction, Ryanair's ability to hold sway over Aer Lingus is removed.
Poloto said it was clear the timing of IAG's bid had been influenced by the prospect of Ryanair being forced to sell the majority of its shareholding.
Hitting back 
In a typically strong-worded statement this morning, Ryanair has described the CMA ruling as "manifestly wrong" and said it "flies in the face of the current IAG offer for Aer Lingus".
When the only basis for the CMA's original divestment ruling was that Ryanair's minority shareholding was or would prevent other airlines making an offer for Aer Lingus, the recent offers by IAG for Aer Lingus totally disprove and undermine the bogus theories and invented evidence on which the CMA based its untenable divestment ruling.
#Open journalism No news is bad news Support The Journal

Your contributions will help us continue to deliver the stories that are important to you

Support us now
The CMA, Ryanair contend, "were unable to establish any consumer harm arising from Ryanair's minority stake in Aer Lingus and instead resorted to speculating (in the CMA's August 2013 report) that Ryanair's 29.8% shareholding would deter other airlines from merging with or bidding for Aer Lingus".
"IAG's current offer for Aer Lingus  proves that the the CMA's invented theory of harm was hopelessly wrong," the statement continues.
Ryanair has instructed its lawyers to appeal today's ridiculous decision to the Competition Appeal Tribunal, given that it is factually unsustainable and legally flawed as the IAG offer for Aer Lingus proceeds.
A challenge to the UK Supreme Court is also being worked on, the airline says.
First posted at 9am.