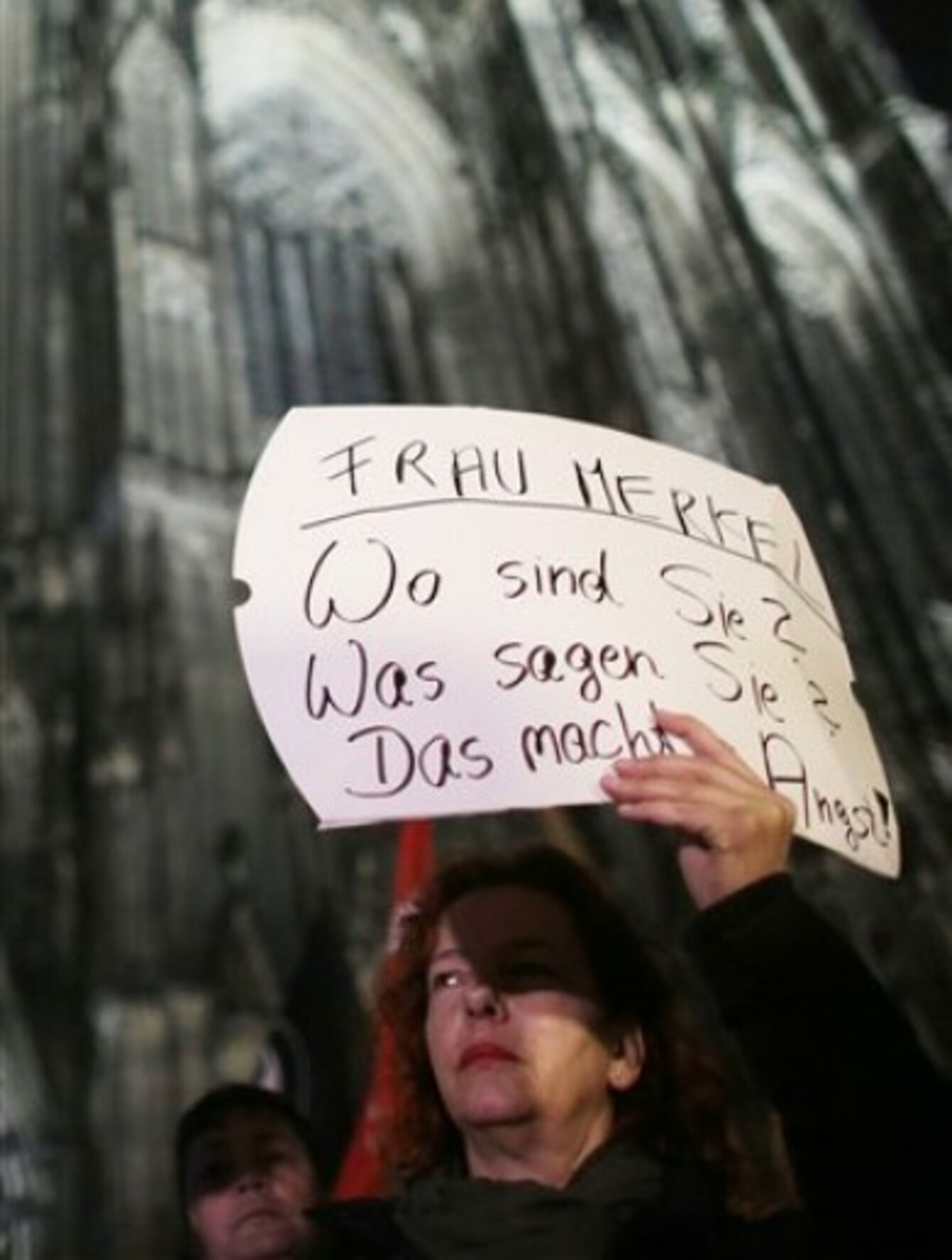 A woman demonstrates outside the cathedral in Cologne yesterday.
Image: AP
A woman demonstrates outside the cathedral in Cologne yesterday.
Image: AP
Updated 6.03 pm
HUNDREDS OF PEOPLE protested in the German city of Cologne yesterday evening over dozens of apparently coordinated sexual assaults against women on New Year's Eve.
One female demonstrator held a sign reading: "Mrs. Merkel, what are you doing? This is scary".
German politicians have expressed shock over the attacks, which have blamed on "Arab-looking men".
Chancellor Angela Merkel called for a thorough investigation of the "repugnant" assaults, which ranged from groping to at least one reported rape, allegedly committed in a large crowd during festivities outside the city's main train station and cathedral.
"Everything must be done to find as many of the perpetrators as possible as quickly as possible and bring them to justice, regardless of their origin or background," a spokesperson quoted Merkel as saying.
Police in Cologne said they had received 90 criminal complaints by yesterday and quoted witnesses as saying that groups of 20-30 young men "who appeared to be of Arab or North African origin" had surrounded victims, assaulted them and in several cases robbed them.
The northern port city of Hamburg also reported around 10 similar attacks.
One of the women attacked in Cologne has spoken to German N-TV, according to MailOnline. Named only as Michelle, the teenager said there were 11 of them together when they were attacked by "between 20 and 30 men".
We managed to go into the cathedral and wanted to go past the Museum Ludwig to join everyone and watch the fireworks by the river, but suddenly we were surrounded by a group of between 20 and 30 men.

They were full of anger, and we had to make sure that none of us were pulled away by them. They were groping us and we were trying to get away as quickly as possible.
'Exploitation' of refugee issue 
Justice Minister Heiko Maas said the assaults represented "a new dimension of crime that we will have to get to grips with," adding that they had appeared to be "coordinated".
Asked by a journalist whether refugees were behind the rampage, Maas said police were still working to identify the attackers.
"This is not about where someone is from but what they did," he said.
Making an issue out of it, lumping it together with the refugee issue, is nothing but exploitation. Now is the time to determine the facts and then decide on the necessary consequences.
Germany took in around one million asylum seekers in 2015, many of them fleeing war-ravaged Syria.
Meanwhile the right-wing populist Alternative for Germany (AfD) party, which hopes to gain seats in three regional elections in March, seized on the attacks as "a result of unchecked immigration".
"Here we see the appalling consequences of catastrophic asylum and migration policies on Germany's everyday reality," party leader Frauke Petry said.
The Cologne daily Koelner Stadt-Anzeiger said many of the suspects were already known to police due to a rash of pickpocketing and muggings near the railway station.
'It was terrible' 
Victims described terrifying scenes in the marauding mob.
Katja L, 28, said she was with three friends outside the station when she was assaulted.
"Suddenly I felt a hand on my bottom, then on my breasts, then I was groped everywhere," she told Cologne tabloid Express.
It was horrible. Although we screamed and flailed about, the guys didn't stop. I was beside myself and think that I was touched about 100 times across around 200 metres (yards).