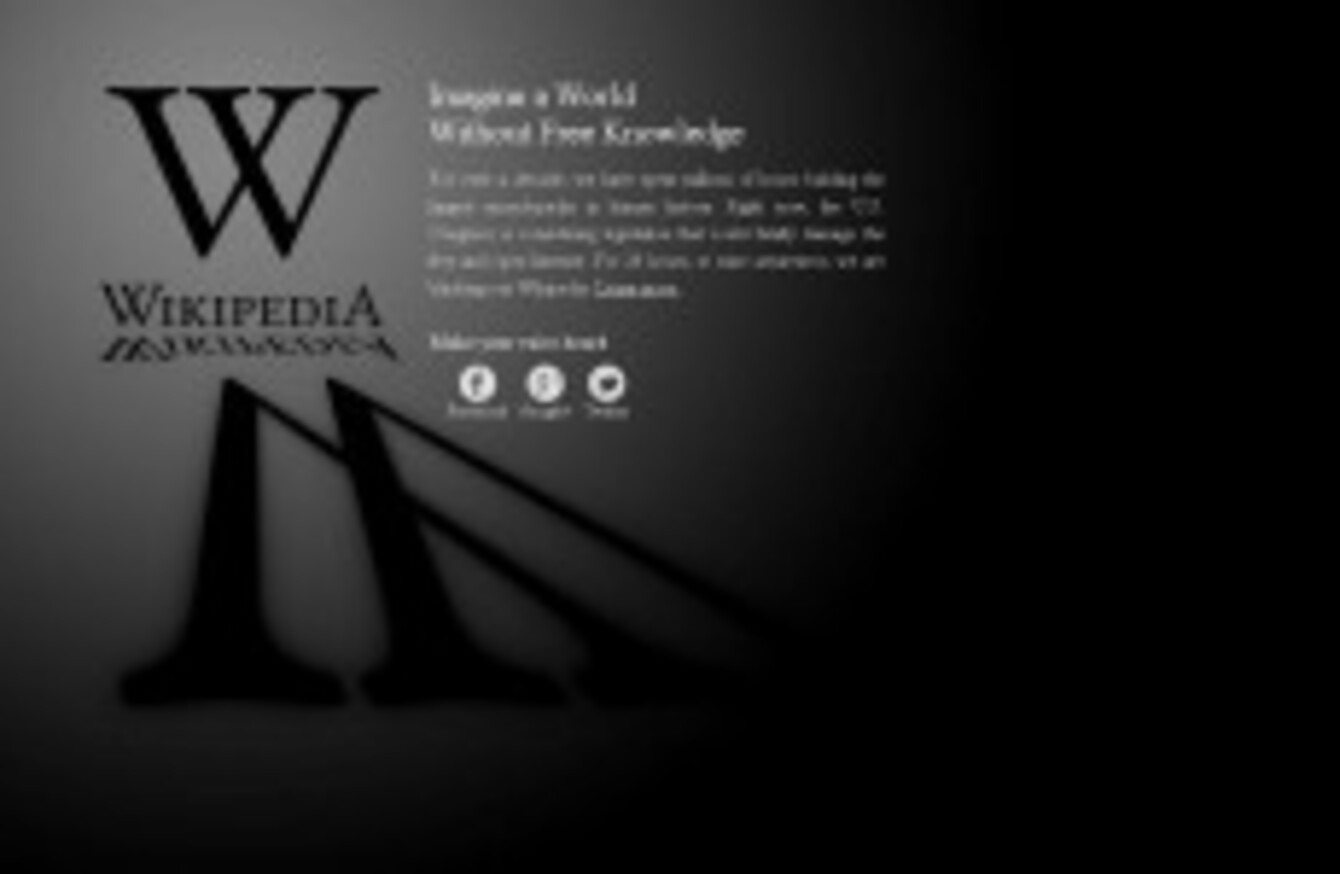 Wikipedia's blackout page appears when users access the site
Image: Screengrab via Wikipedia
Wikipedia's blackout page appears when users access the site
Image: Screengrab via Wikipedia
WIKIPEDIA IS AMONG a number of websites taking part in an internet blackout today in protest at proposed anti-piracy laws in the US.
The online encyclopedia redirects to a black screen with a political statement when you carry out a search but mobile versions of the site continue to work. The user-generated news site Reddit and the blog Boing Boing are also among the more high profile sites taking part in the blackout.
However, other popular websites like Facebook and Twitter are not taking part in the 24-hour blackout which runs until 5am tomorrow morning (GMT).
Websites and activists are opposed to the US Stop Online Piracy Act (SOPA) and Protect Intellectual Property Act (PIPA) both currently being debated in the US Congress. The laws propose to shut down websites accused of containing illegal films, music and TV programming. Read more here >
Supporters of the legislation argue that it is designed to stop revenue flowing to "rogue websites" which link to pirated material but those against it argue the legislation is poorly drafted and will damage the openness of the internet.
"The point is the bill is so over broad and so badly written that it's going to impact all kinds of things that, you know, don't have anything to do with stopping piracy," Wikipedia founder Jimmy Wales told the BBC.
Although some of the websites editors are uneasy about the legislation, AP reports, likening the Wikipedia decision to fight censorship with censorship.
"My main concern is that it puts the organisation in the role of advocacy, and that's a slippery slope," said editor Robert Lawton, a Michigan computer consultant. "Before we know it, we're blacked out because we want to save the whales."
Twitter chief executive Dick Costolo described the decision of some websites to shutdown as "foolish". "Closing a global business in reaction to single-issue national politics is foolish," he tweeted on Monday.
Some are in solidarity with those who are shutting down while not shutting down themselves including the world's most popular search engine Google which carries a link which reads "Please don't censor the web!" on its homepage.
"Millions of Americans oppose SOPA and PIPA because these bills would censor the Internet and slow economic growth in the US," the linked to page reads as the company urges Congress to "End Piracy, Not Liberty".
The White House has raised concerns about the bills going through the House of Representatives and the Senate. While the administration has pledged to battle piracy and counterfeiting, it is defending free expression, privacy and innovation on the internet.
The administration signalled it might use its veto power, if necessary meaning the two bills are unlikely to become legislation in their present form, AP reports.