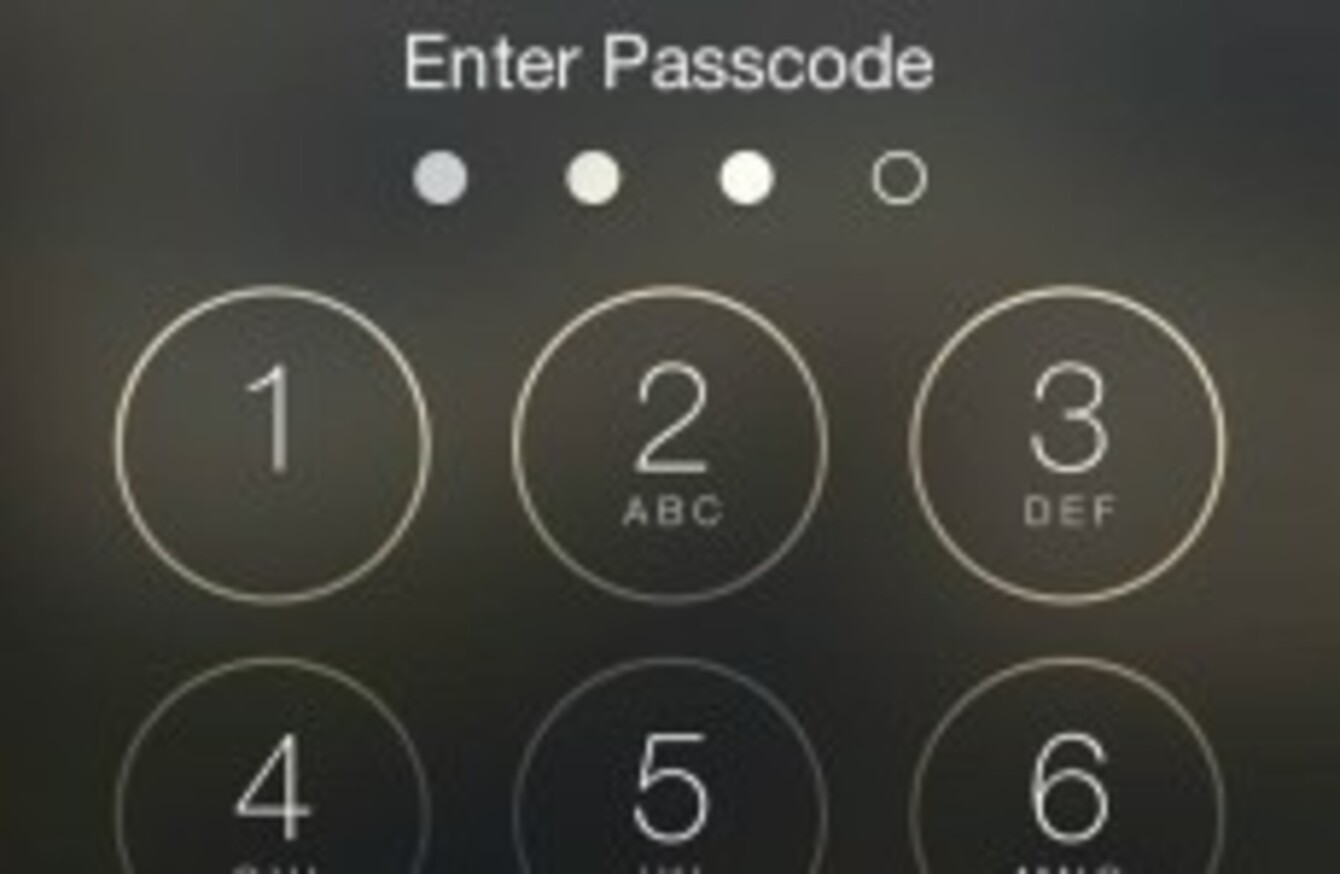 Image: iOS
Image: iOS
FOR MANY, THE simple lock screen is the main method of security for many users. Most of us opt for a simple PIN, but considering that you could lose your phone, would it be strong enough to keep someone out.
While it's not foolproof – and you should take extra measures to ensure your phone is safe – it's worth going through the different security options in your phone's settings to find the strongest option.
Here are the most common security measures used by smartphones.
Slide 
For: iOS, Android, Windows Phone
Security strength: Non-existent
Practically similar to having no lock screen at all, a simple swipe means anyone can access the data on your phone or tablet. Avoid at all costs.
PIN
For: iOS, Android, Windows Phone
Security strength: Low to medium
The standard security feature used for the lock screen. For iOS users, you're only allowed to enter in four digits PINs, but for Android and Windows Phone, you can enter as many as you want.
Obviously, the more digits you use, the stronger the PIN (provided you mix it up a bit) so take advantage of this.
Written Password
For: iOS, Android
Security strength: Medium to Strong
The strength obviously depends on how complex a password you set for it, but a written password is stronger than just a traditional PIN.
Opting for a written password has its advantages, greater scope for complexity for one, but don't ruin it by choosing an obvious one like 'password', '123456′ or 'qwerty.'
Gesture/Pattern
For: Android
Security strength: Medium to High
With a vast number of combinations, provided you use all nine nodes, pattern security is probably one of the most secure (and easiest) methods for locking your phone.
The only drawback is that it's only available for Android, meaning that iOS and Windows Phone users will have to opt for PIN or written passwords instead.
Face Unlock
For: Android
Security Strength: Low
In theory it sounds great, use your front-facing camera to take a photo of your face and use it to unlock your phone. However, the reality isn't as secure as you might think. Before you set up, it presents a disclaimer telling you it's less secure than a password or PIN, and anyone who looks similar to you could also unlock it.
Either way, you will have to set up a backup PIN or pattern to gain access should it not work.
Fingerprint scanner
For: iOS, Android
Security Strength: Medium to high
Only available for specific smartphones, the fingerprint scanner does exactly what it claims to do. Scan your fingerprint, and use that to unlock your phone or pay for goods.
There are third-party Android apps you can download that claim to offer the same functionality, but it's better to avoid them since you don't really know how they'll use your data.