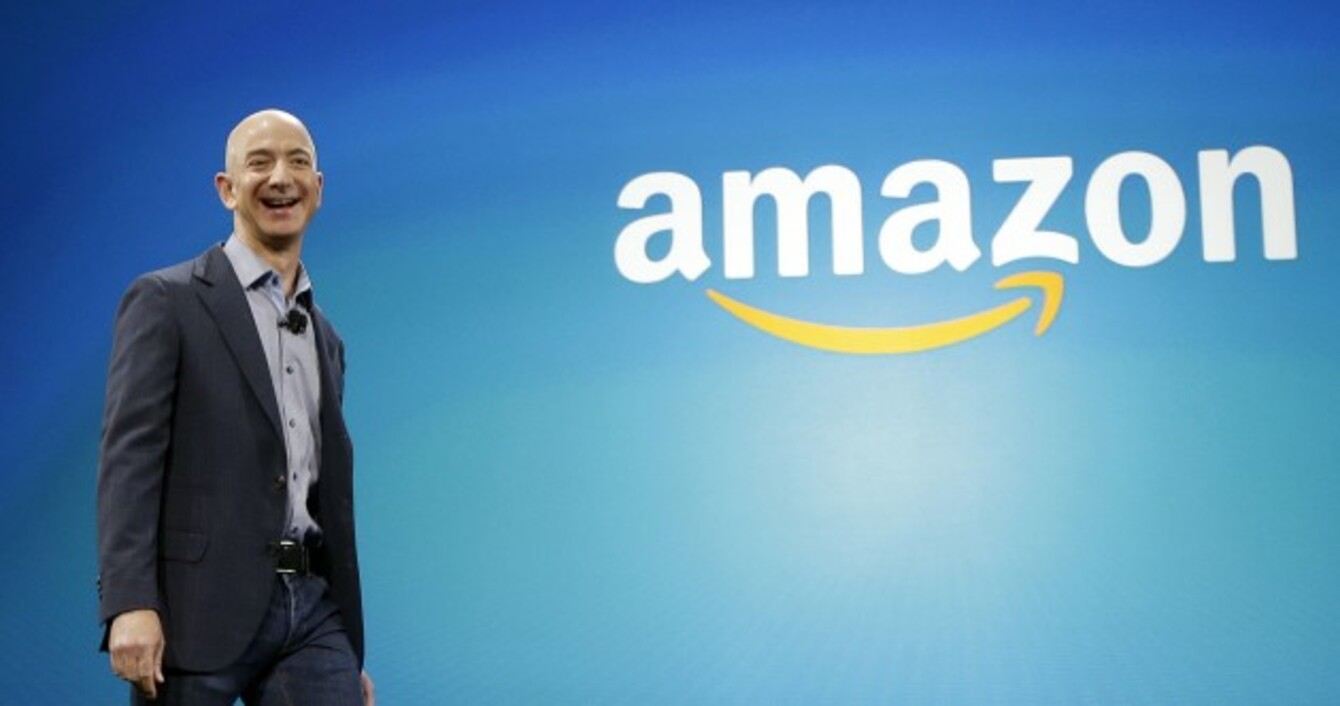 Amazon founder and CEO Jeff Bezos
Image: Ted S. Warren/AP/Press Association Images
Amazon founder and CEO Jeff Bezos
Image: Ted S. Warren/AP/Press Association Images
IT WAS IN the early days of the internet in the mid-1990s when a young Jeff Bezos, then working for a Wall Street financial firm, first started talking about the "everything store".
That was the name he gave a deceptively simple concept – a single, online portal which could provide the link between customers and suppliers to offer virtually everything for sale, anywhere in the world.
But even the ambitious Bezos had to make a concession to practicality for his idea and narrowed the focus to 20 product categories, from which he settled on a final niche – books – in which he could distil the "essence" of the everything store, that of virtually limitless choice.
And so begins the story of what became, until recently, the world's biggest online store, Amazon.com, as told by Bloomberg journalist Brad Stone.
In his book The Everything Store: Jeff Bezos and the Age of Amazon, the winner of last year's Financial Times business book award, Stone tells the tale of the enigmatic company founder who bet big on the internet in its embryonic period and came out a billion-dollar winner.
Who should read this book?
Anyone interested in taking a look under the hood of one of the world's biggest companies and great entrepreneurial success stories. But this is far from a book aimed just at the business-minded and Stone artfully builds his work on the personalities and events which helped make Amazon the e-commerce giant it is today.
However, if you're looking at an in-depth profile of Bezos and what makes his brilliant business brain tick, this is probably not your book. The author's focus here is as much the Amazon story as it is the company's founder, so much so that the reader is nearly halfway deep in the text before Stone jumps briefly back to Bezos's early life and family background to explore more about the man behind the famous company.
What will it tell me?
As Stone notes in his introduction, the term "to be Amazoned" has entered the business lexicon as a descriptor for traditional retailers having little choice but to sit and watch as their massive, online rival sucks up all their customers. But the story of how the company reached that point and became the world's biggest online retailer, until the recent rise of Chinese upstart Alibaba, really begins in 1995 in Bezos's Seattle garage, where the entrepreneur set up its first computer network with a jumble of extension cables running through the house to stop the circuits from tripping out.
With $10,000 in his own cash, a few other loans and a $100,000 investment from his parents – who Bezos warned were a 70% chance of losing the lot – Amazon was launched. Within a month it had sold books to all 50 US states and some 45 countries despite being severely under-equipped to cope with the demand.
While a few competitors had already set up online bookstores, Bezos's relentless work ethic and seemingly insatiable appetite for innovation set Amazon ahead and apart. Early forecasts were, not surprisingly, way out – Bezos predicted the company could be turning over $114 million in 2000 when the actual result proved to be $1.64 billion. He also forecast the company would be turning a profit by then, but at that stage it was still losing a staggering $1.4 billion.
While the company initially faced strong competition from bigger rivals like bookstore chain Barnes & Noble, Amazon was able to fend off the threat through constant adaptation – for example, adding DVDs and music to its inventory while rivals were still offering only books. The company went on to signed a series of massive deals in the late 1990s, before the dot-com bubble burst, for exclusive book-selling rights on sites like Yahoo.
In an approach which characterised Bezos's vice-like grip on the company, its founder virtually refused to hand over stock – penning cash deals wherever possible. Bezos even knocked back an investment offer from coffee giant Starbucks, whose CEO said Amazon would be held back by its lack of a physical presence, because it would mean handing over too large a share of the company.
But the tech-stock crash of the early 2000s, when Amazon's share price dropped to about one-sixth of its former value, Bezos was forced to re-jig the company's motto from the famous slogan "Get Big Fast" to "Get Our House In Order". During this period, some of Bezos's less-flattering traits came to the fore – his hard-headed knack of riding roughshod over colleagues and, in many cases, driving them out of the company.
A complex picture of Bezos, who Stone interviewed several times during the Amazon evolution, emerges from beneath the company's tightly controlled publicity blanket in the book – that of a visionary, inspirational leader, but also a ruthless, sometimes cold-hearted businessman who burnt many along his way to glory.
There are also some funny insights in the meticulously researched book. Stone, in demonstrating the deeply analytical approach Bezos brought to everything he did, recounts how, as a young singleton, the future Amazon founder decided to take up ballroom-dancing classes after calculating it would boost his exposure to "n+ women".
But there are many important lessons to be had here. When Bezos was faced with the life-changing decision on whether to quit his well-paid Wall St job to found Amazon, the young entrepreneur came up with what he called his "regret-minimisation framework" to find the solution. As he later explained: "I knew that I might sincerely regret not having participated in this thing called the internet that I though was going to be a revolutionising event. When I thought about it that way … it was incredibly easy to make the decision."
Then there are the lessons for other entrepreneurs in Bezos's relentless work ethic and determination, and Amazon's constant innovation to stay ahead of its competition. As early as 1996 the company started giving referring websites a commission for every customer sent to Amazon, while the site was one of the earliest pioneers in online personalisation – providing book recommendations based on previous purchases and what similar shoppers had bought. That approach remained at the core of the company's ethos as Bezos disrupted his own business model and pushed the e-book revolution with the development of the first Kindle.
Stone doesn't shy away from documenting the company's failures either, like its abortive bid to take on eBay in the online auctions business and its slow reaction to the iTunes threat which cost it big in the music trade. He also turns a critical eye on Bezos, detailing some of the temper tantrums towards staff for which the Amazon boss was famous: "Are you lazy or just incompetent?". Then there are Amazon's battles with the unions over its treatment of workers, who were put on a employee demerit-point system, which included employees being "fined" and potentially sacked for things like taking too many sick days.
The only slightly disappointing part of the book comes when Stone glosses over some of Amazon's more controversial labour practices and tax dealings. For instance, he confining the company's controversial approach of funnelling profits through Luxembourg for its very favourable tax laws to only a few lines, where he dismissively writes that the set up "nearly collapsed under a wave of populist European anger" in 2012.
In a nutshell: You may finish this book with mixed feeling towards Jeff Bezos – but it would be nearly impossible not to admire what he built. Despite side-stepping a few of Amazon's uglier moments,  Stone's book remains a gripping and instructive read on how a good idea – coupled with great determination – can catapult a business from its founder's garage to one which rewrote the rule books for a dozen industries.
If you liked this, you'll love: 
Delivering Happiness: A Path to Profits, Passion and Purchase >
Each month, as part of TheJournal.ie's ongoing SME coverage, we look at a business book that makes a difference. Our focus this month has been on the retail sector, both online and for traditional stores.