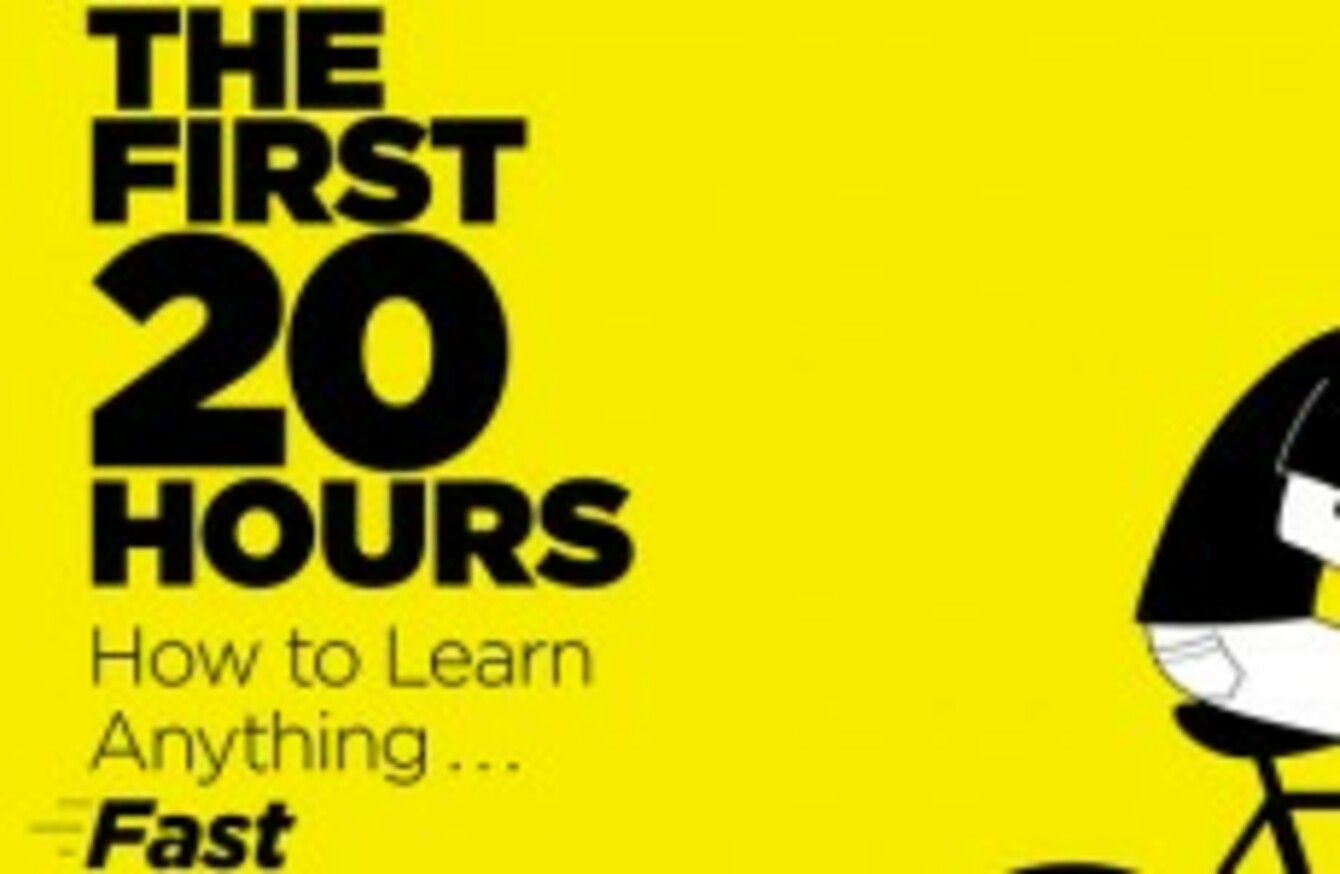 SURE WE ALL dream about picking up new skills – learning a foreign tongue, creating our own website or tearing up a dancefloor.
The problem is finding the time for all that pesky practice and still being able to put food on the table or pay the electricity bill.
But what if you could condense that process and get up to speed in record time? That's the question Josh Kaufman claims to have answered in his book The First 20 Hours: How to Learn Anything… Fast.
Kaufman, a self-described "learning addict" who is best known for his 2010 work The Personal MBA, sets out his personal quest to "test the art and science" of rapid-skill acquisition – simply put, the quickest route to being able to do anything.
Who should read this book?
The writer claims his universal approach can equally be applied to any field – from learning to paint to running a business. However he makes it clear at the onset that his system is not about teaching expert-level performance; so there is no 20-hour route to becoming the next Picasso or Pelé, unfortunately.
Rather, his scheme is targeted at your average, time-stretched punter looking to develop a workable level of skill in their chosen field. This makes the book potentially of great interest to SME operators already spread thin across the many aspects of their business.
What will it tell me?
Like many authors in the broad self-help genre, Kaufman breaks down his system into easy-to-digest lists like his "four-step method" for maximum-efficiency learning and "10 principles" expanding on the basics.
These include straightforward tips like breaking a complex task down into its basic components then setting aside dedicated time for practice and getting rid of any obstacles to making that happen.
In reality, there's a lot of crossover between Kaufman's lists and repetition between different sections of the book, which means the same information could easily have been condensed into fewer than the paperback's 260-odd pages and (a little ironically) saved the reader some time getting through it all.
But the strategies that the author sets out are nothing if not accessible and he does a good job of setting out his plan in simple, practical terminology. He draws on personal experience where possible to demonstrate how he used the theories, as well as peppering the book with famous quotes and snippets of research to back up his thoughts.
Source: TEDx Talks/YouTube
For example, Kaufman goes through – in intricate detail, it has to be said – how he decided to learn computer programming out of frustration that he was spending all his time fixing his business website instead of promoting his work.
He started by "deconstructing" what he already knew about programming then choosing the right language to suit his needs. He then moved on to simple tasks to teach himself the building blocks and worked his way up to a complete web application. Hey presto, new skill acquired… and all in 20 hours, Kaufman says.
Much of what the author sets out in his book appears to be common sense, like telling people to focus on learning something "loveable" or to focus on one skill at a time. The author himself touches on this point – acknowledging the advice may appear simplistic but the devil is in putting the ideas into practice.
However useful his advice, you would have to assume not all skills can realistically be brought up to speed in only 20 hours. Let's hope surgeons and pilots, at the very least, continue to dedicate a bit more time to learning their trades.
In a nutshell: Learning new business or personal skills fast can be done as long as your goals are realistic, you take the time to plan how you're going to go about it and then cut out any distractions likely to get in your way.
If you liked it you will love:
The Personal MBA: Master the Art of Business>
Hacking Your Education: Escape Lectures, Save Thousands and Hustle Your Way to a Brighter Future>
The 12 Week Year: Get More Done in 12 Weeks than Others do in 12 Months>
READ: SME book club: Lies, damned lies and blogging
READ: SME book club: What the tourism industry can learn about sustaining itself