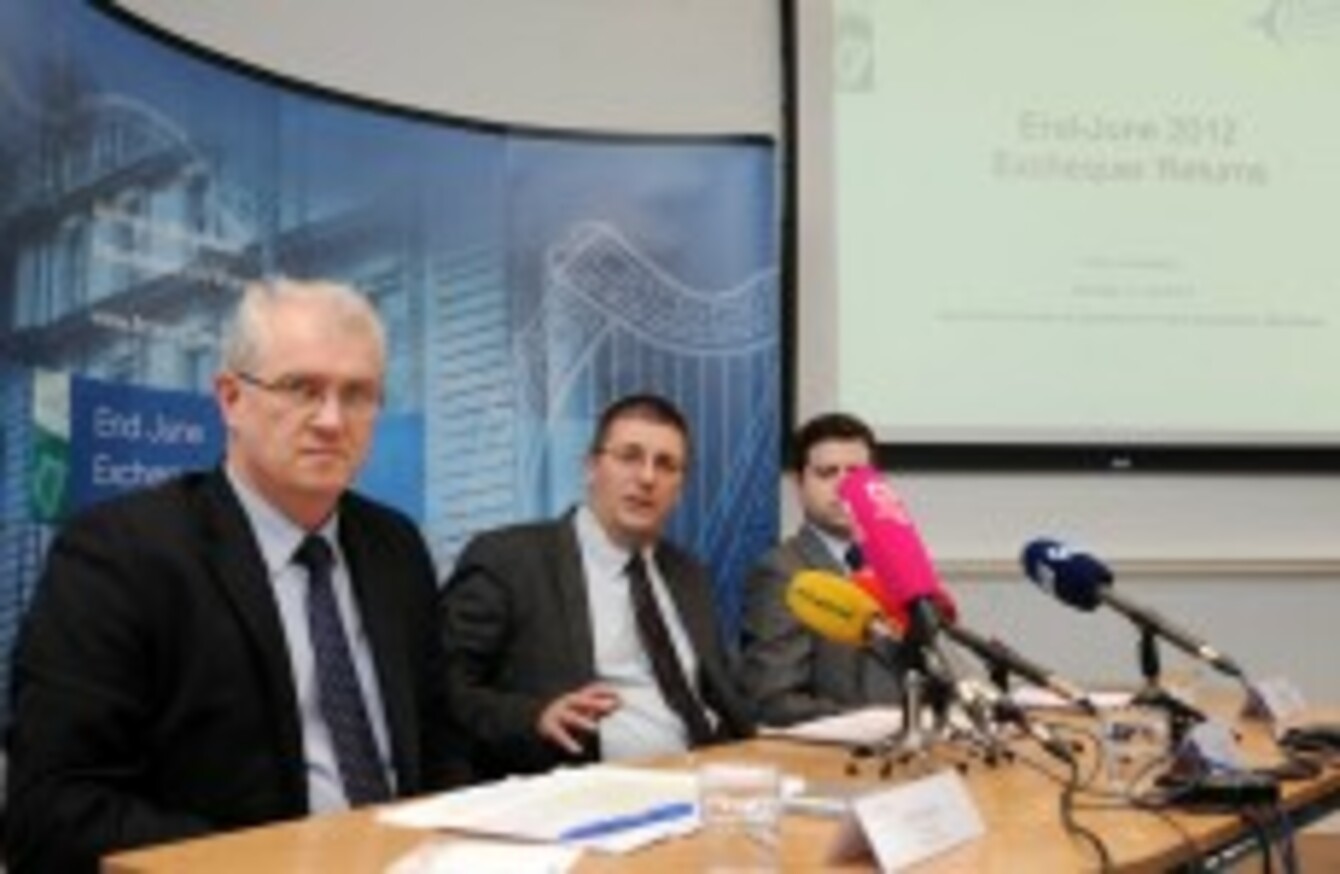 John Palmer, Principal, Fiscal Division, Derek Moran, Assistant Secretary, Fiscal Division and John Howlin, Assistant Principal, Central Division host a press conference presenting the End June 2012 Exchequer Statement at the Department of Finance
Image: Laura Hutton / Photocall Ireland
John Palmer, Principal, Fiscal Division, Derek Moran, Assistant Secretary, Fiscal Division and John Howlin, Assistant Principal, Central Division host a press conference presenting the End June 2012 Exchequer Statement at the Department of Finance
Image: Laura Hutton / Photocall Ireland
MORE THAN €17 billion has been collected in tax revenue so far this year.
That figure is about €507 million ahead of target and about 8.3 per cent more than what was received in the first half of 2011.
According to the latest figures from the Exchequer, three of the 'big four' categories – corporation, income and VAT – are ahead of expectations.
A total of €274 million has been collected in corporation tax, with the monthly tax take in June €108 million higher than estimated. Although the Department of Finance noted that November is the biggest month for the tax source, the surplus in the year to date represents a "strong performance".
Income tax is €215 million (3.1 per cent) ahead of profile at the half-way point in the year. According to the department income tax receipts have been "consistently ahead of monthly targets…another positive development".
At end-June, VAT receipts were €29 million better than planned and are €114 million up on the same period in 2011. The fourth, less-performing category – excise – was almost exactly on target in June and are now just €35 million below profile cumulatively. They were up marginally (€10 million) on end-June 2011.
The smaller tax-heads, including stamps, CGT, CAT and customs, are exactly in line with expectations, said the Exchequer.
Commenting on today's figures, ministers Michael Noonan and Brendan Howlin said that the returns for the first six months of the year "give a clear indication of the progress that has been made in restoring order to the public finances".
Noonan added that although there are significant targets to meet in the second half of the year, he believes that the overall objective for 2012 will be achieved.
Minister Howlin was more cautious when discussing voted expenditure, which is 1 per cent ahead of target. "It is encouraging that the majority of vote groups are managing spending within the limits set out. It is the case however that spending pressures are evident."
Given the importance of meeting our budgetary targets again this year, I will continue to stress to my Cabinet colleagues the need to adhere to the 2012 spending targets as was done last year so that overall aggregate expenditure can be brought more in line with profile in the second half of the year.
The Exchequer noted that about half of the €386 million departmental overspend is related to the Department of Social Protection because of a shortfall in PRSI receipts. The other contributing factor is the Health budget.
At €4.5 billion, the cost of servicing the national debt is €118 million less than anticipated but about €2 billion higher than this time last year.
The Exchequer deficit at end-June 2012 is €9.4 billion compared to €10.8 billion in the same period of 2011.