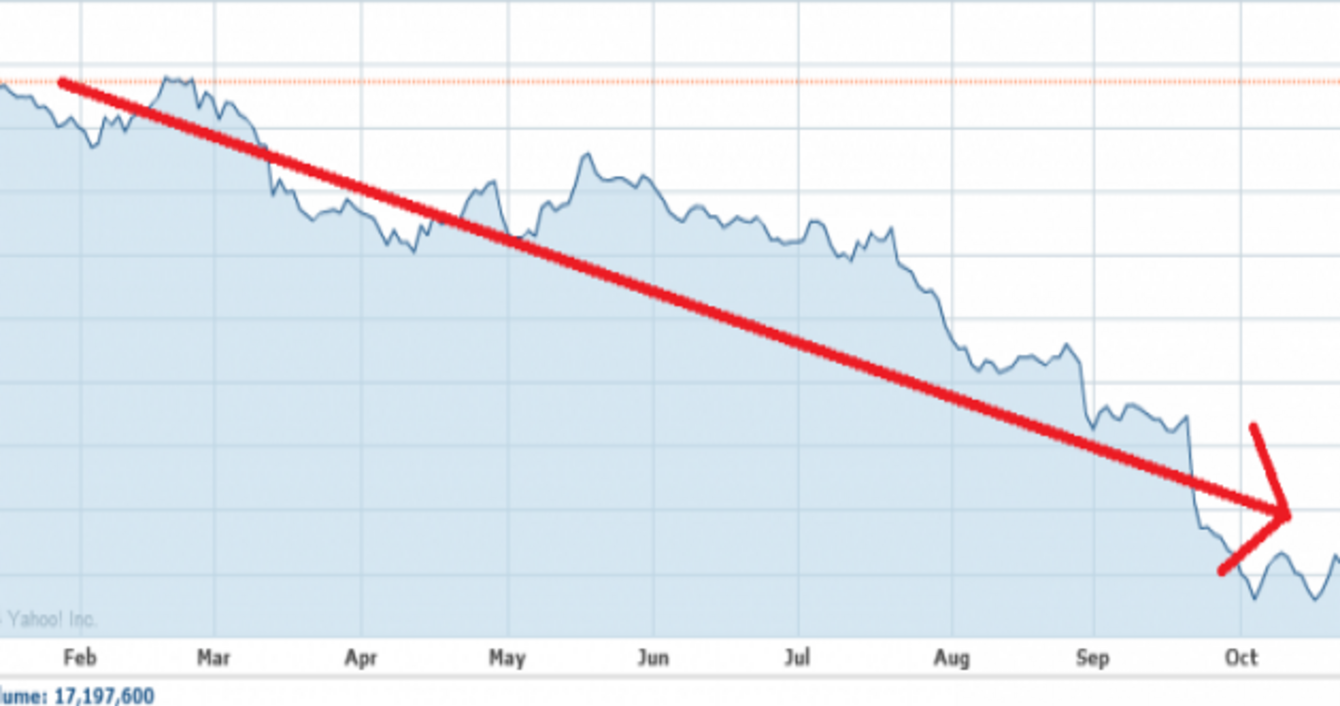 Tesco's share price over the past year. Yikes.
Image: Yahoo! Finance UK, TheJournal.ie
Tesco's share price over the past year. Yikes.
Image: Yahoo! Finance UK, TheJournal.ie
TESCO'S GROCERY SALES figures have fallen into a black hole and the supermarket giant's Irish performance was the worst of any country over the past six months.
The company's chairman has officially signalled his plans to quit the firm, which said its before-tax profits were down nearly 92% in the six months to August.
Tesco, once the unstoppable leader in the UK and Irish grocery market, made only £112 million (€142 million) for the period as its sales dropped 4.4% across the board.
It also confirmed its accounting screw-up from earlier this year was even bigger than expected, with the company admitting it had previously overstated its profits to the tune of £263 million (€334 million).
While Tesco's like-for-like sales were down in the majority of its markets, the biggest drop came in Ireland where business was down 7.3% in the last three months and 6.4% for the full half year.
"The pressure on sales, particularly in Ireland and Slovakia, held back any further profit growth," the company said.
The Irish market remained challenging with intense competition led by the discounters and high levels of couponing."
Meanwhile, Tesco's share price was hovering close to its all-time lows this morning after losing about 62% of its value in less than five years and over half in just the last 12 months.
You may stand down Sir Richard
Tesco chairman Sir Richard Broadbent was already rumoured to be planning to stand down and today he confirmed as much in the company's statement.
"The issues that have come to light over recent weeks are a matter of profound regret," he said, in reference to the accounting blunder.
Broadbent said a new management team was in place, including a fresh chief executive and chief financial officer, and they would put together a plan to "build the company's future".
Once this transition is complete and business plans are in place, it will mark the beginning of a new phase for the company and I will begin now to prepare the ground to ensure an orderly process for my own succession at that time," he said.
Tesco said its investigation into the €334 million profit overestimation was over and it had handed the findings to the UK's Financial Conduct Authority (FCA), which has launched its own investigation into the issue.