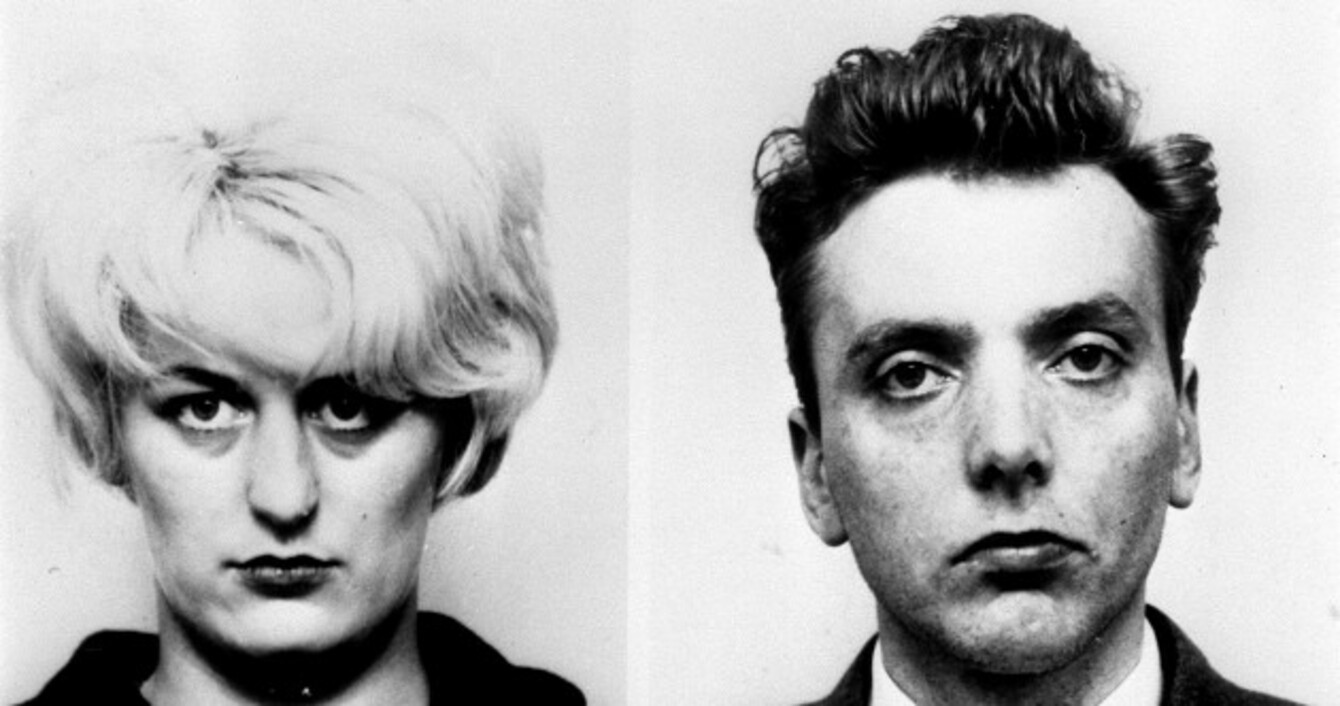 Myra Hindley and Ian Brady in the 1960s
Image: PA Archive/Press Association Images
Myra Hindley and Ian Brady in the 1960s
Image: PA Archive/Press Association Images
OVER A TWO-year period in the 1960s, five children were brutally tortured and killed on Saddleworth Moors near Manchester in England.
Lesley Ann Downey (10), John Kilbride (12), Pauline Reade (16), Keith Bennett (12) and Edward Evans (17) were all abducted by convicted murderer Ian Brady and his accomplice Myra Hindley.
Four bodies have been recovered but the remains of 12-year-old Keith Bennett have never been found. Today, the man convicted of committing the heinous crimes is pleading his sanity in a UK court.
He wants to be transferred out of the high-security hospital where he is currently held and moved to an ordinary prison for sane offenders.
TheJournal.ie takes a look back at the horrific events of 1963 to 1965 and the subsequent court hearings and confessions.
1961: Myra Hindley and Ian Brady met while working for a chemical company in Hyde, Greater Manchester and started a relationship.
12 July 1963: A 16-year-old girl, Pauline Reade, vanishes as she makes her way to a disco at the Railway Workers' Social Club. Hindley took her to Saddleworth Moor in her car, with Brady following. She was attacked and killed.
Image: PA Archive/Press Association Images
23 November 1963: John Kilbride, 12, was snatched from a local market in Ashton-under-Lyne by Hindley and taken to a car where Brady was waiting. He was then brought to the moors, sexually assaulted and killed.
16 June 1964: A third victim, Keith Bennett – also 12-years-old – failed to turn up to his grandmother's home in Gorton. Again, Hindley had taken him in her car to Saddleworth where Hindley attacked and murdered him.
September 1964: Brady and Hindley moved into Hindley's grandmother's home in a Hattersley council estate. Here, Brady met Myra's sister Maureen and her 17-year-old husband David Smith. Brady was always keen to impress his new male housemate.
26 December 1964: Ten-year-old Lesley-Ann Downey was the pair's fourth and youngest victim. She was kidnapped from a funfair in Ancoats on Boxing Day but was not brought to the secluded moors. This time, Hindley brought the child to their home, where she was photographed and filmed naked. She was tortured, sexually assaulted and strangled to death.
6 October 1965: Brady kills 17-year-old Edward Evans in front of David Smith at their home.
7 October 1965: Smith tells police what he saw the day before and a search of the house is conducted. Police found evidence of other murders, as well as Evans's body.
Plans are put together for a complete search of Saddleworth Moor near Woodhead, which gets underway within days.
Image date 15 October 1965
21 October 1965: The remains of 12-year-old John Kilbride are found in a shallow grave on the moors, near Ashton-under-Lyne.
21 April 1966: The trials of Ian Brady and Myra Hindley began. Still a teenager, David Smith was a key witness in the case, giving evidence during the 14 days of proceedings.
Smith later remarried and moved to Ireland. He lived with his family in Connemara, where he died earlier this year. He was 65. Read his life story in The Daily Telegraph's obituary.
6 May 1966: Both Brady and Hindley were convicted and sentenced to life in prison. Brady was convicted of the murders of Lesley Ann, John and Edward, while Hindley was found guilty of two of the murders – Evans and Downey. She received another sentence for being an accessory to the killing of young John Kilbride.
Image: Ian Brady in the back of a police car prior to his earlier court appearance.
1985: Brady was moved to the high-security Ashworth Psychiatric Hospital in Merseyside after being declared criminally insane.
1986: Searches of the moors continued to be carried out for the remains of Pauline Reade and Keith Bennett as a new investigation was launched following claims from a journalist that Brady confessed to the other two killings.
Image date: 25 November 1986
1987: The pair finally admitted to killing Keith and Pauline and were taken back to Saddleworth Moor – at separate times – to help police find the remains of the missing victims. Only Pauline's body was found. Keith's remains have never been discovered.
Police refused to allow Brady to return for a third time after proving unhelpful and reportedly basking in the public attention.
The DPP decided not to trial the killers for the two murders as they were already serving life sentences, deeming it not in the public's interest.
Image: Winnie Johnson and her 23 year old son Joey dig on Saddleworth Moor in a bid to find the remains of her 12 year old son Keith Bennett.
February 1997: Lawyers for Myra Hindley plead for an early release but a London court decided she will spend the rest of her life behind bars with no possibilities for parole.
Campaigners were satisfied with the judgement but penal reformers and other activists believed the 'whole-life' term to be out of keel with modern-day sentencing practices.
Image: by Ben Curtis/PA
September 1999: Brady goes on hunger strike after complaining about being moved to a more secure room. He has been tube fed ever since.
28 February 2000: Brady makes his first court appearance in over 30 years as he tries to win the right to die.
Image: a police convoy escorts a van carrying Ian Brady away from Liverpool Crown Court.
15 November 2002: Myra Hindley dies in prison. She was 60.
September 2009: Brady begins another right-to-die campaign. This attempt involves trying to gain permission for a transfer to a Scottish prison where he would be allowed to die.
27 March 2010: A privately-funded search for Keith Bennett's remains begins. His ageing mother Winnie Johnson says it is her only desire to give her son a family burial before she dies.
3 July 2012: Brady suffers a seizure and spends several nights in hospital. The tribunal examining his application to be transferred to a Scottish jail is delayed as a result.
August 2012: Police in England investigated the possibility that convicted murderer Ian Brady revealed where he buried one of his victims in a letter written to Winnie Johnson. He didn't and just days later, the tortured mother died without finding her son.
Today: Ian Brady argues that he is sane so that he can be transferred to a normal prison rather than remaining in the high-security hospital he is currently held.
This post first appeared on 17 August 2012.