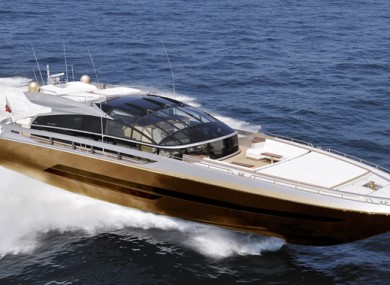 AN ANONYMOUS MALAYSIAN businessman has just dropped an incredible €3.4 BILLION on a yacht – made of solid gold.
That's over ten times the amount Chelsea FC owner Roman Abramovitch spent on his megayacht, the Eclipse, which previously held the title of the world's most expensive yacht.
There aren't many people in the world who could afford such an extravagance, let along that many Malaysians – according to Forbes billionaires' list, only three Malaysians have a net worth of $5 billion or more.
If the $3.4 billion figure is accurate – and a representative from Stuart Hughes, the yacht's maker, says it is – the most likely buyer is Robert Kuok, the richest man in Malaysia, with a net worth of $12.5 billion.
Kuok is the founder of the Shangri La hotel group, which operates luxury hotels across Asia, but the bulk of his wealth comes from his stake in Wilmar – the world's largest listed palm oil company.
The luxury took three years to complete and is covered in 100,000 kilograms of precious metals – including a hull made of solid gold.
The master bedroom is particularly lavish – it's adorned in platinum, and has wall art made of meteoric stone and (wait for it) the bones of a Tyrannosaurus Rex.
Luxury Yacht (1)

Luxury Yacht (2)

Luxury Yacht (3)

Luxury Yacht (4)